New born girl abandoned in forest recovering - Father apprehended
Mangalore Today News Network
Udupi, Aug 07, 2014: The new born girl child whowas abandoned her minor mother after giving birth in a dense forest in Jannalu Embu village at Jadkal near Kollur, has finally accepted the child. It is learnt that the mother and baby are together in the taluk hospital in Kundapur.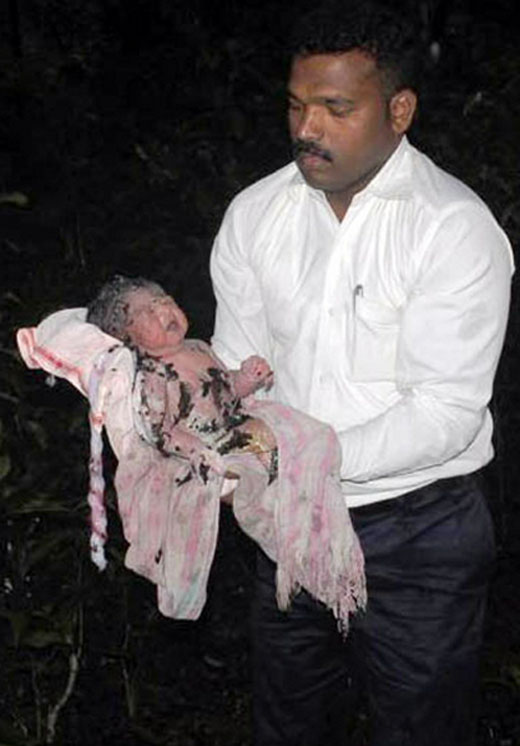 Kundapur CPI Diwaker informed that the newborn who was abandoned for 30 hours in the dense forest midst heavy rain and thunder is out of danger now. The mother was traced out from her home, where she was found in a pathetic condition, as there was excessive bleeding.

She was immediately shifted to the taluk government hospital and the child was admitted in a private hospital. Later, the baby was brought to the mother for breast feeding. The mother who was critically ill was continuously crying for her baby. She said the fear of social impact, family pressure and poverty compelled her to abandon the baby.

Meanwhile, Shashi from Sagar, the accused in the case was arrested. The CPI told that Shashi was produced before court and is remanded to judicial custody. Shashi has agreed that he has fathered the baby and has agreed to marry the mother.

Girl's family favoured abortion : Accused Sagar having refused to marry the girl, her family tried getting the pregnancy aborted. However, she was in the ninth month and no doctor in the taluk was prepared to take the risk. In the process, the mother of the girl decided to take her to Sagar to once again convince the accused to marry. Meanwhile, she suffered labour pain and the mother took her in to the forest for delivery.

The CPI said that the baby was recovered after nearly 30 hours alone in the forest. The baby weighed 3.5 kgs. Currently the baby girl is totally out of danger and is named Panchami (as she was born on Nagara Panchami day).


He said even though the baby and mother are united unofficially, there are legal hurdles, when the mother is produced before the court. The mother is still very ill and needs treatment. Once the doctor certifies that she is recovered, legal action will be taken and she will be produced before the court. Though the accused has agreed to marry the victim, the age of the victim should be confirmed. She has said orally that she is 17 and there is no proper document to substantiate it.
If she is a minor, the marriage will be held after she turns 18. The accused will be given a conditional bail, the CPI added.

Write Comment
|

E-Mail
|
Facebook
|

Twitter
|

Print