National seminar on 'Speech and hearing disability' inaugurated at Fr. Mullers on August
Mangalore Today News Network
Mangaluru, August 31, 2017: Father Muller's College of Speech and Hearing inaugurated a National seminar that aims for quality and innovative services in terms of clinical as well as academic aspects. With an aim to expand and update knowledge to the stake holders,other professionals and users of current advances in the profession. This is in keeping with the aspirations of the college to periodically update continuing education programs, seminars and workshops are conducted by the college. This year the management, staff and students organized this National seminar on "Current trends in issues related to speech and hearing disability". The seminar will close August 31, Thursday, evening.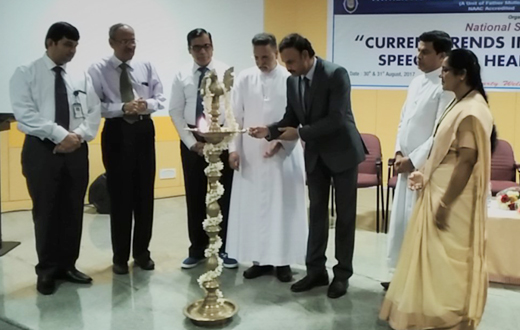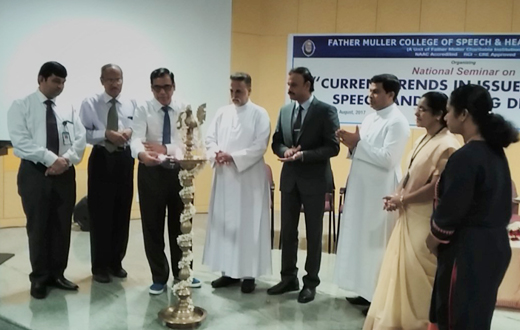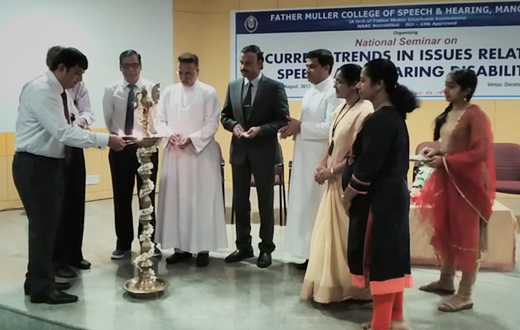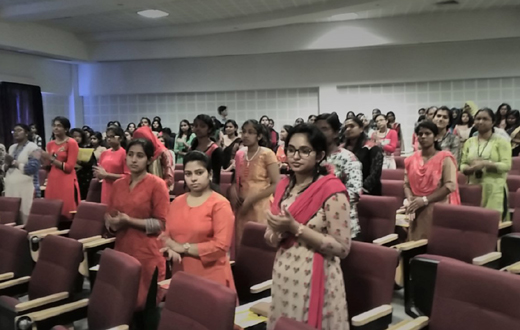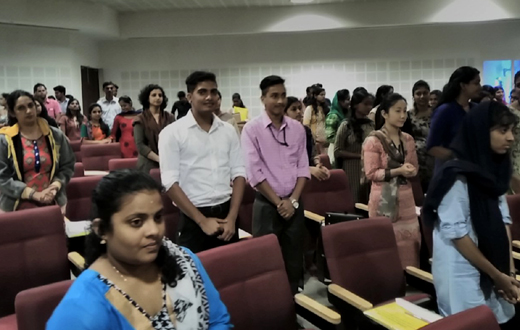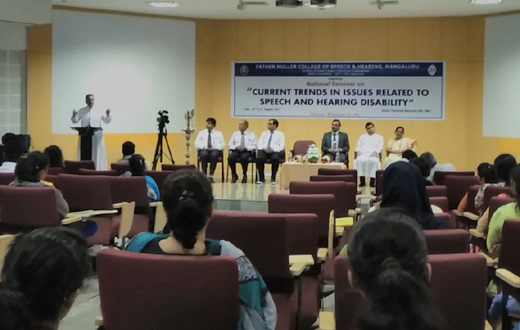 The formal inaugural was held on August 30 morning and was presided over by Rev. Fr Richard Coelho, Director of Father Muller Charitable Institutions. Prof. Dr. A.M Khan, Registrar Evaluations , Mangaluru University, was the chief guest of the inaugural. Dr. A K Sinha resource person, Dr.Sanjeev Rai, Medical Supdt of the institution, Rev.Fr. Rudolf D'Sa the Administrator of the college, Dr.Akilesh the HOD and Sr.Prof. Cynthia Santhmayor the organiing Secretary, were present on the dais.

The chief guest Prof. Dr. A.M Khan, in his address put forth three pertinent questions in the current scenario and was keen to share the potential that exists in the field in this area of service now. He said, "Behaviour patterns in young children must be attended with care as early intervention is most vital and can remedy most hurdles early. With hifi modern communication trends children are exposed to unimaginable dangers and damages. The total focus on electronic communication gadgets is drawing away kids from all other natural means and is creating far reaching negative impact in speech and hearing that such seminars for professionals must effectively address, prevent and tread to the best".

Dr. A K Sinha, who played a big role in developing this part of the medical service at Fr. Muller's was appreciative of the progress, in his brief address stated that the new 'Speech & Hearing disability Act 2016' is a very wide and serviceable act that can have far reaching benefits for professionals here and must be pursued with utmost diligence and applied with care and concern by one and all in this vital area of speech and Hearing.

The President of the inaugural Rev Fr. Richard Coelho, Director of the Mullers Institutions, in his characteristic approach to the well defined medical aspects of modern times said that ten years ago this Speech & Hearing college was set up and was a first in many ways. There was a deluge of candidates from all over for the 30 seats this year. He expressed the fact that the time has come to commence the masters degree and said he was sure that co-operation exists from all concerned. This field of medical care was getting ever more popular and demand was on the rise from all directions. The old order in speech and hearing has gone and new trends are ore compassionate and wide. He said that Fr.Mullers in Mangaluru, as always was set upon to provide the best in the field for the ordinary citizen with care and concern.

Sr.Prof.Cynthia, the organizing Secretary proposing the thanks at the inaugural, said she was most grateful to all concerned who had made this national seminar a reality and appreciated the great effort and contributions that have gone into this state-of--the-art meet. She expressed that hopefully this will be the start of durable progress and a bright future for all.

Distinhuished and experienced speakers of the Seminar are : Dr.S P Goswamy of Speech & hearing Institute Mysuru, Dr.A K Sinha, Dr.Rajasudhakar, Dr.E Arvind Raj, will deliberate in detail for the 250 odd professionals and students present from all
parts of India and more from the Southern states.

The Ministry of Social Justice and Empowerment, Government of India has notified guidelines for evaluation of various disabilities and procedure for certification. Speech and Language Disability and Specific Learning Disability have been added for the first time in the rights of persons with disability Bill 2016. A focus on current trends in issues related to speech and hearing disability throws light into various aspects of the speech & hearing disability.

Some of the topics to be taken up on August 30 & 31 are slated as : 1. Current method in estimation of speech and hearing disability. 2. Rehabilitation council of India act. 3. Various acts on hearing disability 4. ADIP scheme and other schemes for hearing disability 5. ICF- Classification of disability 6. ICF- Overview of ICF in the field of Speech & Hearing.

This national level seminar is expected to bring fresh knowledge and know-how for the professionals in modern approaches to 'speech & hearing" The city of Mangaluru is set to gain from this well organised effective meet at this great 135 year old institution of service to the suffering.

Write Comment
|

E-Mail
|
Facebook
|

Twitter
|

Print