Narendra Nayak expose Astrologer Pandith Krishna Sharma alias Vidya Shankar
mangaloretoday News network
Mangaluru, Jan 06, 2016: It was certainly not the day of the astrologer as Pandit Krishna Sharma found out! Or was it Pandit Vidya Shankar as the pamphlet said! Or are both pseudonyms to cheat the gullible? These are the questions to the Pandeshwar Police who have now arrested a person under sections for cheating, impersonation and various other acts pertaining to medical practice. The story appears to be much deeper than what is seems to be.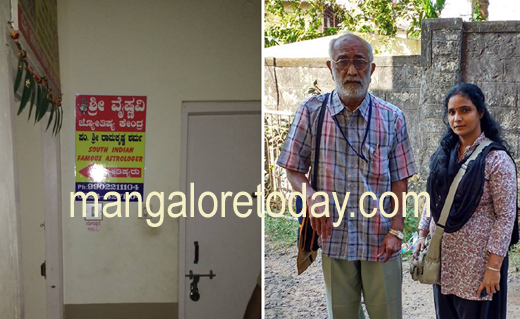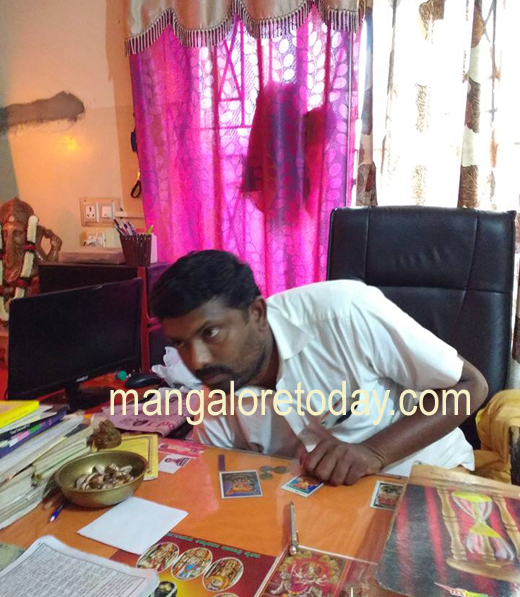 On the 3rd January I had received a pamphlet inserted into my daily newspaper The Hindu purportedly by a Pandit Vidya Shankar who claimed to be South India's most popular and highly experience(sic) mantrik astrologer. He promised cure for sexual diseases, sterility, to 'soften' enemies, collect outstanding amounts and a variety of such. In fact the said pamphlet appears to be a very panacea for all problems that human beings can ever face in their lives! Intrigued by these I called the number and the voice at the other end said that he was in Udupi but was coming to Mangalore on 8th of January. When searched on true caller it was an Airtel number registered in the name of Mo Dullicpp which obviously appears to be a false name. He said that he would call me when he came to Mangalore.

When I kept on aksing him as to when he would come he said he was coming on 5th January and would inform me when he should come. So, to set up a sting for him, I asked Pramila a DYFI activist to pose as my daughter and she was into the loop. After a number of calls during which he said he was busy with a puja and a variety of such alibis he gave us an appointment in the evening and asked us to come as 4pm. So, we went there as a father-daughter duo, the daughter being married for eight years and sent home as she could not conceive. When we met the south India famous mantrik astrologer in his office at Attawar it turned out that it was not he who was in the office but another one of the famous one's of South India- Pandit Sri Ramakrishna Sharma- so to us it was very clear that there is more than one such.
However, this man assured us that he could solve our problems and started taking my 'daughter's case history promising her quick results. He also claimed to have a mantra for sterility.

He also promised to perform pujas for the same purpose. It was obvious that he had absolutely no 'powers' of any sort because he could not find out that we both were lying through our teeth and the whole thing was being recorded! He also demanded a sum of Rs.11,300 and asked for an advance. I told him that I had only a 2000 note but would like to ask my wife before handing over and went out to call the police! Then I entered his room and my 'daughter' was made to hand the note over to him by placing it under the photos of the myriad of gods placed by his side.

Then it was time for the revelation we told him that he was a fool and a cheat. It was obvious that he was one because when I had told him that my name was Narendra he asked whether it was Narendra Nayak , I said it was not Nayak but Poojary and he apparently believed it! The police have arrested him for various sections of the law for impersonation and cheating.

But how about the larger ramifications of this racket? There seems to be a gang of thugs operating this way. In fact, in the office of the arrested man there were two persons sitting outside keeping a watch over the proceedings while there was a third one keeping a lookout for any raids. The tragedy of the whole issue is that there were two women inside when we went for consultation and when ours was doing on there were two others waiting outside who disappeared when the police came in. It was clear that he had cheated the duo who had gone before us of Rs.8000 as there was a chit to that amount. When we exposed him he was trying to frantically call some one , telling them to come quickly in Marathi and arrange for a lawyer too.

It is up to the Mangalore Police to lodge further investigations into this and expose the whole racket involving gangs, a set up to dupe gullible customers and to hide their tracks by using a number of cell phones. We do hope that the gullible public will become aware these rackets too. But, as the famous showman P.T.Barnum said there is a sucker born every minute and we have our share of wolves waiting for such! There should be a law to curb such unscrupulous people who exploit gullible believers


Write Comment
|

E-Mail
|
Facebook
|

Twitter
|

Print