Name Mangalore Airport after Ullal Srinivas Mallya, the architect of Dakshina Kannada
Mangalore Today News Network
In a letter to PM, Dr. Bhamy Shenoy requested to name Mangalore International Airport as Ullal Srinivas Mallya International Airport.
Dear Sri. Modiji,

I am requesting you to name Mangalore International Airport as Ullal Srinivas Mallya International Airport. Mangalore MP Nalin Kumar Kateel has already approached the government in this connection. Still I wanted to write to you giving my reasons.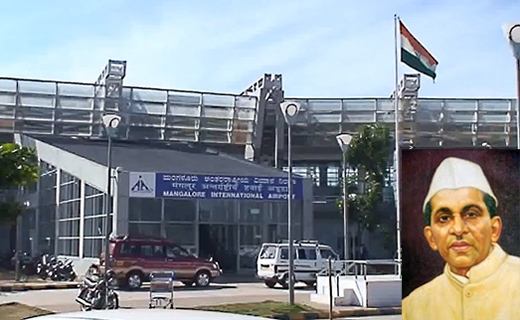 In one sense a tall leader like U S Mallya does not need any institute to be named to honor him. He is recognized as an architect of former Dakshina Kannada. Such projects like Bajpe Airport, All India Radio station, Mangalore Port, National Institute of technology Karnataka, Surathkal, Railway line between Mangalore and Bengaluru, remind the people of his contribution. By naming the airport after U S Mallya, we are not only honoring him, but also honor India's civilizational value of remembering the good deeds of a person and showing our gratitude.

It is high time that our country honors a great freedom fighter like U. S. Mallya when his own party of which he has served as General Secretary of All India Congress Committee has failed to honor him.

There is another overriding reason for which I am making this suggestion of naming the airport in the name of U. S. Mallya. In today's political environment it is not easy to find tall leaders of national stature who are prepared to work honestly for all sections of the society (real inclusiveness not in words, but in deeds) with a single minded goal to work for India's development and who sacrificed his wealth for freedom struggle. By honoring such a person you are presenting a role model for the present and future generation. India needs such role models. Much has been written about Mallya's contribution to Dakshin Kannada and Udupi districts, but his contribution to the nation as a leader with sterling qualities have not been properly projected. Nation does not know the critical role Mallya played in electing Lal Bahadur Shashtri as Prime Minister of India after Pandit Nehru.

By honoring a leader who was a member of constituent assembly, a person who was a close friend of Lal Bahadur Shashtri, Kamaraj Nayar, etc, a "king maker" of Karnataka ( but he himself never held any ministerial position), and above all a person who downplayed caste and was liked by all sections, you will demonstrate to the youth of India that it is human qualities which are valued in India and not power or wealth. People of Dakshina Kannada and Udupi will always remember your large heartedness of honoring of their most illustrious leader.

Write Comment
|

E-Mail
|
Facebook
|

Twitter
|

Print