Muslims on the coast mark Bakrid with joy
Mangalore Today News Network
Mangaluru, Sep 13, 2016: Muslims of Dakshina Kannada and Udupi districts marked Bakrid on Sept 12, Monday by offering prayers at various mosques. Bakrid symbolises sacrifices towards togetherness and help for one and all in society and family.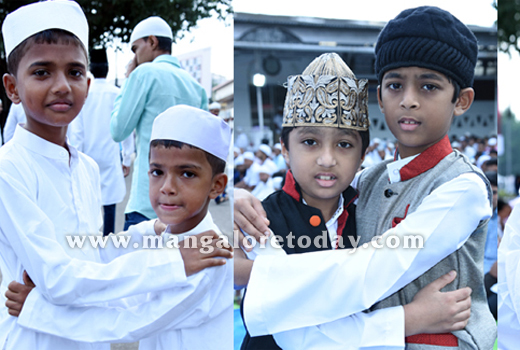 The State government had declared it a holiday for all government institutions, schools and colleges in the two districts in view of the festival. They will function as usual on today Sept 13,Tuesday.

Leaders from different religions and organisations joined the Bakrid celebrations at Idagh mosque and ground on Light House Hill Road in the city. The Minister for Food and Civil Supplies, U.T. Khader, participated in the celebrations at the Light House Hill Road mosque.

Mayor Harinath, MLC Ivan D'Souza, MLA J.R. Lobo, Mangaluru Police Commissioner M. Chandra Sekhar, Vishwa Hindu Parishad leader M.B. Puranik, Dakshina Kannada Sahitya Parishat president S. Pradeep Kumar Kalkura and others took part in the celebrations at Idagh mosque. After visiting the mosques, Muslims visited the houses of relatives and friends and greeted them.
MILLIONS of Muslims around the world will celebrate Eid Ul-Adha/Bakrid : 'Eid mubarak' is an Arabic greeting meaning "blessed Eid" or "blessed celebration". Muslims wish each other "Eid mubarak" after performing the Eid Ul-Adha prayer and may also hug each other three times.

Eid Ul-Adha is a major Muslim holiday which falls on the 10th day of Dhul Hijjah – September 12 this year. Referred to as "big Eid", it is often overlooked compared to "little Eid" or Eid ul-Fitr – which marks the end of Ramadan. Unlike "little Eid", today's holiday doesn't come after a period of fasting. Rather, it follows the first 10 days of the holiest months in the Islamic calendar. Muslims offer prayer in congregation on the holy day. Muslims celebrate the story of the Prophet Ibrahim (Abraham to Jews and Christians), who was commanded by Allah to sacrifice his son. Ibrahim did not hesitate at this command, but when he prepared to obey Allah replaced his son with a ram, having issued the request as a test of his faith. To commemorate this story, Muslims sacrifice cows, goats, lambs, sheep and camels in the name of God. Animals are sacrificed and the meat prepared for a special meal.

The meat from the animals is shared with family, friends and neighbours as well as the poor. To mark the festival of the sacrifice, Muslims dress in new or clean clothes and offers prayers in congregation. Millions will also choose to perform the Hajj. This pilgrimage to Mecca, the centre of the Islamic world, should be made at least once in a lifetime by all who follow the religion.

Write Comment
|

E-Mail
|
Facebook
|

Twitter
|

Print