Moviegoers called 'Terrorists' for sitting during National Anthem
mangaloretoday.com/ yahoo
Bengaluru, Oct 29: In a video that has since been shared widely on social media, a Kannada actor along with his friends, can be seen abusing moviegoers at a cinema hall in north Bengaluru's Malleshwaram, allegedly for not standing up for the national anthem, last week.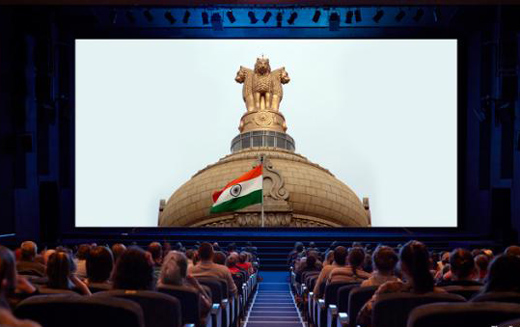 In the short video clip shared by Arun Gowda on his Facebook page, the actor along with others can be seen berating audience members for remaining seated while the anthem played.

It has also been shared widely on Twitter.

The video starts with a cry of 'Bharat Mata ki Jai' after which Gowda can be heard requesting viewers to look at the faces of those who had the 'audacity' to not stand up for '52 seconds' while the national anthem played before the movie. In response to being called 'Pakistani terrorists', one of the moviegoers says, "I am amazed to hear that the opposite of Indian is Pakistani."

The video has been viewed nearly 6,000 times on Facebook after it was first uploaded on 24 October and has also been shared widely on Twitter. However, cops told The Quint that standing was optional while the national anthem played and that while they were aware of the video, no complaint has been filed with them.

'Are you Pakistani Terrorists?'

While it is unclear who exactly is addressing the moviegoers targeted for remaining seated, a male voice can be heard saying:

"The audacity of standing on Indian soil. You are not able to spare 52 seconds for the country and you have the audacity to watch a three-hour movie? Are you Pakistani terrorists? Why the hell are you here? Get out of this place."

The video continues to show another female friend of the actor asking a woman to 'shut up' repeatedly as they speak. The video ends with more cries of 'Bharat Mata ki Jai'.

The video has been shared on the actor's Facebook page with the following caption in English: "guys when it's INDIA yaavan aadru (if anyone) goes against INDIA then I wil be the first person to raise my voice.. share it till these guys get screwed to the core.. Jai Hind.. Jai Shree Ram.. "

However, no FIR has been registered at the police station yet.

Write Comment
|

E-Mail
|
Facebook
|

Twitter
|

Print