Mock drill at BPCL LPG bottling plant marks chemical disaster prevention day
Mangalore Today News Network
Mangaluru, Dec 4, 2014: Fire fighters try to extinguish fire at an off-site mock drill organised as a part of Chemical Disaster Prevention Day, to commemorate the Bhopal gas tragedy, at the BPCL premises in Mangaluru on Thursday.

An operator noticed a leakage in the LPG pipeline connecting the 650 metric tonne LPG storage sphere bottom to the Remote Operated Valve (ROV), at the Bharat Petroleum Corporation Limited (BPCL) LPG bottling plant at Baikampady Industrial area in Mangaluru on Thursday at around 11.20 am.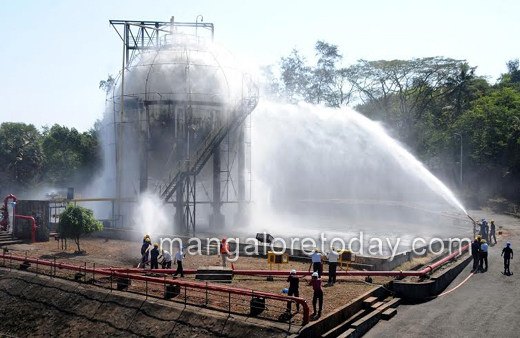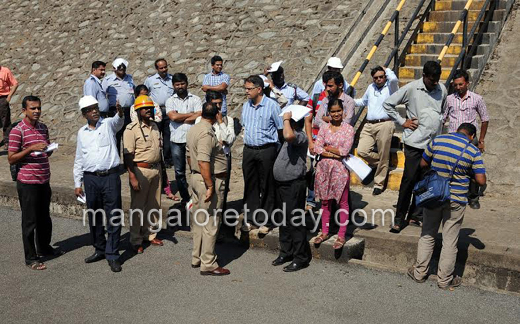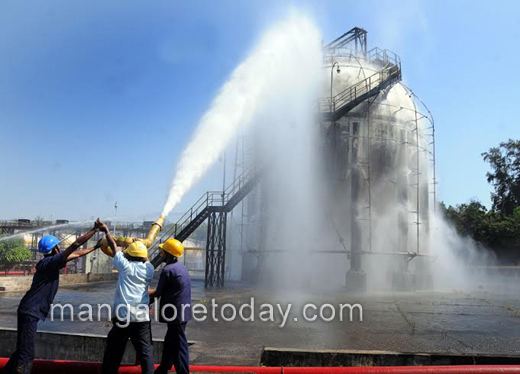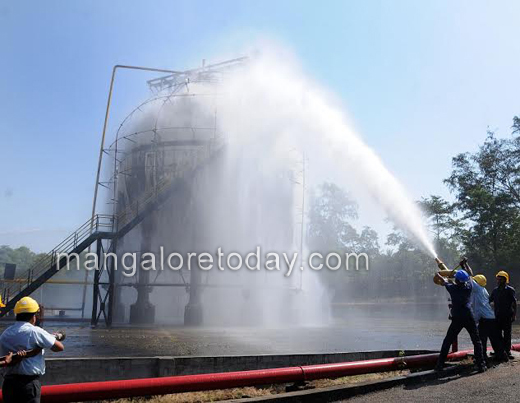 Immediately the emergency siren was blown, which was followed by the fire extinguishing process, initially by the fire hydrant facility of the factory. Subsequently, the fire tenders from the mutual aid partners and fire tenders from the State Fire and Emergency Services arrived at the spot and all started dousing the fire.

This was a scenario during the off-site mock drill organised by the Dakshina Kannada District Administration, District Disaster Management Authority, and District Disaster Management Cell in association with Bharat Petroleum Corporation Limited LPG bottling plant and Mangalore Chemicals and Fertilisers Limited as a part of Chemical Disaster Prevention Day, to commemorate the Bhopal tragedy of 1984, at BPCL premises.

Later, addressing media persons, District Chief Fire Officer H S Varadarajan said that leakage in the LPG pipeline may result in fireballs due to Boiling Liquid Expanding Vapour Explosion (BLEVE). There is another sphere of 600 MT capacity and four small spheres of 125 MT capacity. The fireballs may hit all other spheres resulting in worst, which is called as domino effect or cascading effect.

Deputy Director of Factories Nanjappa said that Emergency Control Centre of MCF Limited was used as Local Emergency Control Room. The 'casualties' injured during the incident were taken to first aid centre at Occupational Health Centre at the factory and then to the OHC at MCF Limited, which is outside the danger zone, using Mangalore Refinery and Petroleum Limited and New Mangalore Port Trust ambulances. All persons in the plant were evacuated on declaration of off-site emergency, he said.

Review

MCF Director Prabhakar Rao said that chemicals should be handled carefully according to National Disaster Management Act. There is threat from chemicals always. It may be in the form of poor design of containers, equipment fault, natural calamity or terrorist attack. Four important things of NDMA guidelines are preparedness, response, recovery and mitigation. Chemicals can affect entire humanity and environment.

There is a need for increasing awareness among stakeholders. Though companies have off-site and on-site plans, they should be put into practice, he said.

One of the observers, Ambabhavani Kumar from HPCL said that wind direction is a very important point to be observed during the disaster management process. Nagaraj of Total Oil said that vehicular and manual movement should be restricted within 432 metre of the disaster zone, which is also called as danger zone.

Communication should be improved during the disaster management. Signboards should be put throughout the emergency route and route should be kept clear. Mariannavar of MCF Limited said that the residents who live at the danger zone were not aware about the chemical disaster. They should be informed about the chemical disasters, he said.

Assistant Commissioner Ashok, District Disaster Management Cell Expert Member Dr Srinikethan and CFO ˆVaradarajan among others were present.
Courtey: Deccan Herald

Write Comment
|

E-Mail
|
Facebook
|

Twitter
|

Print