Minority community youth benefit by skill programmes
Mangalore Today News Network
Udupi, Sep 11, 2015 : Speaking to media Sept 10, KMDC - Karnataka Minority Development Corporation Limited ) Chairman Masood Faujdaar said the Corporation is taking up skill development programmes as part of the National Skill Development programme to train youth belonging to the minority communities. The chairman said that around 10,000 youth are expected to get benefits to start with.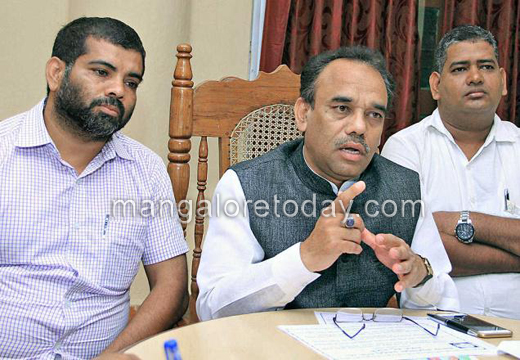 The programme is to include 30 training courses like IT, BT, insurance, banking, among others. The programme is placement linked. However 70 per cent will be placed immediate and 30 per cent will be fecilitated with the financial assistance for the self employment from KMDC, he added.

Asserting that Udupi and Dakshina Kannada districts have the target to reach out 1000 each, the chairman added that the programme will begin in Udupi in the month of October. He said last year funds released to the Corporation was 172 crore and at present the government has released Rs 185 crore. Rs 50 lakh is already spent on various development schemes catering to the needs of the minorities. Under the CET programme as many as 2135 students were funded. At present the target is 5000 and already 4500 students have availed the benefits.

Pointing to the role of education in the upliftment of the minority communities, he added that the students are later asked for the reimbursement of the funds offered to them under nominal installments following their employment. It is a cashless insurance scheme. As many as 140 students in Udupi have availed the benefits.

The recovery in Udupi and Dakshina Kannada districts are good. This year 54 lakh is already recovered. He added as many as Rs 3.58 crore worth loan is waived off to 176 beneficiaries. The achievement ratio in Udupi is 139 percent as against the target of Rs 588.05 lakh earmarked for various development schemes. The financial target reached for the year 2014-15 in Udupi is Rs 815.35 lakh.

The programmes include, Swalambana, Shramashakthi, Kirusala, Arivu, Ganga Kalyana and housing loans. He added until August, the district has recorded 69 percent of the achievement with dispersing Rs 403.70 lakh worth benefits to the beneficiaries as against the target of Rs 584.27 lakh. At least 1290 have availed the benefits of micro financing, while 627 beneficiaries have availed the benefits under 'Shramashakthi' programme.

The amount recovered from April to August is 138.18 lakh. 342 open wells were dug under Ganga Kalyana Yojane till 2014, of which electrification is done to 203 wells. A total of 1676 beneficiaries have availed the benefits worth Rs 358.98 lakh till date.

Write Comment
|

E-Mail
|
Facebook
|

Twitter
|

Print