Minister DVS avoids train inauguration, the issue is Kudla Express delay
Mangalore Today News Network
Mangaluru, Mar 28, 2017: Railways' failure to introduce the Bengaluru-Mangaluru Kudla Express announced by Minister D V Sadananda gowda, when he was Railway Minister, he avoided the inauguration of the new Bengaluru-Hassan railway line at Yeshwantpur.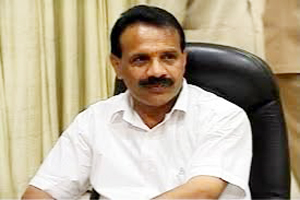 Soon after taking over as the Railway Minister in 2014, D V S Gowda sanctioned sufficient funds to speed up the new line construction, that had been pending for two decades, after being sanctioned by then Prime Minister H.D. Deve Gowda.
He had set March 2016 as a deadline for the project's completion.

At the same time, Minister Gowda had also announced a Bengaluru-Mangaluru express train via Mysuru in the Railway Budget. The South Western Railway, which had recently proposed to operate the train via the newly constructed route, did not introduce the same citing non-availability of coaches.

Indifferent officials : Minister Gowda told media that he had written to Railway Minister Suresh Prabhu urging him to introduce the train on the new route. "Rly minister Prabhu responded positively," he said. D V S Gowda alleged that the train could not be introduced owing to the negligence of officials concerned. "There is no reason for non-introduction of Kudla Express as 17 out of 18 new trains announced by me are already operational," he added.

"I had announced the train for the benefit of residents of the coastal region I hail from. It would particularly have helped women passengers undertake journeys," D V S Gowda said. "I have no answer if questioned [for non-introduction] and hence skipped the event," he said.

Minister D V S Gowda had to attend the inaugural programme as Yeshwantpur falls under Bengaluru North Lok Sabha constituency represented by him.


The Southern Railway (SR), which earlier had concurred to receive and send Kudla Express from Mangaluru Central, has now claimed that neither a platform slot nor a night halt facility is available for Kudla Express at Central.

G. Hanumanth Kamath, president, Paschima Karavali Railway Yatri Abhivriddhi Samithi, has urged SR to host Kudla Express from Mangaluru Central as this would immensely benefit residents of the area.

Name controversy : Even though Railway Minister Suresh Prabhu could not ensure that the Kudla Express was introduced on the inaugural day of Bengaluru-Hassan new line, he appeared to have stirred up a controversy over renaming the train.

Minister Prabhu responding to former Prime Minister H.D. Deve Gowda's demand to name Bengaluru-Mangaluru Express as Gomateshwara Express said he would keep in mind the suggestions.

However, rail users pointed out that the Bengaluru-Mangaluru Express (Train No. 16575/576) was given the name 'Kudla' Express when it was announced in the 2014-15 Railway Budget by the then Railway Minister D.V. Sadananda Gowda.

Mangaluru is called Kudla in Tulu, the primary language of Dakshina Kannada-Udupi region. Hence, the train name to meet regional sentiments, said Sudarshan Puttur, convenor, Kukke Shree Subrahmanya-Mangaluru Railway Commuters Forum, Puttur.

G. Hanumanth Kamath, president, Pashchima Karavali Railway Yatri Abhivriddhi Samithi, and Anil Hegde, advisor, said Gomateshwara had no connection either to the starting or terminating points of the train. The name, Kudla Express, as announced should stay, they said.

Write Comment
|

E-Mail
|
Facebook
|

Twitter
|

Print