Mescom wants a hike of Rs 1.48 per unit for power
Mangalore Today News Network
Mangaluru, Feb 28, 2017: Managing Director of Mescom, Mangalore Electricity Supply Company, Chikkananjappa on Feb 27, Monday exhorted for a hike of Rs 1.48 a unit of electricity supplied, to fill the projected revenue gap of Rs 700.45 crore in the short term.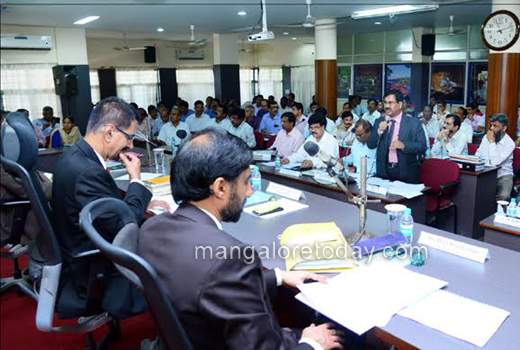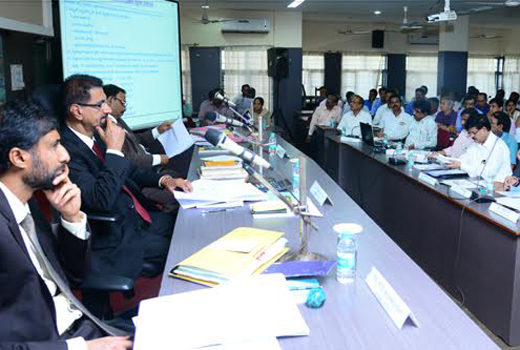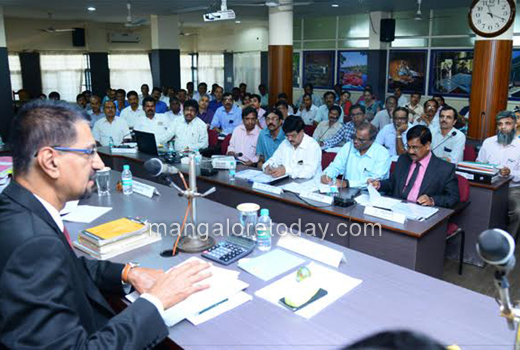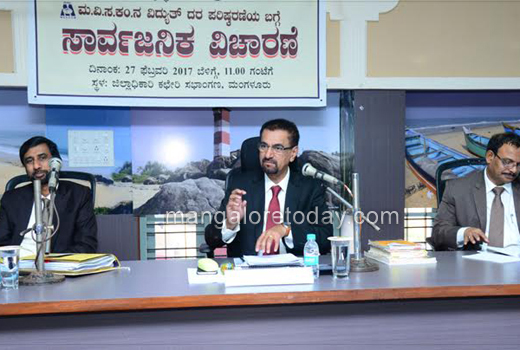 Mescom is spread over four districts - Dakshina Kannada, Udupi, Chikkamagaluru and Shivamogga - and caters to the needs of 14.06 lakh domestic consumers, 1.9 lakh commercial, 28584 industries.

A presentation during the annual public hearing on tariff revision presided over by the chairman of Karnataka Electricity Regulatory Commission (KERC) M K Shankarlinge Gowda here, Chikkananjappa reasoned that it would be inevitable to increase the tariff in order to improve revenue sources to purchase energy from the generators. Besides, the distribution system has to be maintained to its optimum level and a reliable consumer oriented approach should be developed, he added. He also explained that, most importantly, the reasons were the increase in cost of power purchase, operation and maintenance expenses on account of inflation, recruitment of junior linemen and assistant engineers, assistant administrative officers, junior engineers and assistant linemen, and increase in interest and finance charges.

Chikkananjappa claimed that most of the revenue generated is spent on the purchase of power, with Rs 2,230.56 crore (81%) of the total revenue of Rs 2,755.90 crore being spent under the same head in the previous fiscal (2015-16), followed by employee cost (10%), operation and maintenance expenses and interest (4% each) and depreciation (2%), totalling 100%.

Chikkananjappa was, glad to share that Mescom has continued to achieve 100% efficacy in collection of power bills, with Rs 2,067.91 crore (98.876%) collected against the demand of Rs 2,091.76 crore till December 2016. He exuded confidence in the Mescom to touch 100% within the end of the current fiscal, and did not forget to credit the consumers for being prompt in their payments.

Similarly, there is a fall in transmission and distribution loss, with 11.5% having been achieved in 2015-16 against 11.57% in 2014-15, 11.93% in 2013-14 and 11.88% in 2012-13.

Media brief :

Speaking to media later, Shankarlinge Gowda said that, as is the procedure, the tariff would be revised from next fiscal, after vetting into the pros and cons. The Commission is yet to conduct the hearings at Hubballi, Kalaburgi districts, while it is already completed at Mysuru (Chamundeshwari Electricity Supply Corporation Limited), Bengaluru (Bangalore Electricity Supply Company) and Karnataka Power Transmission Corporation Limited (KPTCL).

Distinct mixed opinion from the representatives of different organisations, mostly farmers and industries. While some of them were for a lower hike in tariff, some vehemently opposed the same citing the continued drought.

Udupi district unit president of Bharatiya Kisan Sangha, wanted the Commission to be lenient and decide on a lesser hike in the wake of prevailing drought. Satyanarayana Udupa from the same organisation, vociferously opposed the proposal, by coming out with various suggestions that may help Mescom improve the revenue. Govindaraju from Karkala urged the introduction of mechanised arecanut peeling and cattle rearing (milking) under domestic category, besides re-introduction of subsidy in monthly power bills for small unit of solar powered electrical appliances at home.

A farmer from Kadur taluk, Chikkamagaluru, Balasubramanya Bhat, Srinivas Kamath from Kanara Chamber of Commerce and Industry (KCCI) and Henry Britto from Kanara Small Scale Industries Association also aired their views.

Write Comment
|

E-Mail
|
Facebook
|

Twitter
|

Print