Mangaluru records highest temperature for February, coastal areas hot , hot
Mangalore Today News Network
Mangaluru , Feb 17, 2017: It is evident that the west coast has been witnessing an abnormal increase in day temperature since past few days. On Feb 15, Wednesday, the evening temperature was 38.7 degree C for Mangaluru city, recorded at Panambur Weather Observatory, which is a seven degree C rise in the normal maximum. This, incidentally, is an all-time high record for the February month since Indian Meteorological Department (IMD) started recording temperatures for this region.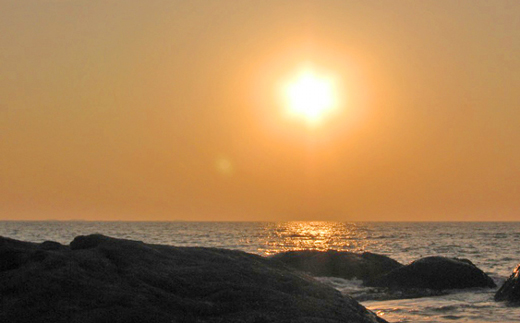 The previous high of 38.4 degree C was recorded on February 19 last year. The mean max for the month of February is 33.3 deg C. The day time temperatures have been on a high since February 12.

It's not only Mangaluru, but also Honnavar and Karwar, where the weather observatories have recorded abnormally high temperatures. Karwar on Feb 15, Wednesday recorded 38.4 deg C, which is 6 deg C departure from the mean maximum for the February month. The all-time high for Karwar is 39.1 deg C recorded on February 21, 2009. February 15, high was also once recorded on February 23, 2007, in Karwar. Honnavar's temperature was 5 deg C higher than the mean maximum at 37.2 deg C. Honnavar's all-time high is 38.6 deg C recorded on February 23, 1999. Another high of 38.5 deg C was recorded on February 21, 2009.

While there has been not much departure from minimum temperature in Mangaluru at 23 deg C, Karwar on Feb 16, Thursday saw a rise of 2 deg C from the mean minimum at 22.6 deg C and Honnavar about 5 deg C departure at 24.9 deg C.

Sundar M Metri, director, Meteorological Department, Bengaluru, confirmed that Feb 15, Wednesday's temperature for Panambur observatory was an all-time record. This was due to the dry northerly winds and clear skies. He said temperatures will be high till these conditions exist. He said even Shirali and Bajpe (airport) had recorded high temperatures of 36.4 and 37.4 deg C respectively, on Wednesday.

Write Comment
|

E-Mail
|
Facebook
|

Twitter
|

Print