Mangaluru jail a haven for banned items?
Mangalore Today News Network
Mangaluru, Jan 30, 2016 : Many sources reiterate that there are mobile phones operating inside the Mangaluru jail. How they land inside the prison premises is not that much of a riddle; if one is aware of what is the reality. Perhaps, no other prison in the State is located in the heart of the City - by the side of main road on one side, a college on another side and opposite a multistorey hotel from where all activity inside the prison is visible.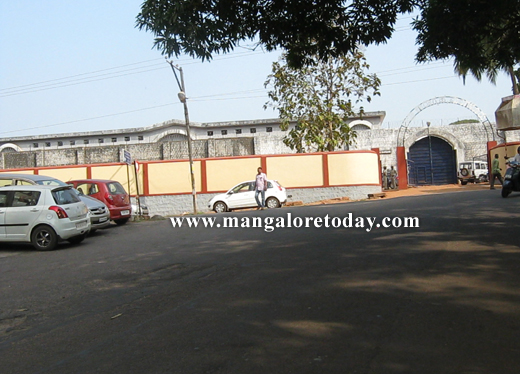 To add to the woes, the CCTV cameras, installed inside the prison premises at a cost of Rs 3 lakh, have stopped functioning, a few days after they were installed last year.
Mobile phones, phone chargers, covered in a piece of cloth, cigarette lighters, tablets that give hallucination, packets of ganja hidden inside bananas, or simply wrapped in a paper or plastic cover, knife, vodka and gin filled in mineral water bottles... these are some of the items found by the prison staff inside the Mangaluru jail it is said.

Prison Superintendent V Krishna Murthy told media that he himself seized more than 40 mobile phones from inside the prison in a short span of two months after he took charge.

City Police Commissioner Chandra Sekhar, in a surprise raid, had seized 12 mobile phones recently.

There are only 15 staff, including six women; against the 28 posts, the prison superintendent said there are more than 400 inmates four different wards, by statistics, each staff has to monitor 35 to 40 inmates, which well nigh a feat.

"Right from hiding the cell phones beneath the tiles to hiding them inside the tubelight strip or ceiling fan box or toilet basins, the undertrials have been finding new ways to hide banned products," a staff said on condition of anonymity and agreed that there may be black sheep among the staff without whose help it is impossible to smuggle banned goods.

Posting women staff in male section of the prison too is one of the drawbacks as they are not comfortable frisking the male prisoners. "I have already brought the draw backs to the notice of the authorities concerned," Krishna Murthy said and added that Mangaluru prison is one of the toughest prisons to work in, as the staff have to face many problems, including pressure from different quarters.

To prove his point, the Mangaluru prison has seen three superintendents in the last one year. While Mahesh Kumar was transferred on March 5, 2015 (he had taken charge on November 13, 2014), B T Obaleshappa was transferred on November 6, 2015 (he had taken charge on March 6, 2015) and V Krishna Murthy took charge on November 6, 2015.

When contacted, DGP (Prisons) H N Satyanarayan Rao said a total of 320 warders have been appointed in the State and they would get the appointment letters anytime soon once the police verification is done.

To another query on mobile jammer, he said the instrument has been installed, but it may take some time before it starts functioning. Rao said the department is taking all steps to stream line security in the prisons and control illegal goings on.



Write Comment
|

E-Mail
|
Facebook
|

Twitter
|

Print