Mangaluru bikers cover 11,000-km in 43 days
Mangalore Today News Network
Mangaluru, Sep 22, 2017: A long haul bike ride of a distance of 11,000-km in 43 days from Mangaluru, through Kashmir was not just exploration of places but also taught lifetime lesson on adjustments and minimising the expenditure and saving money, said three bikers from Mangaluru. The panoramic view of the nature, biting cold is what bikers will experience at Leh, said Varun Aithal and Manojna M.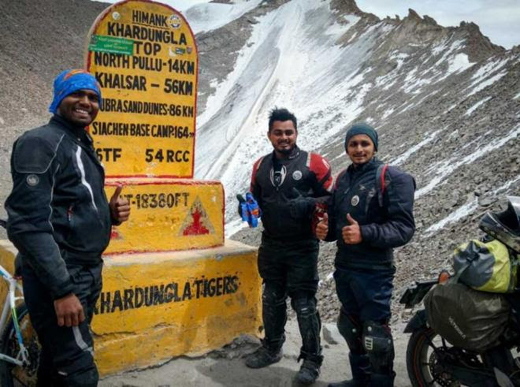 Varun Aithal, Manojna M and Denzil Rose set out on a bike ride after their engineering graduation before joining work, to explore the places and know the culture and tradition of different places. From Mangaluru they travelled to Murdeswar-Pune-Gujarath (Vadodara and Ahmedabad-Delhi-Amritsar-Wagah Border-Ramban (Jammu and Kashmir)-Sonamarg-Dras war memorial-Kargil-Leh-Khardong La- Pangong Lake-Karu-Kilong-Manali-Delhi-Sagar-Nagpur-Hyderabad-Bengaluru- Palani- Kodaikanal -Rameshwaram-Kanyakumari-Kochi-Kasargod-Mangaluru.

Biker Varun Aithal and Manojna describes the view as spectacular and breathtaking. "The views of the valley are awesome. It was also a challenging experience."

They battled rain, experienced extreme biting cold in the tough terrain. "At Khardung La, the heighest motorable road, we had to carry a small oxygen cylinder. At Nubra valley, the weather was extreme. We wore gloves but still the coldness numbs your senses," they said.

Biking enthusiasts for last three years, Aithal along with Manojna and Denzil have ridden several short distance routes. "On a few stretch on our this trip, there was nothing except straight roads. So we had to carry fuel as well. At Pangong, there is no electricity. Only one generator is used and is switched off after 10 pm. At Rohtang Pass, the temperature was very cold and there was hairpin curve roads where the visibility was very poor. While returning from Delhi to Sagar, we covered four states of Delhi, Uttar Pradesh, Madhyapradesh and Rajasthan," they said proudly.

"Once you enter Jammu and Kashmir, you see many army personnel. We also visited the war memorial at Kargil. And, caught a glimpse Nubra Valley. We saw the double-humped camel. The army personnel were very kind. Whenever we stopped enroute seeking direction, they would offer us tea or snacks," said Aithal.

"While returning from Hyderabad, we had to go to Bengaluru as Manojna had to write KPSC exam. In Rameshwaram, we met bikers from Karnataka, who accompanied us till Kanyakumari," they said.

In fact, Varun and Manojna did not know each other till three years ago. It was fascination for bike ride which brought them together. Later, the trio formed 'Wanderers on Wheels', where they would set out short ride very often.

Aithal said "I have been documenting all my trips and uploading it on YouTube, so that people will know the culture and tradition of each state and beauty of the country. It is an attempt to showcase the beauty of India to the world as well.". Their aim has been harmony and humanity.

Write Comment
|

E-Mail
|
Facebook
|

Twitter
|

Print