Mangaluru: St. Paul's CSI church celebrates 175 years with thanksgiving on Nov. 18
Mangalore Today News Network
Mangaluru, Nov 19, 2018: The year long celebrations reached a grand finale marking the 175 years of (1843-2018), on November 18, Sunday. This St Paul's CSI Church is seen as one of the oldest standing churches of the city of Mangaluru.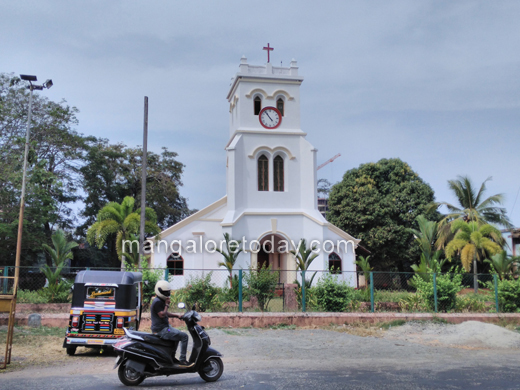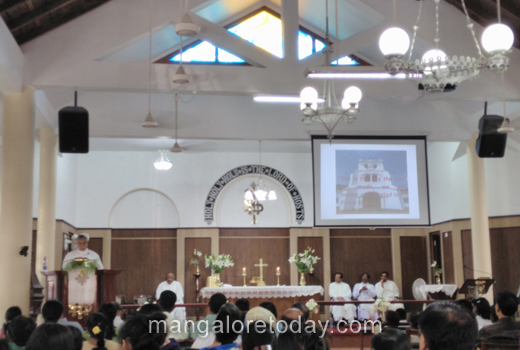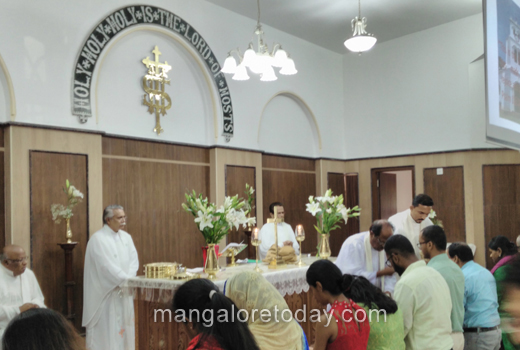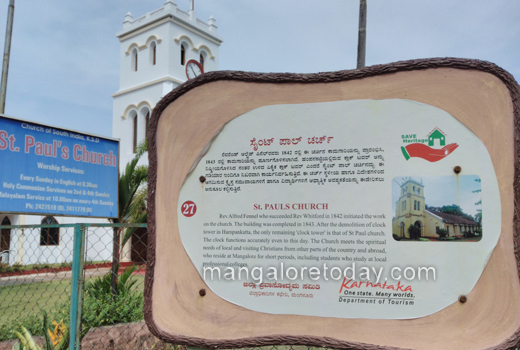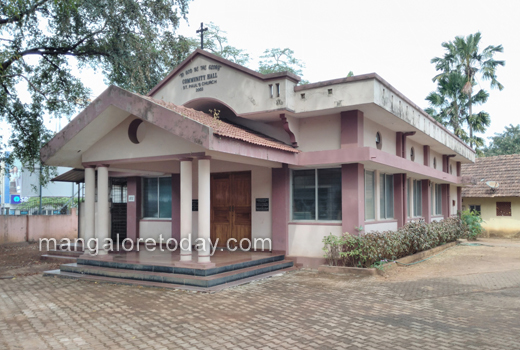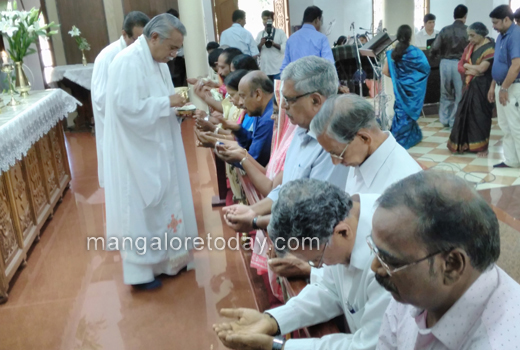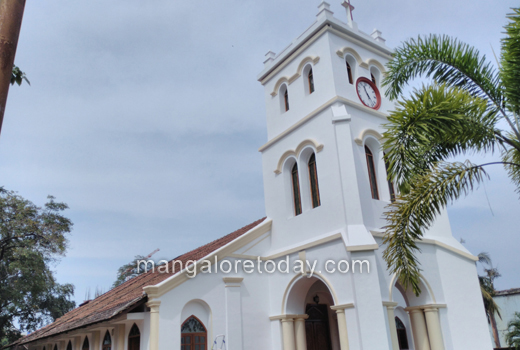 The day was one of Prayer, Thanks giving, reviving old memories, and fellowship held at this historical church in the heart of Mangaluru. It is crowned with 175 years of service in different ways and the regular congregation guided by the church committee had much to reminiscence and thank. The Church Committee and congregation's committed efforts made the celebrations fitting to this special day of the establishment.

Rev. Dr. Ratnakara Sadananda, General Secretary of Church of South India Synod, Chennai, and one who served as Presbyter in the 1980s was the Chief Guest . He gave a lead to the prayers and communion service. Rev Dr Sadananda in his fitting sermon superbly summed up the goodness of God and the holy service rendered by this unique church in the last 175 years; his message/talk was received with rapt attention and admiration. He said that it was a time of joy and thanksgiving, experience of many acts of God in the all the past decades and specially among the families. Many graces have embraced one and all, inspired consistently, all the concern has brought new life, new hope and so much more renewal through this sanctuary.
The development and reconciliation that is received in so many ways is incalculable. This is an apt time for reflection, self discoveries at various levels of faith. A time for renewal and making new creation around us. Church 'ecclasia' arises from the people of God, with a deep spirit of forgiveness, care, concern and purity of mind and action....a baptized community. As Moses beheld the green leaves in spite of the burning bush....so too one can be pure amidst all the turmoil around. The singing, messages and skit all went well to enhance the spirit prayer of the celebration day.

Felicitations on the occasion : As part of this special day several token felicitations of known contributors was performed soon after the worship. Some of the august persons to be felicitated in various forms were : Rev. Rathnakara Sadananda, Rev.Edwin Walter, . Rev.Sydney Salins, Rev. Dr. Hanibal Cabral, Mrs. Adaline on behalf of Rev.Dr. Dhanraj'

Mementos were accorded to : Bishop Rt.Rev. Mohan Manoraj, Bishop Rt.Rev. J.S.Sadananda, Bishop Rt.Rev. C.L. Furtado, Bishop Rt.Rev. Bangera, Rev. Daniel Kaundinya, Rev. Prekumar Soans, Rev. Binu John, Rev. Sajith Krotdas, Rev. Osman Shiri, Choir Master& ; Musician : Mr.Oscar Weltha.

Key persons who made up the success of the celebrations are named : Presbyter in-charge : Rev.Noel P.Karkada Presbyter incharge, Dr. Jacob Chacko –Hon. Treasurer, Dr. Prakash N.Tharien –Honorary Secretary, Dr.Praveen John-Member, Pastorate Committee Mrs. Aruna Gojer – Senior member, Pastorate committee. Many more behind the scenes are not mentioned here.

History Recap :

In 1763, Mangalore was captured by Hyder Ali. In 1768, it was then captured by the British India Army in the First Anglo-Mysore War, before being transferred back to Tippu Sultan in 1784 as per the Treaty of Mangalore. In 1799, after the fall of Tippu Sultan in the fourth Anglo –Mysore War, Mangalore, once again came under British Control and got annexed into Madras Presidency. Mangalore went on to become a strategically important port for the East India Company, a small garrison unit arrived to keep the peace and law in this region of Canara and to secure the border passage into Mysore Princely State. After the Coorg rebellion of 1837, when Mangalore was attacked, the fortification of Mangalore resulted in a need for the Church to meet the spiritual and moral needs of the British soldiers and officers of the crown. In 1841, Rev. R W Whitford, garrison Chaplain appealed to the Government of Madras to construct a Church in Mangalore, which was accepted. The church building was completed in 1842, and consecrated by George Spencer, Church of England, Bishop of Madras, on January 5, 1843.

In time after the establishment of the Basel Mission in the area, it was also used by the German missionaries until 1862. In 1947, St.Paul's Church became part of the South Indian Diocese, under CSI North Kerala Diocese. In 1971 it was transferred to the Karnataka Southern Diocese and thus continues it's forward march and blessing to it's people.

First Indian Pastorate Committee of St. Pauls church: A.C. Mathai Professor of Botany, St. Aloysius College, Mangalore; Titus Joseph Assistant Manager, Aspin Wall, Mangalore; D.S. Herbert Assistant Manager, Peirce Leslie, Mangalore; Fredrick Soans Registrar, Mysore State; Dr. Giridhar Rao Medical Practitioner, Mangalore; Dr. Jacob Medical Practitioner, Mangalore. All these were prominent peole in the civil society of the times. It is note worthy Mr. Titus Joseph who was a member of the first Indian Pastorate Committee and who later served as its Treasurer till his demise. He was one of those who was instrumental in St.Paul's remaining as a place of worship today, for he kept the doors of the Church open to pray every day, saving St. Paul's from being converted into a Museum as has happened to a Church in Mercara. Service in Malayalam language once in a month was regularised, way back in 1960's. Then Rev.P.J.Thomas from Ankola used to come and later Presbyters from Kasaragod were assigned.

An interesting facet of St. Paul's Church is its clock tower – which contains a clock with two dials. The clock was made in the Mangalore workshop of the Basil Mission, is perhaps the oldest such curio visible. .

St Paul's CSI Church Cemetery : It is not very known that the cemetery that is replete with historic tombs, located in the heart of the city of Mangalore on Telecom House Road ( off Old Kent Road); St Paul's Church has the privilege of maintaining the 218-year old Heritage Cemetery. The cemetery has more than 70 tombs of British nationals. Prominent among them is the 20-foot-tall tomb of Brigadier-General John Carnac,the first person to have been laid to rest in the cemetery on November 29, 1800. Brigadier-General Carnac was second in command to Robert Clive at the Battle of Plassey.

In 1947 Mr. Thomas, a Section Officer at PWD, in Cannanore, handed over the records and keys of the cemetery, to J.N.A. Hobbs, the then Secretary of the Pastorate Committee of St.Pauls' Church, Mangalore (who was later knighted). The historic Cemetery was formally handed over by a Central Government official on 24 th July 1948 to the St.Pauls's Church Committee (Ref. Dr.T.A. Koshy, Secretary Pastorate Committee – letter of 12-09-1967 to British High Commissioner,NewDelhi). The titular responsibility for the cemetery still rests with the British High Commission under BASCA-the British Association for Cemeteries in South Asia. But the responsibility for the care and maintenance is in the hands of the Pastorate Committee, Congregation and clergy of St. Paul's Church, Mangalore. Dr T.A. Koshy, the then Honorary Secretary, wrote to the UK High Commission through the then Bishop Rt. Rev. T. B. Benjamin, to change the cemetery category to 'open' for burial of members of St. Paul's Church Mangalore and subsequently also for Mar Thoma Church of Mangalore. The
Cemetery since then is being used for burial even to this day. The St.Paul's Church Cemetery is not just a historic Cemetery, but a Heritage site. There is more to historicity of St.Paul's......

Remarkable developments are recorded and seen from time to time in and around this church. A detailed feature is proposed to be brought out in print by "Mangalore Today" Magazine.

St. Paul's Church has served the faithful and people city of Mangalore for 175 long years. Architecturally, it is a heritage site that carries forward the rich history of its founding members. Spiritually, it continues to serve the members of its congregation and by the grace of God will continue for time to come.

Write Comment
|

E-Mail
|
Facebook
|

Twitter
|

Print