Mangaluru: Social media helps reunite lost Dalmatians
Mangalore Today News Network
Photos: Ranganath Bhat

Mangaluru, November 3, 2016: At a time when we are seeing rampant misuse of social media by humans, it is heartening to come across a real life incident when it came to the rescue and united two dogs.

It was on Monday night (31st October) that Ranganath Bhat, a city businessman realized that he had an unexpected house guest. "That night, we were surprised to suddenly see a cute female Dalmatian inside our dog Toby's kennel," says Bhat recalling the incident. Dalmatians are a prized breed of dog and it was obvious that this one had escaped from greener pastures.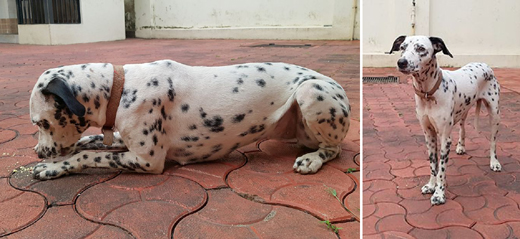 Toby, Ranganath Bhat's own Labrador is terrified of fire crackers. Hence Bhat surmised that the poor girl had got disoriented due to the loud burst of festival crackers and had lost her way. "Toby had been off mood for Diwali due to the noise created by crackers. Now to add to his woes, his kennel was being occupied by somebody else. Being animal lovers we decided let her stay until we could trace her owners," Bhat said.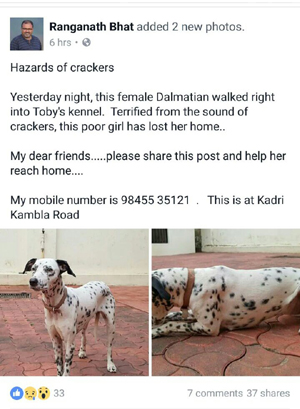 Next morning Ranganath Bhat took up the quest in right earnest. Taking the advice of his friend Suresh Kamath, he posted the dog's photograph on Facebook and also sought the help of Animal Care Trust (ACT). Suma Nayak from ACT shared his Facebook post among her network of animal lovers. His Facebook appeal contained a brief description of the incident and his contact number.

The same evening, just as Ranganath Bhat was wondering what next, he got a call from Vincent D'Souza. It was now 10.30 pm – a full twelve hours after the Facebook post. The caller lived hardly a kilometer from Bhat's residence at Pinto Lane in Kadri Kambla locality of the city. He clearly identified the female Dalmatian as his own. Her name was Lenny, Vincent told Bhat.

Ten minutes later, Vincent arrived at the Bhat household with his daughter Shwetha in a vintage Ambassador car. Accompanying them was Vinny, a male Dalmatian and sibling of Lenny.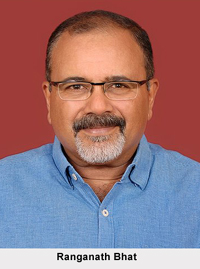 "What a reunion it was... I shall never forget it," says Bhat, "When Vinny arrived Lenny recognized the sound of the car and both of them got talking to each other. Then the car door opened and Lenny jumped into the car. Vinny then looked at Lenny like how mothers look at their kids. Then he began to lick her…that was really great to look at. Vinny who had not eaten for one full day was so happy to see his sister. We did not have the heart to tell him that being our honoured guest, Lenny was well fed. After a while Vinny began to bark at our Toby, then again go back to Lenny give her a lick, then come back and bark at Toby. So protective was he of his sister."

Toby's proud owner Ranganath Bhat insists that Toby did not deserve the Big Brother attitude as he is a confirmed bachelor and is least interested in females.

Getting into a conversation, Ranganath Bhat learned that Vincent D'Souza is a retired employee of Syndicate Bank and the owner of four dogs. He had adopted these Dalmatian siblings after they were found abandoned one and a half years back. Furthermore he discovered that Lenny was a bit of an escape artist. This was the second time she had given the slip. Earlier during Ganesh Chathurti also she had gone missing for one full week.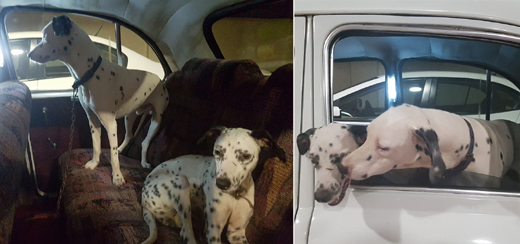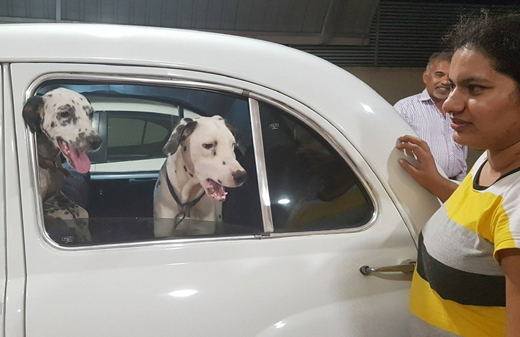 Vincent had got to learn of Lenny's whereabouts through the sharing of Bhat's appeal on social media. Within a short while of posting it on Facebook, the message had gone viral. 131 people had shared the post on Facebook alone and countless others on WhatsApp. "I am touched that there are so many good Samaritans," says Ranganath Bhat. "All's well that ends well. Vinny and Lenny are reunited. Hence it is a happy ending. We said goodbye to Lenny with an advice to her not to run away again..."

Write Comment
|

E-Mail
|
Facebook
|

Twitter
|

Print