Mangaluru: SACAA presents Eminent Aloysian Alumni Awards-2016
mangaloretoday.com
Mangaluru, March 19, 2016: Five Eminent Aloysians were honoured by St Aloysius College Alumni Association (SACAA) in a glittering award ceremony held at Fr L.F. Rasquinha Hall of St Aloysius College on 19 March 2016. The program was jointly organized by St Aloysius College Management and St Aloysius College Alumni Association (SACAA).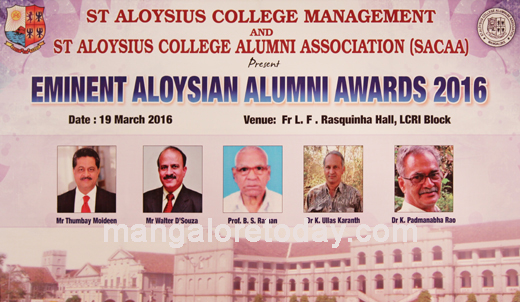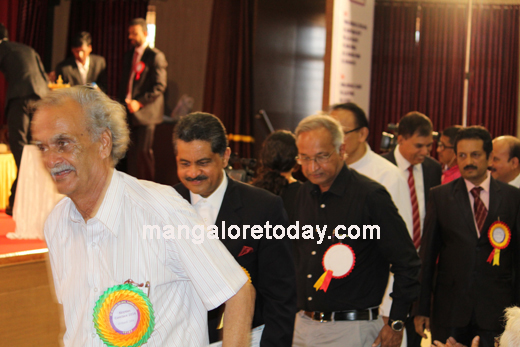 This award is for those alumni who have excelled in their respective fields and have made a significant contribution to the society. The award ceremony is held biannually. This is the sixth Conclave of SAACA to be held awarding eminent Aloysians. Mr. Ananthkrishna, Mr. N V Hegde, Lt. Gen. Nanda, Mr. Abdulla Kunhi, Dr. Deviprasad Shetty, Justice Santhosh Hegde, Mr. K K Venugopal, Mr. K V kamath, Dr. Habeeb Rahman, Mr. Clarence Pais, Mr. Allan Pereira, Mr. Sudhirkumar Shetty among others who were honoured earlier.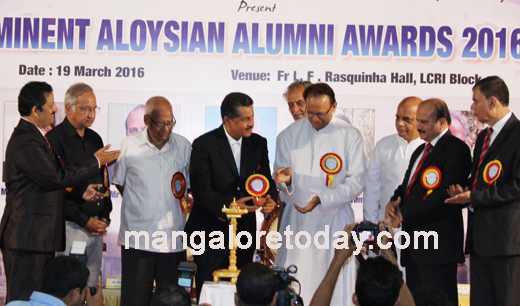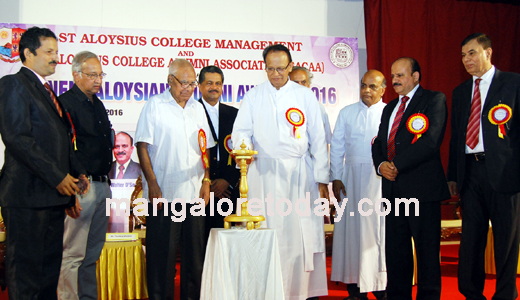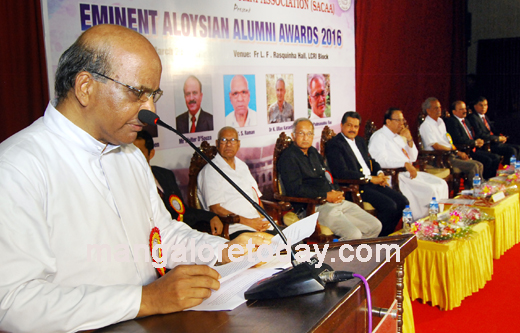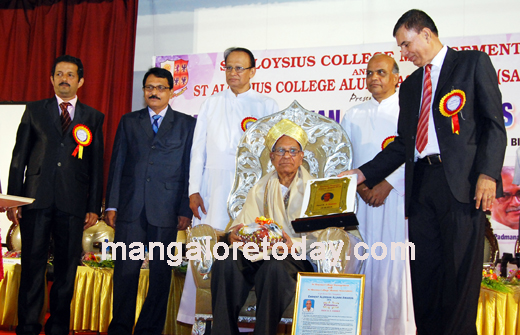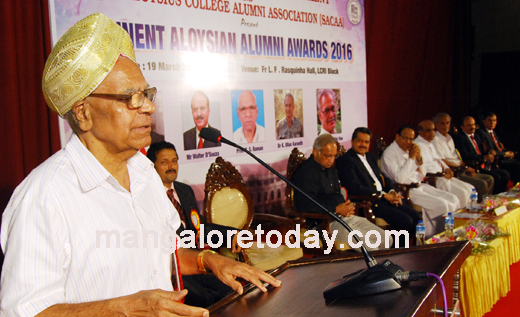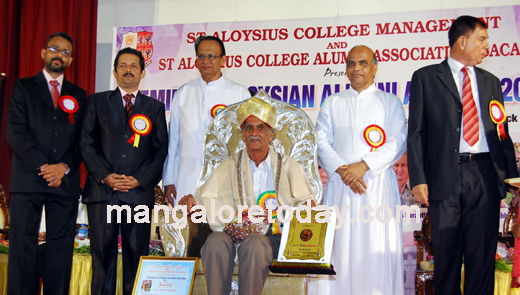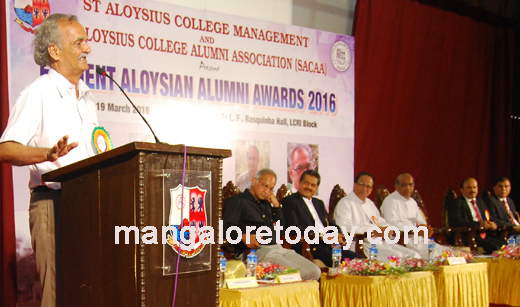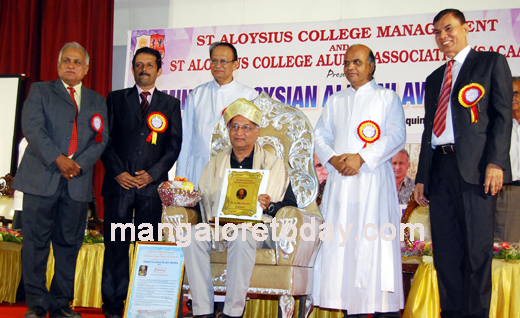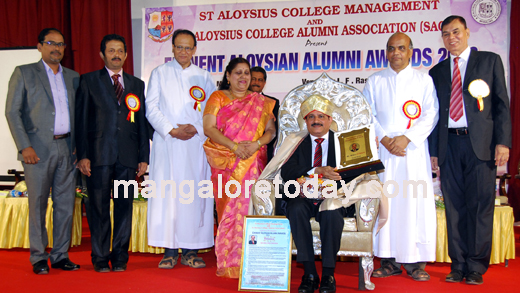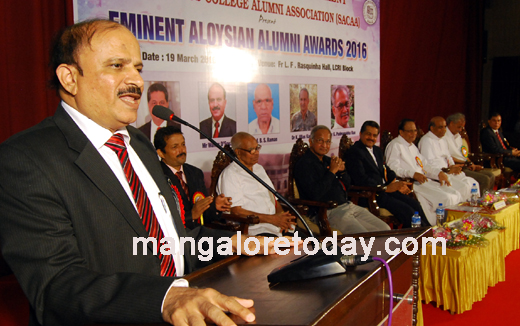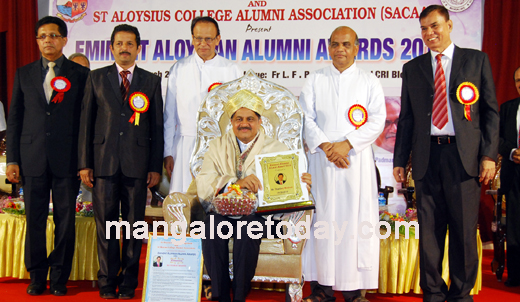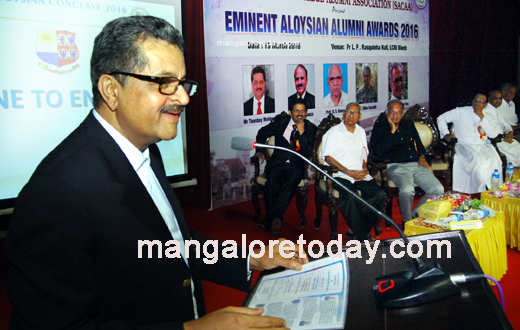 2016 AWARDEES:
Thumbay Moideen is the founder of the Thumbay Group at UAE. He has established the Gulf Medical University in Ajman, UAE. In a span of 16 years he has established himself as a successful entrepreneur and set up various business operations in 13 sectors including hospitals, medical centres, diagnostic centres, health clubs, pharmacies, retail outlets, coffee shops and nutrition stores. He featured in the list of 'The Top Indian Leaders in the Arab World' by Forbes Middle East Magazine in 2014 and 2015. He is the recipient of many distinguished awards.
Prof. B S Raman is popular as the author of the best selling reference books in Commerce and Management. He served St Aloysius College, Mangalore for 35 years as Lecturer of Commerce and has mesmerized thousands of aspiring commerce and management graduates with his mastery over the subject. Today he is a household name having authored more than 100 books in Commerce and Management. He was instrumental in establishing the Business Management Department, Teachers Credit Cooperative Society and the Staff Association at St Aloysius College.
Dr K P Rao is a recipient of the prestigious 'Nadoja' award for his contributions towards the development of software to use Kannada language on computers. He has served as Scientific Officer, Atomic Energy Establishment Trombay, (BARC) and has taught a bewildering variety of subjects at MIT, MIC Manipal, IIT Bombay and IIT Guwahati. He is a contributor to the Free Software Foundation, Sourceforge, Wikipedia and Youtube in Language, Linguistics and Paleography. He has acquired the title 'Lipi Brahma' for his contribution of fonts for local language scripts.
Dr. Ullas Karanth is one of the world's foremost authorities on tigers, a senior conservation scientist and Director of the US- based Wildlife Conservation Society – India Program. Dr Karanth is currently rendering his service at the Nagarhole National Park, India. For his outstanding contributions to Wildlife Conservation and Environment Protection he was conferred the prestigious Padma Shri Award and Karnataka Rajyothsava Award. His scientific papers, articles and books have been widely acclaimed. Dr. K. Ullas Karanth is the Son of the distinguished Kannada writer, Shivaram Karanth.
Walter D'Souza, a Mangalore based exporter is the Managing Partner of M/s Fernandes Brothers, one of the leading exporter of cashew and an Export House recognized by Ministry of Commerce, Government of India. He is the Chairman of the Federation of Indian Export Organizations (FIEO) Southern Region. He also served as the President of Karnataka Cashew Manufacturers Association. He was responsible for setting up a state of the art National R&D Centre for Cashew.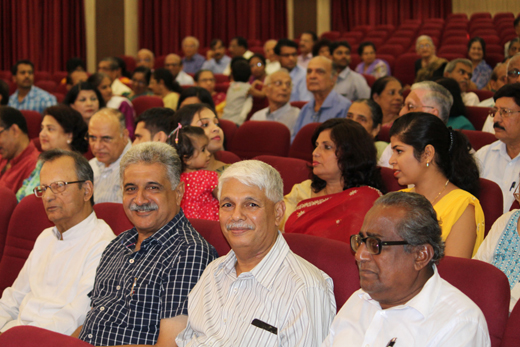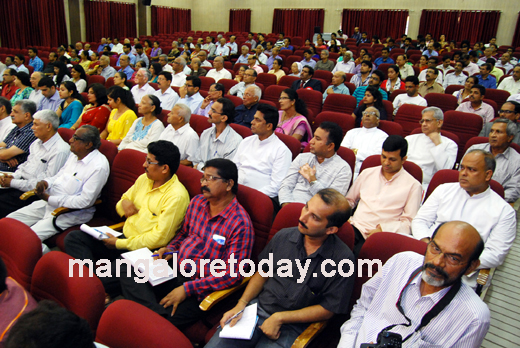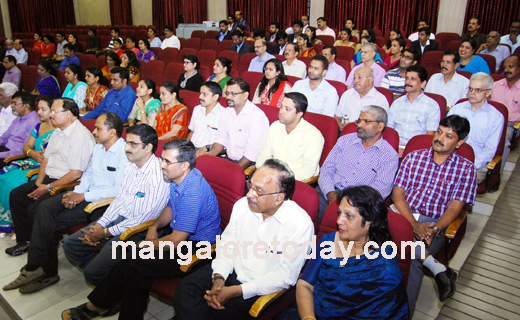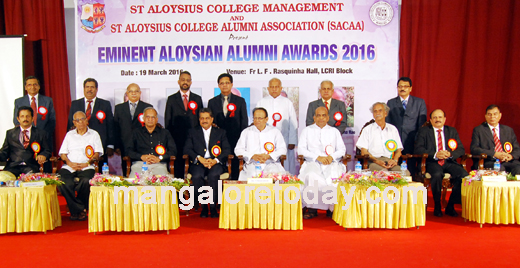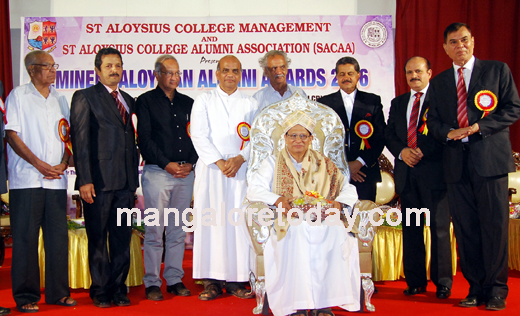 Fr Denzil Lobo S.J was specially honoured by SACAA for his outstanding contributions to St Aloysious institutions. Thumbay Moideen delivered the conclave address. Fr Swebert D'Silva S.J. delivered felicitation speech. Awardees expressed their gratitude to St Aloysious College and shared their reminiscences of good old days in the campus. Fr Denzil Lobo S.J., Rector of St Aloysius Institutions presided over the function. Michael D'Souza was the convener of the programme.


Write Comment
|

E-Mail
|
Facebook
|

Twitter
|

Print