Mangaluru: Ramanath Rai inaugurates 'Invest Dakshina Kannada' convention
Mangalore Today News Network
Mangaluru, Jan 12, 2016: Minster of Forest, Ecology and Environment and District in-charge minister B. Ramnath Rai inaugurated "Invest Dakshina Kannada" an investors' convention organized by the district administration as part of 'Invest Karnataka 2016' at TMA Pai Convention Centre in city on Tuesday, January 12, 2016.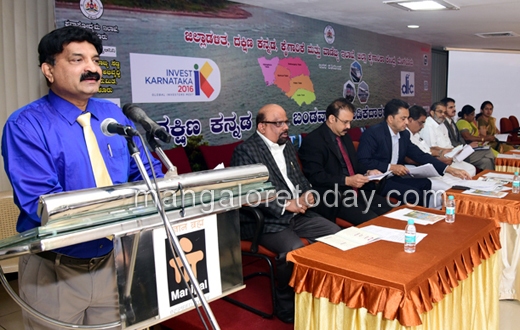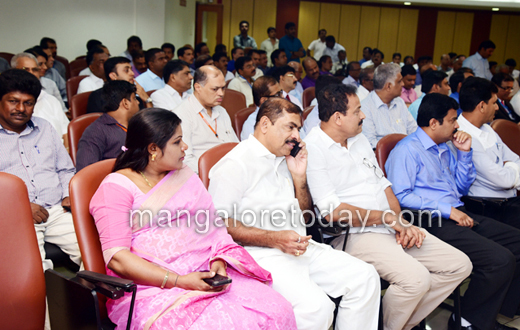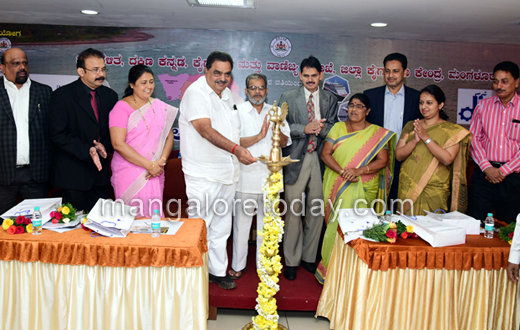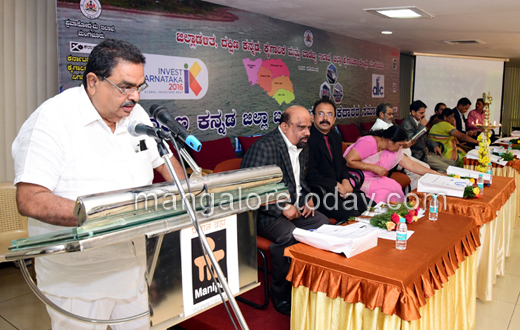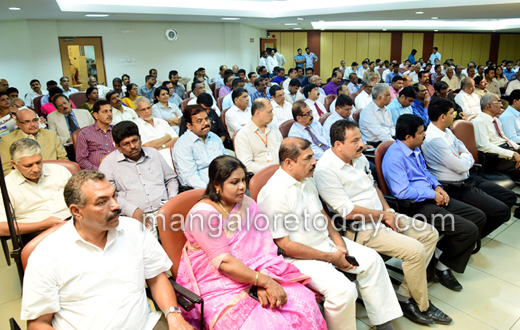 In his address District in-charge minister B Ramanath Rai said that, conducive climate should be created to attract investors for development in coastal area. Mangalore has the advantage of road, air and water connectivity. Investors have laid strong foundation for industrial development in coastal region in which opportunities are wide open to make it a complete industrial hub.

In his presidential address, MLA, JR Lobo criticised state government for completely neglecting industrial infrastructure in the district. Lobo said that nothing is happening from government side and government machinery for industrial development and attract investors. It has miserably failed to provide required infrastructure facilities for the industrial areas. Investors do not need any favours but they will establish industrial units if the industrial environment is conducive, he added.

"Is there anyone bothered to look into the ailing sick industries, which are suffering due to various problems including government policies and apathy, he argued. The Ship breaking yard in Thannirbhavi is in red due to government apathy, he added. Why there is no growth of beach tourism in Mangaluru, he questioned. Has anyone tried to invite IT companies in Mangaluru region? Provide them land, water, connectivity and power and see what happens" Lobo said.

Speaking on technical session, MLC Captain Ganesh Karnik opined that government officials should interact with small and tiny industrialists to solve problems they are facing.

President of DK Zilla Panchayath, Asha Thimmappa Gowda said that Mangalore will be the hub for the investors, where stage has been set for the investors in creating job opportunities for youths, and resume their work in coastal area rather than moving abroad.

District commissioner A.B.Ibrahim said that, availability of resources in the district need to capitalized, as lot of sites are left vacant, now it is up to investors to utilize these vacant areas in enhancing development, for this we need to have skilled man power, lot of unskilled labors is arriving from different regions but known for their man and muscle power and their contribution towards improving industrial sector is appreciable.

Mangalore North MP, Mohiudeen Bhava said that Karnataka is a land of Industrial sector, in which Dakshina Kannada is one of them. It needs to be progressed drastically which will provide job opportunity for the skilled workers. Investors play dominant role in enhancing the development in a systematic manner.

General Secretary, Department of Higher Education, Bharath Lal Meena said that, we need to think that why investors are slipping from our hands and moving to abroad, "Invest Karnataka" will be the stepping stone for these investors to invest for the development of infrastructure in coastal region. ICU, HDI and Literacy rate is high in coastal area for which Karnataka needs to be capable and competitive enough in gaining job opportunities.

LPG, Bottling, Steel Plant, Water Purifying, and pharmaceutical companies, along with wellness spa, boat club, and garment industries have shown interest to invest on the district

Inauguration function was followed by technical sessions and interaction with investors.

President of Urban Development Mangalore, Haaji Ibrahim Kodijaal, Former Mayor Purushotthama Chitrapura, District Commissoner A.B. Ibrahim, CEO Zilla Panchayath Srividya, MCC Mayor Jacintha Vijaya Alfred and Joint Commissioner Gokuldaas Nayak were present.

The event was a prelude to the 'Invest Karnataka 2016' event to be held in Bengauluru in February. Dakshina Kannada district administration, Industries and Commerce department and District Industrial Centre have jointly organised the district level investors meet in association with various departments and industrial associations.




Write Comment
|

E-Mail
|
Facebook
|

Twitter
|

Print