Mangaluru: Minister Rai reiterates 'Anna Bhagya' is empowering the have nots
Mangalore Today News Network
Mangaluru, May 2, 2015: Speaking after launching revised Anna Bhagya scheme for free rice and wheat to APL and Antyodaya card holders at Zilla Panchayat Hall in Mangaluru on May 1, Friday at Udupi, Minister for Forest, Environment and Ecology and District in-Charge B Ramanath Rai said it was unfortunate that a scheme like 'Anna Bhagya', despite being aimed at empowering the socially and financially weaker sections, is subject to criticism.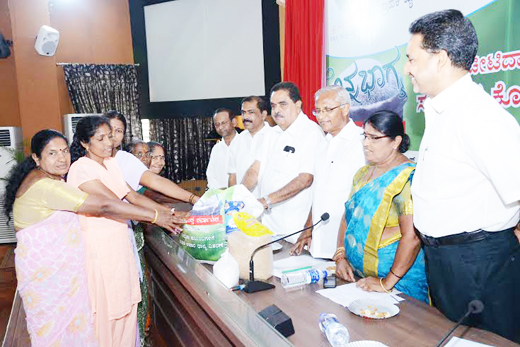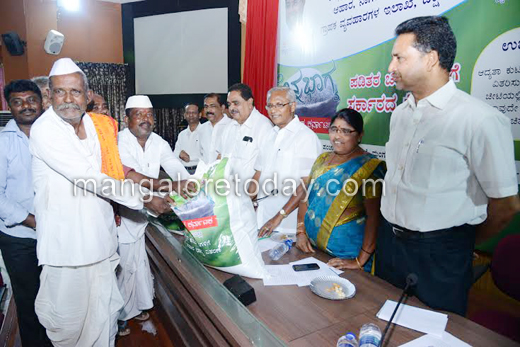 The scheme is implemented by the state government towards hunger free Karnataka. Minister Rai said opposition has been making criticism that it weakens the marginalized and discourages them from working, even though the scheme has a genuine aim.

The State government has implemented many schemes for the betterment of weaker sections and there is opposition for many of the public welfare schemes. The government understands the difficulties of people. Before Land Reforms Act came into existence, even a single meal in many families was not available.

Zilla Panchayat President Asha Thimmappa Gowda said it should be ensured that the government schemes are not be misused. Proper action must result on those who sell the food grains, obtained through the scheme, she said.

Symbolically, a few families were given free food grains on the occasion. MLA J R Lobo, DK DC A B Ibrahim, Food and Civil supplies department Deputy Director Sharanabasappa were present among others.

The Anna Bhagya scheme, so far, has been providing maximum of 30 kg of rice to BPL and Antyodaya Anna Yojana card holders. Now from May 2015, every member of the family, holding BPL or AAY cards, will be provided 5 kg of food grains ( 4 kg of rice and 1 kg wheat), without maximum limit, for free. Also, sugar will be provided at Rs 13 per kg, palm oil at Rs 25 per kg and iodised salt of Rs 2 kg.

The district has a total of 28,665 Antyodaya card holders and 88, 849 BPL card holders will get the benefit.

Single APL card holder will get 3 kg rice and 2 kg wheat and other APL card holders will get 5 kg rice and 5 kg wheat at Rs 15 and Rs 10 per kg respectively. The APL card holders those who want to get the benefit, may register at photo centres and the respective panchayat offices.

Govt helping poor : Urban Development Minister Vinay Kumar Sorake, at Kaup, said the State government has taken up the programme ensuring rice and wheat free of cost to the downtrodden families, despite heavy criticism by the opposition. Speaking after the launching the new module of Annabhagya programme, wherein the beneficiaries receive rice and wheat free of cost, he said that despite severe criticism by the opposition parties and a section of populace that the government is into making poor more lazy, CM has taken the strong decision to ensure rice and wheat free of cost to the poor.

Write Comment
|

E-Mail
|
Facebook
|

Twitter
|

Print