Mangaluru: Karnataka Bank unveils Vision 2020 document
Mangalore Today News Network
Mangaluru, Dec 4, 2015: City headquartered Karnataka Bank has unveiled its ambitious 'Vision 2020' document, a Business Plan for the next 5 years and adopted a Vision Statement - "To be a progressive, prosperous and well governed Bank".

The KBL VISION 2020 which was recently approved by the Board of Directors of the Bank was unveiled by Managing Director and Chief Executive Officer P Jayarama Bhat, in the Bank's Head Office.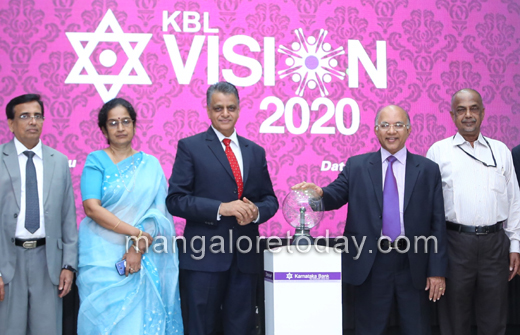 Addressing the staff members on the occasion, Mr Bhat said, "The KBL VISION 2020 document reflects the aspirations of all the stake holders and we have adopted a "bottom up" approach in preparing this ambitious document. For achieving the various projections in the Vision document, Bank will take advantage of emerging opportunities, upgrade its IT infrastructure, strengthen its audit, vigilance and risk management practices and compliance culture and take steps to improve efficiency of people, processes and products by continuously evolving new strategies and policies and create value for our shareholders by optimally utilizing capital resources. In the process, our customers will continue to be the focal point of all our initiatives and we will endeavour to introduce more and more innovative products and service offerings on an ongoing basis to deliver value to our customers and to maximize customer satisfaction and delight by adhering to all regulatory requirements".

As per the 'KBL VISION 2020' document, Bank's total business turnover is projected to increase in a progressive manner to touch Rs. 1,80,000 Crores with deposits of Rs. 1,00,000 crores and advances of Rs. 80,000 crores by March 2020 from Rs. 77,689 crores [Deposits of Rs. 46,009 crores and Advances of Rs. 31,680 crores] as of March 2015. Deposits are projected to grow at a CAGR of 16.80% and advances at a CAGR of 20.35% during the next 5 years. Under deposits, the Bank will focus on increasing CASA deposits which are expected to constitute 27.40% of the total deposits by March 2020. Under advances, the focus will be on expansion of retail and mid corporate credit which would be constituting about 70% of the total advances by March 2020. Bank will maintain the priority sector advances well above the mandatory level of 40% and will endeavour to surpass agricultural credit of minimum 18% throughout the 5 year Vision period. CD Ratio is expected to progressively increase so as to touch 80% by March 2020.

The Bank plans to significantly improve its profitability during the Vision period by focussing on operational efficiency. Net interest margin is projected to touch 3.01% by March 2020 from 2.36% as of March 2015. Cost to Income ratio is expected to come down from 53.84% as of March 2015 to 42.98% by March 2020.

The Bank's CRAR under Basel III is projected at 12.51% in March 2020 with introduction of additional capital as and when required during the 5 year Vision period. KBL – VISION 2020 also emphasizes on rewarding the share holders, besides value creation.

Bank's efforts at maintaining a healthy credit portfolio will continue and gross NPA and net NPAs are projected to be less than 1.5% and at 0.60% respectively by the end of Vision period.

In order to achieve its ambitious goals, Bank plans to take forward its digital banking initiative in a big way and increase its service outlets to 3500 [2500 ATMs and 1000 Brick and Mortar Branches] by March 2020. Bank also proposes to increase the number of its e-Lobbies to 250 and Regional offices to 16 by the end of March 2020. Bank expects migration of majority of its customer transactions to self-servicing digital channels by 2020, by significantly increasing the digital touch points.

Realising the pivotal role played by human resources in organizational growth, Bank proposes to bring about significant improvement in its HR practices aimed at honing the skills to usher in improved productivity and ably supported by HRMS [Human Resources Management Solution]. Bank aims to become the 'Preferred Bank' of at least 1% of the India's total population and be among the top three in the peer group.

"Guided by Vision 2020 and driven by technology, Karnataka Bank intends to position itself as a most preferred and trusted bank among the peer group. We are sure that all these measures will help us in realising our Vision of emerging as a progressive, prosperous and well governed Bank", said P Jayarama Bhat, MD & CEO of the Bank.

Write Comment
|

E-Mail
|
Facebook
|

Twitter
|

Print