Mangaluru: Karnataka Bank launches Current, Savings Accounts campaign
Mangalore Today News Network
Mangaluru, Nov 15, 2016: With the intention to take banking to the door steps of general public, the Karnataka Bank Limited has launched a special Current account and Savings Bank account campaign on Tuesday, Nov 15. Under the said nationwide campaign which will remain in force for a period of 3 ½ months from 15th Nov 2016 to 28th Feb 2017, the Bank intends to open more than 4.15 lakhs Current & Savings accounts by active involvement of its entire work force.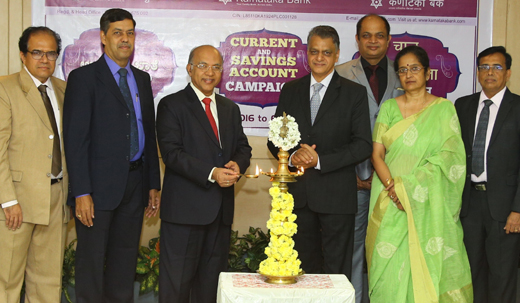 General Public is requested to make use of this opportunity by opening Savings Bank or Current account with requisite K.Y.C. documents. Further, the Bank offers host of Savings accounts namely "SB General", "SB Small", " SB Sugama" - Basic Savings Bank Deposit Account [BSBD] for general public, "KBL-Vanitha" for women, "KBL-Kishore" for children between 10 & 18 years, "KBL-Tarun" for students between 18 & 25 years, "KBL-Salary Privilege" for salaried persons, Insurance linked SB accounts, "SB-Money Platinum", "Ruby", & "Sapphire" for HNIs. Likewise the Bank offers six types of Current Accounts namely "CA General", "Money Pearl", "Money Ruby", "Money Diamond", "Money Diamond Plus" and "Money Platinum" to suit the business needs of different segments of the market.

Bank will also extend free of charge add-on facilities such as VISA/RUPAY Debit Card which can be used at ATMs, Merchant Outlets and Online Transactions over the Internet; Internet Banking, Mobile Banking, Mobile Apps (KBL SMARTZ, KBL ApnaApp, KBL –m Passbook, POS Manager), S.M.S. alerts and Missed Call Banking. These facilities will go a long way in enhancing the convenience of banking anywhere, 24 X 7. In addition to the said facilities, Current account customers like Traders, MSME customer's etc. can avail the Point of Sales [POS] services to boost their business opportunities. The Bank also provides Personal Accident Insurance, "KBL Suraksha" to its Savings Banks customers at nominal rates.

As at June 30, 2016, the Bank had 733 branches, 1,297 ATMs and (e-lobbies/Mini e-lobbies) across India. "The Customer has always been the focal point of all our initiatives. In order to cater to the changing needs of our customer, the Bank has recently introduced two Mobile Apps, viz KBL MOBILE App and KBL SMARTZ (UPI App). To encourage and inculcate the banking habit among women, the Bank has an exclusive Savings Bank account scheme, named KBL-Vanitha, under which the Bank offers Jewellery insurance of Rs 50,000 and Personal Accident Insurance of Rs. 1 lakh free of cost. This CASA Campaign will provide an opportunity to our staff members to reach out to the general public with our product offerings. I am confident of good response from the public" said P Jayarama Bhat, MD & CEO of the Bank.


Write Comment
|

E-Mail
|
Facebook
|

Twitter
|

Print