Mangaluru : 'Elder Abuse Awareness Day' marked - introspection and discussions
Mangalore Today News Network
Mangaluru, June 17, 2015: Under the banner of Vishwas Trust for the elderly and like minded organisations 'Elder Abuse Awareness Day' ' was marked June 16, at Ladies Club. A good cross section of the city with many prominent elders participated.
Pioneer in elders welfare in the city and Director of Vishwas and Elders help line 1090 who is an octogenarian herself, Dr.Olinda Pereira commenced the meet by explaining how though the 'Elders Abuse day' was conceived in 2006 to underscore the rights of elders citizens, it only became recognised in the common arena in 2012.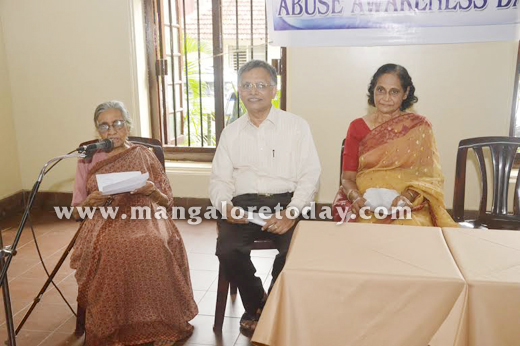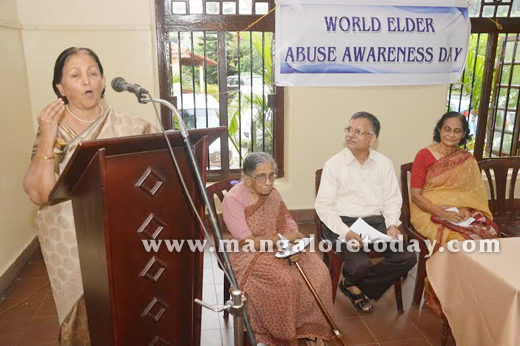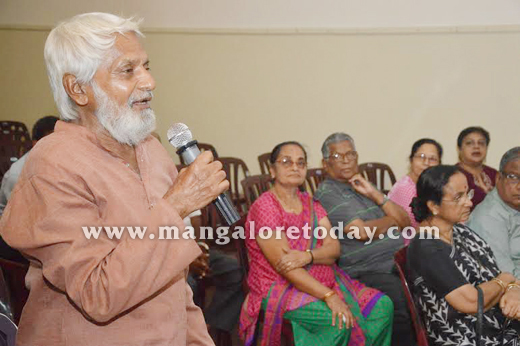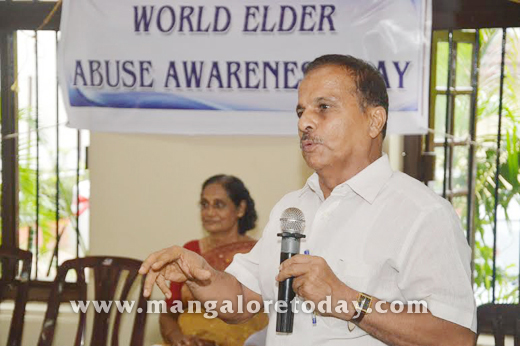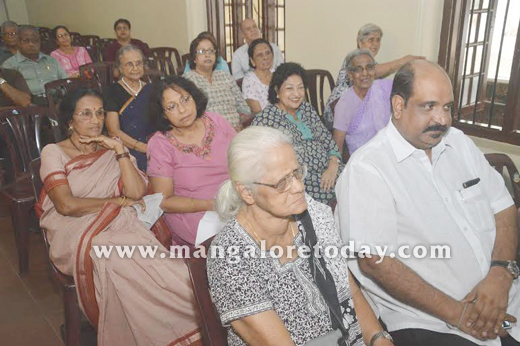 The president of the occassion Dr.L N Bhat - Registrar, School of Social Work, Roshni NIlaya, lead the meet all through Prof. Lidwin Lobo, Co ordinator, Senior Citizen Helpline, Vishwas Trust gave a long list of actual case studies ro high light the extreme trials faced by the aged from their own folks and which is on the rise. She said that more than 5000 cases have been received and out of these more than 3000 are matters of abuse of the elderly. Prof. Phyllis Maria D'Costa, summed up the causes and desirable action of different scenarios to help the aged, sick and infirm. The young and those with a true understanding need to chalk out simple means to support and ease the situation of the aged who face many hardships.

Dr. L N Bhat concluded by saying 'Charity begins at home, the change must come through those who care'. By 2050 the 60 plus population will over take those aged below 50, there fore a life support system to suit the major numbers of the population must be in place. It is high time that the govt too takes cognisance and sets up a Ministry and departments to look into the well-being of the aged as well as insure justice and their fundamental rights as per the Indian Constitution.

Interaction Summary : Shouldn't ageing be a beautiful phase that gives one time to relax and enjoy life's achievements and rewards? Not for the majority it seems. Trials that come in later stages of life - retirement, death of loved ones, increased isolation and medical issues, lack of finance - can lead to depression and slow death. The plight of the aged is indeed beyond description and understanding, but a matter of grave complications. It is the duty of society and Govt to engage in professional solutions presently neglected. A 'catch 22' situation is at play, the aged in old age institutions (whatever category) are counted as non-entities and have no value or weight. Even money can not buy them respect. Those who stay among their own families too have to face ignominy and isolation. Most after distributing their assets, have limited resources relevant to a few decades ago, which inflation has nullified with the passing of years. It is not known how long and with what illness that the aged will live and the 'financial slide down' is cruel, self defeating and degrading. "Financial slide down" is 'being unable to live on the yield of the capital (banks are slashing income on savings), the capital is eaten into hoping that life will come to a respectable end before the capital is liquidated - what a torture for the helpless aged? The Govt needs to consider a body to deal with the problems just like it oversees education, health, welfare and so on. It is high time that Government, Judiciary and NGOs stand up to ensure fair play and justice for the marginalised aged
Foundation urges Govt. to focus on Senior Citizens
Udupi : On June 15, 'Elders abuse Day', Dr. Ravindranath Shanbhag, president of the Human Rights Protection Foundation, said that the foundation had received 380 complaints from across the State, of cases where children had cheated their aging parents of their property or thrown them out of their own houses. They faced great suffering and were also cheated by institutions who promised to care for them at a price.

Such cases are counted as offences under the Maintenance and Welfare of Parents and Senior Citizens Act, 2007. Dr. Shanbhag said as the foundation was handling such cases for the last few years, it had received 380 complaints from senior citizens. But the Department of Women and Child Welfare had received only 103 complaints on this issue. The problem of ill-treatment of senior citizens by their children is on the rise. This, despite the Act being in force for the last eight years. It is very important that the Central and State govt. make dedicated systems for the aged all over India on par with special care being extended to Children, Women and so on. A separate Ministry and departments are needed to deal with these matters because the population of the elderly is set to rise phenomenally in the near future.


Write Comment
|

E-Mail
|
Facebook
|

Twitter
|

Print