Mangaluru: Customs holds up incapacitated Man's mobility
Mangalore Today News Network
Mangaluru: March 30, 2015: Mangaluru resident Merwin Vas was happy to have landed a supervisor's job in KPT soon after completing his civil engineering degree 22 years ago.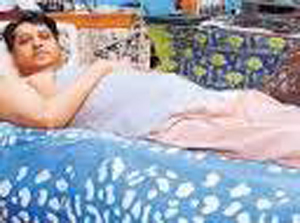 However, his dreams of a bright future came crashing when he fell from the second floor of an under-construction building while on duty in 1993.

Soon, he realised he had been incapacitated for life below his waist due to a spinal cord injury. Left with no option and determined to live without depending much on others, Vas decided to run coaching classes for high school students while lying on bed. That has been his only source of income till date.

Though he has a wheelchair, he was looking for a modern one in which he can move on his own. He found one like that on the Internet. However, it cost Rs 10 lakh and was manufactured only in France, with a distributor in Australia.
What is unique about the wheelchair is that it can climb stairs without anybody's help, and it would be of great help to Vas, who stays on the first floor of a building with his aged parents.

However, coming up with Rs 10 lakh a huge amount was beyond his imagination.
Vas kept requesting his friends to find some donors, very recently found one in the form of his friend's boss in West Asia, who agreed to pay the entire amount.

As a result, Vas booked the wheelchair online and it landed in Bengaluru from Melbourne, Australia, on March 2.

Problems began when customs officials in Bengaluru levied Rs 4 lakh tax on the wheelchair, besides a demurrage of Rs 5 per kg per day (the wheelchair weighs 200 kg, and the demurrage alone has already crossed Rs 30,000).

A shell-shocked Vas has since left no stone unturned for the wheelchair, contacting almost every person possible through this friends, but in vain.

"Since the wheelchair was booked online, there is no way other than paying the full tax," an official reportedly told a friend, said Vas.

"I thought the tax might not cross Rs 50,000-75,000, and hoped to get some discount as it was for my personal use," he said.

He does not have any hope of getting the wheelchair released without paying the hefty amount, which he can't afford. "It took less than a week for shipment from Australia to Bengaluru, but I am not able to get it released even after a month," he said.
Courtesy: DHNS

Write Comment
|

E-Mail
|
Facebook
|

Twitter
|

Print