Mangaluru: Customs Commissionerete celebrates International Customs Day 2019
Mangalore Today News Network
Mangaluru, Jan 25, 2019 : The officers and staff of the Customs Commissionerate, Mangaluru celebrated the International Customs Day on Friday, January 25 along with other stakeholders viz., importers, exporters, special public prosecutor, airlines and officers from Central Excise & Central tax and Income Tax . This year's theme is dedicated to the 'Swift and smooth cross-border movement of goods, people and means of transport' with the slogan "SMART borders for seamless Trade, Travel and Transport".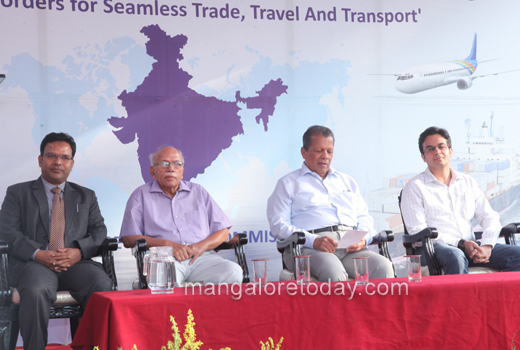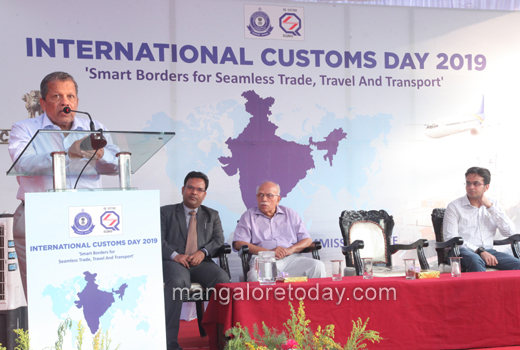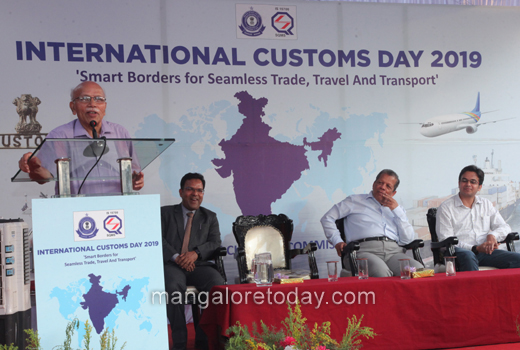 The chief guest for the function was Dr. B.M. Hegde, Distinguished Physican and Padma Bhushan awardee, Mangaluru and Shri N. Vinaya Hegde, Chancellor, Nitte University (Deemed) , Mangaluru was the Guest of Honour. Shri. Imamuddin Ahmed, Additional Commissioner presided over the function.


Shri Imamuddin Ahmed, in his keynote address highlighted that in line with the theme of the World Customs Organization to dedicate 'Swift and smooth cross-border movement of goods, people and means of transport' the Commissionerate has prioritized in working with other agencies at the border, plays a pivotal role in facilitating trade and travel; simplifying, standardizing and harmonizing border procedures; and securing the borders. The CUSTOMS commits to promote the transformation of frontiers into "SMART Borders" with customs acting as the central connecting and coordinating hub. SMART stands for "Secure, Measurable, Automated, Risk Management-based and Technology-driven," the guiding principles at the center of Customs compliance, enforcement, and facilitation efforts.


Speaking about the above goal set by the WCO, the Indian Customs have taken many measures towards ensuring the "EASE OF DOING BUSINES", he informed that the department had introduced SWIFT (Single Window Interface for Facilitating Trade) for ensuring ease of doing business. Under this Project, the importers electronically lodge their Customs clearance documents at a single point only with the Customs. E-SANCHIT facility is one of the key initiative to facilitate online clearance at a single point that allows a trader to submit all supporting documents for clearance of consignments electronically with digital signatures. Further, he added, Indian Customs has introduced the new Authorized Economic Operator (AEO) Programme, wherein extensive benefits, including greater facilitation and self certification, have been provided to those entities who have demonstrated strong internal control system and compliance with CBEC. There are 33 AEO- entities operating in this Commissionerate. He also added that RISK MANAGEMENT SYSTEM (RMS) allows importer to file declarations/ documents as Facilitated Bill of Entry are cleared on the basis of self-assessment by the importer. Such consignments are not subjected to any intervention or examination. During the period, 63% of BOEs and 96% of SBs were facilitated under RMS.


The distinction achieved by this Commissionerate is to get a comprehensive certificate from Bureau of Indian Standards covering all its formations.


On passenger facilitation, the Additional Commissioner informed that over 98.07% passengers have opted for "Green Channel" facility, who are not having any dutiable goods. In this regard, he highlighted the online Customs guide for international passengers which has been found very useful by passengers and travel agencies. The Commissionerate has been taking several proactive measures in respect of departmental lands across the coast and getting them fenced for proper protection and upkeep. In this regard, the building renovation & compound wall of Old Port Office at Bunder will be completed in this financial year.


Detailing the performance of marine wing, it was informed that the performance of this section has been hailed as one of the best Preventive Commissionerate by the Chief Commissioner on visit for inspection of this Commissionerate from 10.01.2019 to 12.01.2019.


The Additional commissioner informed that facilitation and enforcement have to go side by side and accordingly, during this year, so far, 101 Anti-Smuggling Cases involving total value of Rs. 11.417 Crores have been detected for various contraband commodities like Gold, Cigarettes, Foreign Currency, Cannabis & Narcotic Substances etc.. of which 80.19% were gold seizures involving several modus operandi.


The Commissionerate has realized revenue of Rs.2791 crores up to 31st December 2018 as against the target of Rs. 2485 crores for this financial year.


The Guest of Honour, Shri Dr. B.M. Hegde in his address has spoken about cordial behavior of the Customs officials of Mangalore International Airport and he appreciated the efforts made by the Department in securing the Coastline of Mangalore Customs Commissionerate.
The Chief Guest N. Vinaya Hegde while sharing his experiences with several customs formations across the world as an industrialist he expressed that the new facilitations measures introduced by the Department especially the ease of doing business helps them in faster clearance of goods and he appreciated the good work and efforts made by the Department for implementing various schemes initiated by the Government.


On this occasion, M/s Adani Wilmar Pvt. Ltd. was conferred the award for top revenue contributor; M/s. M K Agrotech Pvt. Ltd was awarded for substantial growth in revenue contribution; M/s Mangalore Refineries & Petrochemicals Ltd was awarded for the highest export performance, M/s KIOCL was awarded for second highest in exports and M/s Olam Agro India Pvt Ltd was awarded for substantial growth in exports.

The Commendation Certificates were also distributed to the outstanding officers at various levels for their contribution to respective areas of the Commissionerate.



Write Comment
|

E-Mail
|
Facebook
|

Twitter
|

Print