Mangaluru Central Rail head upgrade, line doubling announced
Mangalore Today News Network
Mangaluru, Dec 15, 2017: The Palakkad Division of Southern Railway of which M'luru is a part, announced doubling the 1.5-km line between Netravathi Cabin and Mangaluru Central Railway Station as well as building an additional platform at the Central Railway Station.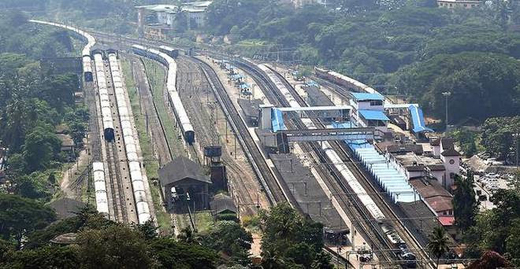 The zonal headquarters at Chennai will accord approval for the plan, tenders would be called for and work would start, said Divisional Railway Manager Naresh Lalwani. The single line between Netravathi and Central Railway Station at present has put severe constraints in the arrival and departure of trains.

The platform work was sanctioned in the previous Railway budget, the work on line doubling was sanctioned in the 2017-18 budget. A sum of Rs. 21 crore has been earmarked for the doubling work, DRM Lalwani stated.

Mangaluru Central, at present, has four platforms and caters to 26 originating and terminating trains every day, while eight trains halt at the station overnight. Adding one more platform at the station, along with line doubling, would considerably enhance the capacity of the station to handle more trains. Southern Railway is likely to take up doubling of the single loop line between Central Railway Station and the Netravathi-Mangaluru Junction bypass line later.

DRM Lalwani said that the new platform is being so designed that the Railways should be able to receive and despatch trains from and to all platforms. Some gradient issues while laying the double line would have to be addressed during the construction stage itself, he said.

Though the length of the new line is just 1.5 km, the Railways has to work under severe constraint as very limited space is available adjoining the existing track. Blocks on operation of trains have to be planned with care not to critically affect regular operations.

At the same time, the Railways would not require much land for line doubling, DRM Lalwani said. However, one road overbridge near the Central Railway Station has to be dismantled to execute doubling work, he added. No mention seems to have come regarding the extension of Bundar Goodshed.

Meanwhile, tenders are invited to install two elevators at Mangaluru Junction towards enhancing passenger comfort, he said.

Train extention : The Divisional Railway Users Consultative Committee (DRUCC) of Palakkad Division in its meeting earlier decided against extending Yeshwantpur-Mangaluru Junction-Yeshwantpur tri-weekly Gomateshwara Express to Mangaluru Central despite the demand from residents.

The decision is contrary to its earlier decision where the DRUCC had recommended shifting of three trains — Chennai Egmore, Kacheguda and Puducherry express — to Mangaluru Junction to provide space for the Gomateshwara Express. Southern Railway's zonal headquarters had taken objection to the move.

Divisional Railway Manager Naresh Lalwani said that the number of passengers boarding the three trains is more than those boarding Gomateshwara Express. Shifting terminals thus would be inconvenient to passengers, he quoted DRUCC as saying.

Only when an additional platform is completed at Mangaluru Central, the division can think of extending the train, he added.

Write Comment
|

E-Mail
|
Facebook
|

Twitter
|

Print