Mangaluru Catholics commence 9 day preparations, 'Monthi Fest' Sept 8
Mangalore Today News Network
Mangaluru, Aug 31, 2018: The first day of the 9 day preparation for 'Monthi Fest', Sept 8, commenced on August 30, Wednesday, it is a traditional family harvest festival. The evening saw all churches filled with children carrying flowers in ornamental baskets.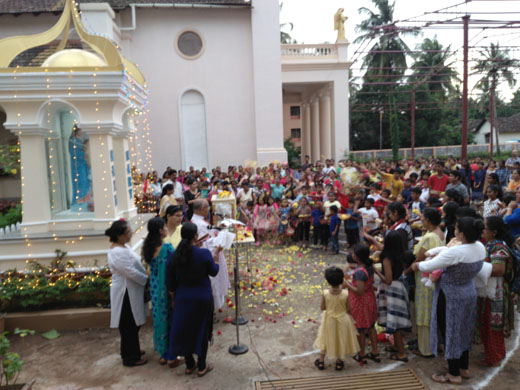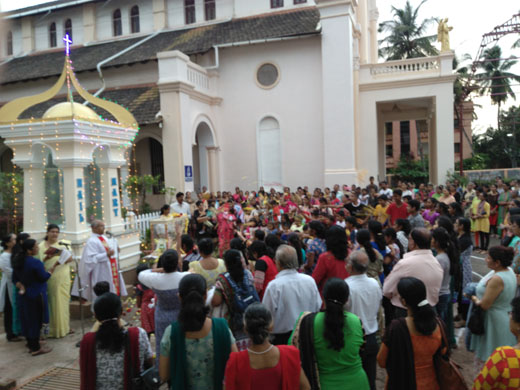 Prayers and solemn mass was held around 5 pm and it was followed by traditional offering of flowers to the Infant Mary image. In spite of the cloudy skies it is held in the open church grounds other wise inside the church or in a covered place.

In keeping with age old tradition and historicity, all catholic churches in Mangaluru, Udupi, and along the west coast and many places where Konkani Catholics live, even overseas; the nine days of preparation for the "Monthi Fest" the Birthday of Mary the Mother of Jesus Christ commenced on August 30. The pictures represented here are of the ceremony at Rosario Cathedral in the heart of the city, this church is considered as the first parish and mother church in the region, this year it marks 450 years of the arrival of Catholicism on the shores of Mangaluru, 1568-2018.

The back ground of this tradition:

The Nine Days : The Novena , a nine day preparation for the feast, particularly children gather flowers from the surroundings of their homes (or now from the market but this year a novelty in keeping with developing business sense youth association sold flowers out side the church ) and carry them to the church in pretty little baskets or trays. Then after mass, they gather around the decorated statuette of Infant Mary and shower it with flowers singing a special hymn in Konkani 'Sekked Sangatha Melian' (Let us all gather together). Toddlers to elders take part actively with joy. It is a thrilling sight to behold, the aged folks too enjoy the sight with nostalgic childhood memories!

THE INFANT MARY STATUETTE: The infant Mary image first appeared in the 18th century according to a legend; About 1730, a Franciscan Nun, presented it to the Bishop of Como in Italy. On his death it was handed over to the Franciscan Nuns who developed great devotion among people to the 'Infant Mary'. Due to Napoleon's revolution when the monasteries were closed down, one of the nuns carefully saved it and handed it over to the Parish of St.Mark in Milan. History indicates that in 1842 it was given to the 'Sisters of Charity' and installed in the Mother House and was exposed for devotions only on September 8, each year. In 1884 extraordinary happenings and miracles spread wide the devotion to Infant Mary. The first Italian nuns of this order came to assist Fr.Muller in Kankanady Hospital in 1898. A replica of the image was first brought to Mangalore by the 'Sisters of Charity' soon after and can still be seen at the Infant Mary Convent Chapel beside the Jeppu Seminary.

Write Comment
|

E-Mail
|
Facebook
|

Twitter
|

Print