Mangaluru: APD Foundation honoured with the SKOCH Order of Merit
Mangalore Today News Network
Mangaluru, Sept 22, 2018 : The APD Foundation has been awarded the Skoch Order of Merit, for their project 'Namma Mangaluru Swaccha Mangaluru', during a ceremony held at the Constitution Club of India in New Delhi on 19th September 2018. APD Foundation was rated and qualified on three parameters: early bird, jury evaluation and popular vote. Arjun Rai, a director of the APD foundation, received the award on behalf of the APD Foundation.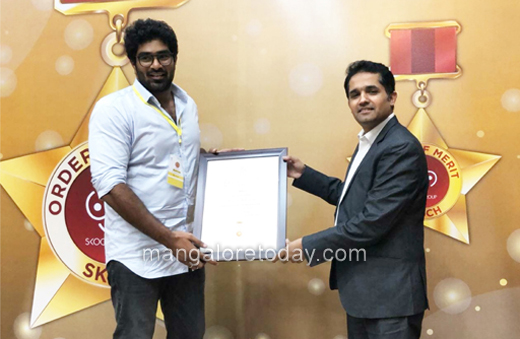 "Namma Mangaluru Swaccha Mangaluru is the first holistic intervention for both the APD Foundation and Mangaluru City, in trying to influence public behaviour, government policy and to achieve successful dialogues with stakeholders," Arjun Rai said after receiving the award.
As part of the Project, APD Foundation has conducted several activities like clean up drive and awareness programmes on cleanliness / waste segregation in association with Anthony Waste Handling Cell Pvt. Ltd., Mangalore City Corporation, other NGOs and private citizen volunteers. The primary focus so far has been to transmit the concept of waste segregation, recycling and waste management in the city.

Skoch Group is a think tank dealing with socio-economic issues with a focus on inclusive growth since 1997. The Skoch Awards celebrate human excellence and agents of change in Indian society. The Awards are based on the philosophy of spearheading positive socio-economic changes by recognising persons who have contributed immensely to salutary transformations in society and governance by displaying exemplary leadership abilities. They are the highest independently instituted civilian honours in India. Since 2003, when these were instituted, the Skoch Awards have become the only independent benchmark of best practices in India in the fields of governance, finance, banking, technology, corporate citizenship, economics and inclusive growth. These salute individuals, highlight projects and focus institutions that go the extra mile to make India a better nation. The Awards are conferred on the mighty and the ordinary alike.

"We are honoured to receive this award. Recognitions such as these tell us we are headed in the right direction to achieve a sustainable future for Mangalore. We have a very hardworking team on board who work tirelessly and efficiently on every project and it is being reflected in our results", said Abdullah Rehman, founder and CEO, APD foundation.

Namma Mangaluru Swaccha Mangaluru is a project designed to create awareness and facilitate the need of sanitation and hygiene and improve public health to pave way for a better economy. The goal of this project is to provide sanitation facilities including toilets, solid and liquid waste disposal systems, village cleanliness, and safe and adequate drinking water supply to maximum number of unreached families in the city by 2nd October, 2019. It will be a befitting tribute to the Father of the Nation on his 150th birth anniversary.


Write Comment
|

E-Mail
|
Facebook
|

Twitter
|

Print