Mangalorean origin author brings out popular book "Bifocals and A Walking Stick"
Mangalore Today News Network
Mangaluru, Jan 22, 2017: A book of captivating short stories of 170 pages, and nostalgic insight into life in South Kanara of old presented to readers, is making waves here, in the Us and UK. The author M.Gopalkrishna Bhat, has been a well known resident of Mumbai for the last 6 decades. Wisdom, insight, experience with deep observation and humor the unique accomplishments of the author have compelled his first book to be a "must read" for the old and young of today. Mangalureans will particularly find a lot of thought provoking nostalgia in this book available from 'Amazon', Published by Notion Press; First edition (2016), ISBN-13: 978-1946390523.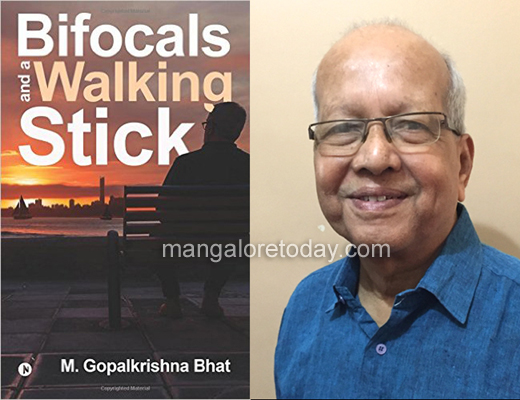 A peak into the book:
The book contains selected essays on general subjects as well as the author's observations of life in Singapore in an interesting spread.

"No thali is complete without those lovely spicy tidbits on the side. The book is replete with trivia to regale your friends over beer or kaapi (bet you didn't know the ubiquitous dosa can be spelt in more ways than you can find fillings to stuff in it)!" - Dev Nadkarni.

The errant but smart-cookie domestic help, the glib chicanery of door-to-door salespeople, the virtues of the humble domestic broom, the street corner scrap dealer, smartphones, a whole list of vegetarian delights... nothing is unimportant enough for the author not to expand into a three-hundred-and-something word piece. It's cabbages and kings at a whole new level!

'Bifocals and a Walking Stick' is like a thali brimming with endless goodies and then some. Etymology, linguistics, history, philosophy, sociology, technology - and that's just a few of the topics that the book touches upon. And dry as those subjects might seem, they're contextualised in a slice-of-life sort of way. And then there are the travelogues - from Luxembourg to Singapore and Mangalore by ship, air, road and rail. It will be a refreshing and appealing matter for all age groups.

What readers say:
** The writing is in simple words, hence it touches the hearts of readers quickly. The local words depicting region, languages, a particular community, etc. conveys the big message in few words. Reader gets to know new things about daily life and to enjoy it in happier way. The humorous writing restrains the book from becoming boring. When any person is sad and if he reads this book; he would forget his sorrows and direct his feelings towards rejoice.
The experiences mentioned in this book evoke nostalgic memories of the reader while reading the same of writer. In short, book is best to read.

** These are short stories and one can relate them to any age. My mom aged 68 , me at 44 and my niece at 10 found them " un put down able " . Humour wrappings on life's realities and a toss of advice. Bring some more of these !

About the Author:
M.Gopalkrishna Bhat (b.1935) was born and educated in the coastal city of Mangalore. He has been a resident of Mumbai for the last sixecades. A lifelong insurance professional, Bhat has travelled widely in the course of his work and for pleasure. He also reads voraciously, favouring the droll, tongue-in- cheek styles of R.K.Narayan, Bill Bryson and Roald Dahl among several others. Gopalkrishna Bhat's flair for language and penchant for clever puns is widely recognised among his inner circle o f family and friends. He is a true linguist, being fluent in Konkani, Kannada, Tulu, Hindi, Marathi and English besides being a student of Sanskrit. His other interests include music, cryptic crosswords and scrabble. His writing style may be best described as "light -hearted and insightful." Bifocals and A Walking Stick is his first book. He may be reached at mgb1935@gmail.com

Write Comment
|

E-Mail
|
Facebook
|

Twitter
|

Print