Mangalore Varsity Foundation Day lecture - Prof Kasturi L Chopra
Mangalore Today News Network
Mangalore, Sep 11, 2014: Indian Institute of Technology (Kharagpur) former director Prof Kasturi L Chopra, delivering Foundation Day lecture on 'Nurturing innovation and entrepreneurship in academic institutions,' at Mangalore University here on September 10, said that there is a need for paradigm shift from government controlled higher education to autonomous and accountable management.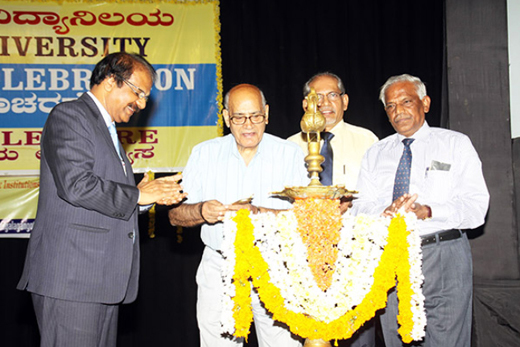 He stated that the growth of a globalised economy and life styles of societies of highly developed countries prevailing at present are largely the result of the knowledge driven science and technology innovations created by the academics in their primere academic institutions of higher education and translated and transformed by entrepreneurs.
The academic institutions can not afford to be teaching centres but must develop into institutions for students to learn, to learn to do and to be useful and good citizens.

He further said "it makes mandatory for the research oriented academic institutions to facilitate and nurture entrepreneurship among students and faculty by embedding the concept for those who are open to new ideas. The academic institutions in India must be mandated to create an eco system for integration of the culture of knowledge-based innovation into the educational system among all its stakeholders for propelling our country to a knowledge and economic power house."

Stating that India is a key player in global IT knowledge economy, Prof Chopra said that MNCs like GE, IBM in Bangalore produce more Intellectual Property through students in India than other countries. The GDP of the rich countries are dependent on knowledge power.
Innovation alone is not important. Along with innovation, entrepreneurship go hand in hand. There is a need to recognise the role of entrepreneurs in the economic growth. India has only 13 Science and Technology Entrepreneurship Park and 60 incubators. Half of the incubators are not working. In China and Israel, there are a large number of S and T Entrepreneurship Park through which innovative ideas come out, he said.

Prof Chopra said that lack of visionary leadership and management, lack of understanding the role of science and technology knowledge and innovation chain, lack of accountability, lack of technology transfer inhibits activities in the higher education institutions.

On plagiarism, Prof Chopra said that plagiarism is practiced even to this day in the field of research. This will not improve the quality of higher education. Process of promotion based on publications is absurd.
There are instances of Bharat Ratna awardee engaged in plagiarism, he said and added that there is a need to provide strong and empowered leadership for nurturing innovations, he added. The knowledge of India has remained in documents. Small countries like Korea, Israel have excelled because of the convergence of innovation with entrepreneurship.

'Celebrate Univ founders day' : Mangalore University Vice Chancellor Prof K Byrappa announced that Foundation Day will be observed as a festival from the next academic year by honouring the best performers in the university along with the alumni achievers. We should collaborate with the industries and support the industries through consultancies, he added. The students look forward to a pro-active celebration in the coming years.

Write Comment
|

E-Mail
|
Facebook
|

Twitter
|

Print