Mangalore University to present a series of Yakshagana texts
Mangalore Today News Network
Mangalore, Aug 27, 2014: Mangalore University will publish a series of prasangas (texts) of Yakshagana, starting with three books, from the current academic year. According to K. Chinnappa Gowda, director, P. Dayanand Pai and P. Satish Pai, Yakshagana Adhyayana Kendra at the university, each book to be published this year would have two texts.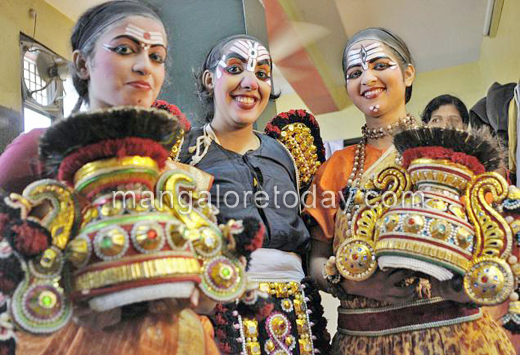 The purpose of having only two texts in each book was to make it handy so that bhagavathas (singers-cum-directors) can carry it with them during the performance. A voluminous book would not serve the purpose.

Authors : He said that two books to be published this year would have texts written by Bottikere Purushothama Poonja, bhagavatha with Durgaparameshwari Yakshagana Mela, Kateel and noted expert on Yakshagana Raghava Nambiyar, a script writer and researcher.

The third book would have two texts of mythology which are not in wide circulation. The publishing of other selected texts would continue over the years.

The books would be published under Yakshamangala series.He said that the Kendra would publish a second research work (Ph.D.) on Yakshagana in the current academic year.

Yaksha Stree : Last year it had published Yaksha Stree, a research work of Nagaveni N. The 256-page book had made a critical study of female roles, the female puranic characters and Yakshagana by women. It had a separate chapter on "hennu banna".

The book had a chart of 105 women 'veshadharis' with their date of birth, their entry to the mela and the important roles they played.

Mr. Gowda said that this year the centre was planning to publish a research work (Ph.D.) titled 'A study on Yakshagana plays by Amrut Someshwar' written by Sampoornananda Balkur.

He said that an advisory committee of the Kendra headed by the Vice-Chancellor K. Byrappa which met recently, approved the action plan for 2014-15.

Talamaddale on September 6 : P. Dayanand Pai and P. Satish Pai Yakshagana Adhyayana Kendra at Mangalore University will host a talamaddale 'Shivabhaktha Veeramani' at Mangala auditorium on its premises on September 6 at 3.30 p.m.


Write Comment
|

E-Mail
|
Facebook
|

Twitter
|

Print