Mangalore: Nationalism should equal democracy – Ex JNU Prof
Mangalore Today News Network
Mangalore, March 25, 2016: "For a country like India, nationalism should equal democracy, which Dr. B. R. Ambedkar defined as a way of life," said Prof. Valerian Rodrigues, former Professor of Political Science, Jawaharlal Nehru University, Delhi and currently National Fellow, Indian Council for Social Science Research (ICSSR). "In this way it becomes a 'deliberative democracy', whereby we begin to communicate and relate with others. The best life is not in our closed quarters, but in our larger interactions with others. It comes from shared loved across communities."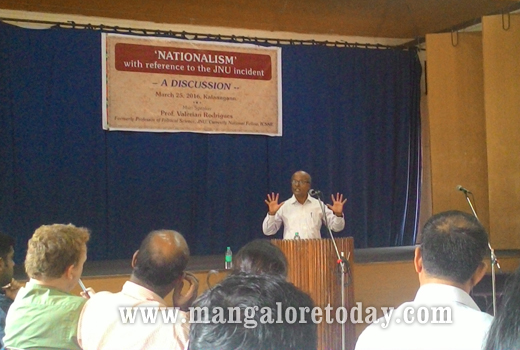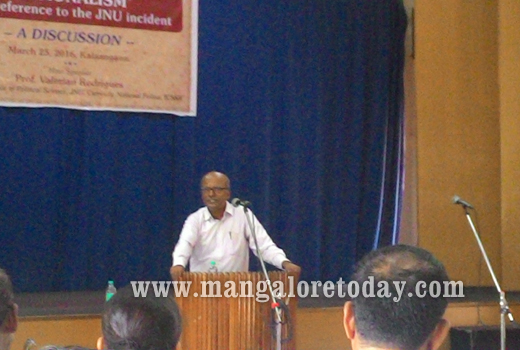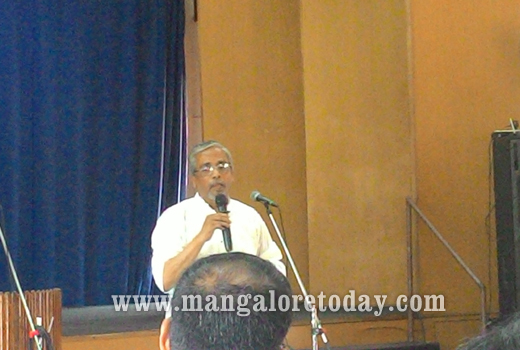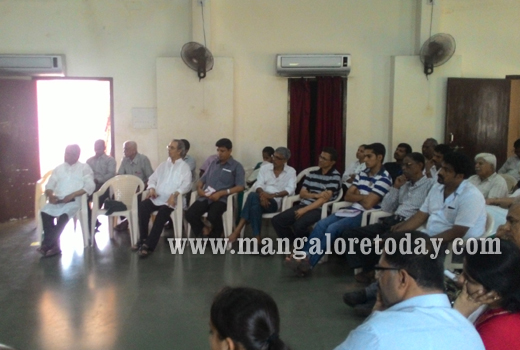 Prof. Rodrigues was addressing an interactive programme on 'Nationalism with reference to the JNU incident' organized by 'Azadi Andolan' at Kalaangann at Shaktinagar in the city this morning.

Explaining the notion of nationalism further, he said that the Indian nation harbours various concepts of nationalism and identified four ideas connected with the theme.
According to him the first concept of nationalism postulates the country having a thick past comprising shared values, ideas and traditions. Both Nehru and Veer Savarkar subscribed to this idea to a great extent, though from different perspectives.

The second notion of nationalism envisages a secular nation, whereby equality of citizens is rooted in the constitution and rule of law and one's religion is not a signpost of nationalism. This concept is mainly based on the shared tradition of freedom struggle spanning 200 years and holds the earlier past as less significant.

The third concept propounds equality of beliefs as reflected in the Gandhian slogan 'Sarva Dharma Sama Bhava'. Here secularism does not mean withdrawal of state from religion, but rather it implies acceptance of all religions.

The fourth concept is of 'Deliberative Democracy' based on the ideas of Dr. B. R. Ambedkar," he said explaining that though this concept appears weak, it alone envisions democracy as a practiced reality. "Here nationalism equals democracy. Democracy does mean an institutional entity, but rather a way of life.

Today we call ourselves a democracy, but we live in cocooned spaces and all paths are blocked. Hence we should reach out and begin to relate with others "Recalling his days at JNU, he said was never enamoured by the campus politics and preferred to maintain a reclusive presence during his years of service at JNU, focusing more on interacting with students.

"They are good with words and sloganeering, but never strong in putting it into practice," he said, "Even in the present controversy relating to the arrest of Kanhaiya Kumar, I don't think the romance is going to continue for long."

Eric Ozario anchored the programme on behalf of 'Azadi Andolan'.


Write Comment
|

E-Mail
|
Facebook
|

Twitter
|

Print