Mangalore: Hindutva activists celebrate Ananthamurthy's Demise, booked by Police
www.mangaloretoday.com
Mangalore/Mudigere, Aug 23, 2014: Just a day after the demise of writer UR Ananthamurthy left scores of fans and followers upset, some people alleged to be members of the Bharatiya Janata Party and the right-wing Hindu Jagarana Vedike were booked by the police for bursting crackers to mark his death.

The Mangalore police and Mudigere police have registered cases against unidentified persons under sections of the Indian Penal Code that relate to rioting, causing public nuisance and forming an unlawful assembly,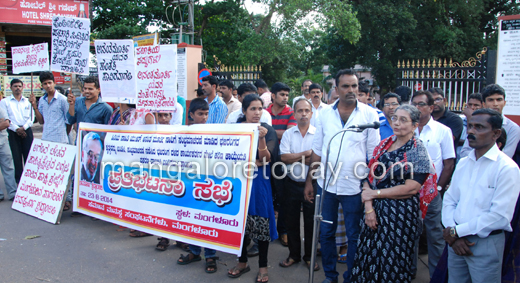 Citizens and several organisations held protest against the inhuman tendency of Bajarang Dal by firing crackers in the city on Friday August 23. Mangalore police commissioner R Hitendra said, "We have registered a case in one incident against unidentified persons."

Sharan Pumpwell, Bajrang Dal state president, told, "The celebrations were not organised by us. Some of our sympathisers might have been carried away. As far as our differences with Ananthamurthy are concerned, they were intellectual, not personal."

Ananthamurthy, 81, passed away in Bangalore on Friday after developing cardiac and respiratory complications.

The Jnanpith award-winning litterateur was known to have been a staunch opposer of BJP's right-wing politics and had criticized now Prime Minister Narendra Modi, before the elections that brought him to power. He had sparked off a controversy when he said that he would leave India if Modi came to power.

"I would not want to live in a country where Modi is the Prime Minister," he had said last year, annoying BJP supporters who had retorted saying that he was free to leave the country.

Following his death, several miscreants reportedly "celebrated" his demise by bursting crackers in four different places in Mangalore and in Chikmanglur in Karnataka on Friday evening.

The police is reported to have footage and photographs of the incidents of miscreants bursting firecrackers to mark Ananthamurthy's death.

Several groups such as the Dalit Sangharsh Samiti and the Democratic Youth Federation of India are demanding that the police also take congnisance of other similar cases of 'celebration' reported in other areas.

"The actions of the Hindutva activists were clearly aimed at creating communal discord and disaffection toward a celebrated national icon," DYFI president Muneer Katipalla said.

While the late writer's virulent stance against Modi was publicly known, Modi had extended his condolences over Ananthmurthy's demise on Friday through his Twitter account.

Write Comment
|

E-Mail
|
Facebook
|

Twitter
|

Print