MU varsity campus to have 'Wi-Fi
Mangalore Today News Network
Mangaluru, Mar 28, 2015: Mangalore University is to make its campus fully enabled with Wi-Fi facility from March 28. MU is to make available internet services through two independent Internet service providers (ISPs). One is through National Knowledge Network (NKN) which is a high speed connection of up to 1Gbps and other through 10Mbps leased from BSNL. The entire campus is configured as a set of Virtual Local area networks (VLAN).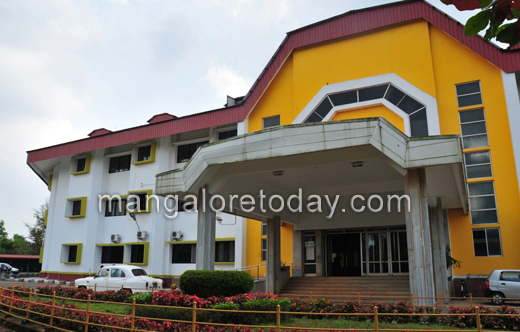 The connectivity within the department is extended through CAT5/ CAT6 UTP cabling, while connectivity across building is established through OFC backbone. Core switch at the computer centre provides high speed switching required across the campus network.

The switch in the department/office/building is used to provide wired connectivity to class rooms / faculty rooms / labs, said Mangalore University Computer Centre Director V R Nanjangud. Currently, the internet access is made available to all users only through wired Ethernet outlets. Hence, laptops can be connected to the outlet in order to access the internet services.

Wired outlets, though very useful, are location dependent and involves connecting a patch chord between the device and outlet. There are many occasions which calls for location independent Internet access without the hassle of using the patch chord. This is all the more important as most of the Students / Research Scholars/ other stake holders have smart devices which can be used to share information.

The new Wi-Fi connectivity access across the campus to enhance the quality of academic and other interactions, he added.The solution consists of central controller and access points distributed across the campus. The access points confirm to the IEEE standard 802.11 ac, which ensures ideal data transfer speed of 1300 Mbps. There are 190 indoor access points deployed to give coverage within the buildings on the campus and 10 outdoor access points for outside the buildings. Stating that security is the major concern, Nanjangud said: "We have ensured adequate security - both for connectivity to Wi-Fi network and to the data transferred over the air. The user is allowed to access only through the registered mobile device, where MAC id of the device shall be the identifying feature. Additionally user has to authenticate using the user name and password assigned.

Write Comment
|

E-Mail
|
Facebook
|

Twitter
|

Print