MRPL to get 'seawater desalination plant' in the future
Mangalore Today News Network
Mangaluru, Oct 02, 2017: The Mangalore Refinery and Petrochemicals Ltd. (MRPL) has big plans to reduce its dependence on fresh water sourced from Netravati at a time when demand for human consumption is on the rise and resources are scarce.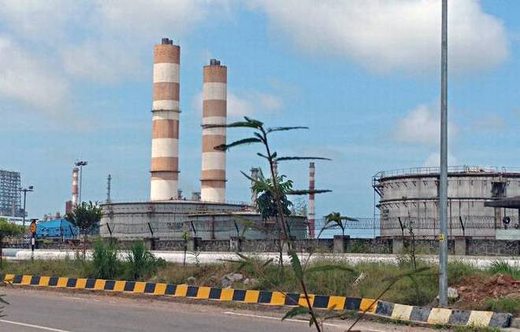 Its Board of Directors recently gave in-principle approval to set up a seawater desalination plant that can substantially reduce MRPL's fresh water consumption.

The plant, proposed on about 14 acres of land to be taken on lease from New Mangalore Port Trust (NMPT), is likely to have 5 million gallon per day (MGD) capacity to produce fresh water initially, which can be scaled up depending upon the requirement.

MRPL Managing Director H. Kumar told The Hindu that the board, while giving in-principle approval, wanted to deliberate on some finer issues, including the cost. This would be discussed shortly and a final decision will be taken, he said.

Director (Refinery) M. Venkatesh said MRPL's endeavour is not to take fresh water even when the refinery expands under the Phase IV.

Water re-sources : At present, MRPL draws about 8 MGD of Netravati waters, 3 MGD of treated sewage from Mangaluru and uses another 2 MGD of in-house recycled water. The effort is not to increase fresh water intake even as MRPL has been asking Mangaluru City Corporation to scale-up treated domestic sewage supply, Mr. Venkatesh said.

Mangaluru residents use about 27 MGD of Netravati waters, while the city has installed capacity to treat about 18 MGD of sewage.

However, not all sewage generated in the city goes to treatment plants and much flows directly into the Netravati and Phalguni (Gurupura) rivers.

Venkatesh said desalination by MRPL would not result in brine — a situation where seawater becomes saltier. Both suction and discharge of seawater takes place at least by about 800 m from the seashore and the discharges will easily be dissolved into the sea, he said.

While MRPL is working on the finer aspects of project cost, Venkatesh said advancement in technology has brought down the cost of production considerably, from about Rs. 70 per thousand litres a decade ago to about Rs. 40 per thousand litres.

MRPL has set a target of April-May 2020 for commissioning the desalination plant after following the requirements, Mr. Venkatesh added.

Write Comment
|

E-Mail
|
Facebook
|

Twitter
|

Print