MRPL plans raw coke gas complex, expansion projects
Mangalore Today News Network
Mangaluru, July 19, 2016: MRPL, Mangalore Refinery and Petrochemicals Limited, has come with plans to set up a raw petroleum coke gas complex at an estimated cost of Rs 12,000 crore to Rs 15,000 crore in the coming years.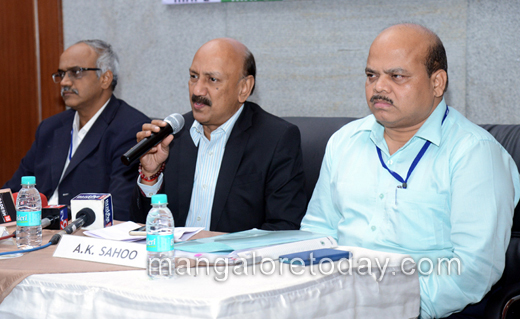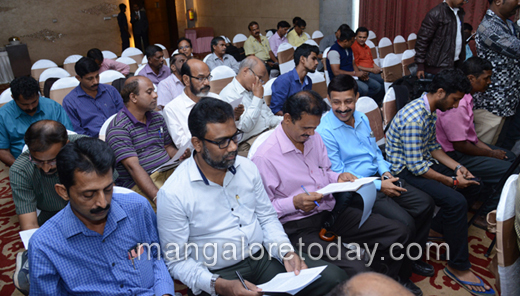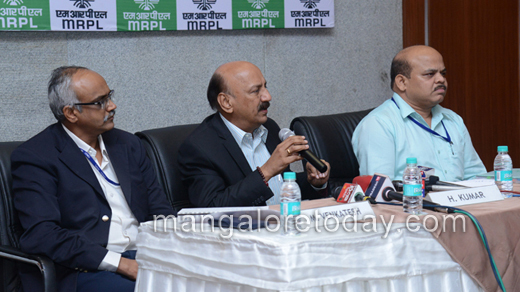 Addressing media July 18, Monday, MRPL Managing Director H Kumar said, "It is intended to produce 'Syngas' (synthetic gas) and subsequently to produce value-added chemicals, such as urea (fertiliser), acetic acid, acryilate among others and production of linear alkyl benzene (LAB) a feed stock to produce detergents."

MD Kumar said the company wants to explore hydro carbon molecule and convert petrol into synthetic gas. It may take 48 to 50 months to set up the plant of 1,000 degree room temperature, he added. Kumar said a slew of new projects are planned in the wake of the Centre's autofuel upgradation policy. Accordingly, MRPL will upgrade its existing facilities to produce BS-VI grade petrol and diesel by 2020, he noted.

He said the company will reduce sulphur content in petrol and diesel to 10 parts per million (PPM) level and also bring down environment pollution caused by fuel emissions. In addition to this, plans are afoot to enhance refining capacity to 18/21 million metric tonnes per annum with low cost revamp, he added.

Reacting to a query, Kumar said, "The demand for petrol has grown by 14 % and diesel by 8%. Karnataka accounts for 85% of the demand, followed by Andhra Pradesh and Mahrashtra." He said companies explore areas followed by increase in demand. Bengaluru and Hyderabad region account for more consumption of fuel, he added.

Crude oil : MD Kumar said MRPL has paid 1.45 billion US dollars against 2.46 billion US dollars towards the purchase of crude oil. The regular suppliers are Iran, Saudi Arabia and Kuwait. MRPL Directors M Venkatesh (Finance) and A K Sahoo (Refinery) were present on the occasion.
Dry land earmarked for expansion : MRPL, Mangalore Refinery and Petrochemicals Limited, Managing Director H Kumar on July 18, Monday sought to allay fears that fertile land will be acquired for future expansion projects of the public sector enterprise.

Responding to media queries, Kumar, who claimed to have records in his possession, said 1011.95 acre of lands marked for acquisition, includes 600 acres of dry land, while only 29 % (of the total expanse) are wet land areas. At Kuthethur, a total of 383 acres of land will be acquired and 67 Right to Tenancy Certificate (RTC) holders have already given consent against total 85 RTC holders. At Permude, 446.05 acres of land will be acquired, with 108 against total 138 RTC holders giving their consent. At Mulur and Kandavara, 175 acres will be acquired for rehabilitation purpose alone, with three against 14 RTC holders at Mulur giving their consent, Kumar explained.

He also clarified that MRPL will also take up afforestation activities both at 27 acres of buffer zone and at Pilikula. Earlier, it had decided to take up compensatory afforestation activities at Pilikula, seeking 27 acres of land from buffer zone.

However, the district administration was particular in taking up greenery-related activities at the area coming under buffer zone and hence it was eventually decided to take up green rich works in both the places, he added. On exact plans of rehabilitation, he said MRPL will abide by the prevailing rules of Karnataka Industrial Areas Development Board (KIADB) and the state government.

On the study, if any, carried out by MRPL on Environmental Impact Assessment (EIA) and Social Impact Assessment (SIA) before earmarking land, Director (Finance) MRPL Venkatesh said the process will start with land acquisition and the terms of references will be fixed by the Ministry of Environment and Forests.

To another query on providing employment to land losers, Kumar said, "About 530 people have been employed in MRPL and ONGC Mangalore Petrochemicals Limited." When it was brought to his notice that some employees at MRPL are instigating land holders by setting up make-shift structures on the land demarcated for acquisiton, Kumar said, "In case of any violation of strict rules of conduct, such employees will be terminated from the job."

Write Comment
|

E-Mail
|
Facebook
|

Twitter
|

Print