MCC budget points to tax hikes
Mangalore Today News Network
Mangaluru, Mar 25, 2015: Presenting the budget in MCC here on march 24, Mangalore City Corporation has presented a surplus budget of Rs 1.5 lakh for the year 2015-16, without any new schemes.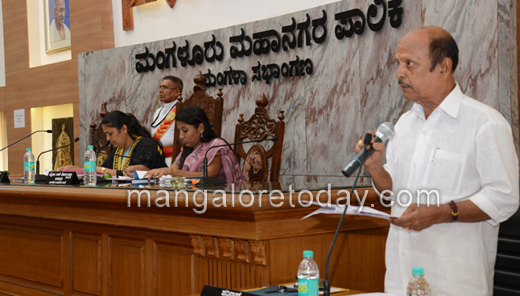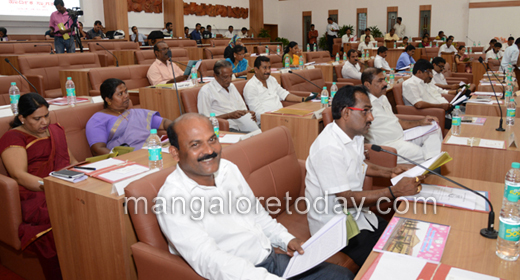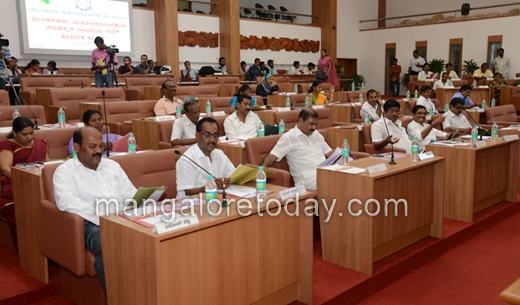 Chairman of Standing Committee on Finance and Taxation, Harinath said that the MCC has estimated an income of Rs 358.44 crore from various sources including Rs 45 crore from water cess and Rs 40 crore from property tax, while the total expenditure has been estimated at Rs 358.42 crore, thus posting a surplus budget of Rs 1.50 lakh. Besides water cess and property tax, the corporation would spend Rs 159.86 crore for various development works, Rs 45.21 crore for repair and maintenance and Rs 20 crore for waste management. Harinath also hinted at increasing various measures for the betterment of revenue collection, including increasing market and advertisement tax.

Under, 'Swastha Kuteera' scheme, the MCC has earmarked Rs 60 lakh for repair of houses belonged to SC/STs. For the year 2015-16, the individual financial assistance has been increased from Rs 15,000 to Rs 20,000. It has kept Rs 25 lakh for sports and Rs 15 lakh for the compensation of victims of natural disasters. Out of Rs 14 crore which is earmarked by the MCC for the development works, Rs 3.37 crore will be spent for SC/STs, Rs 14 crores for other development works.

MCC expected Rs 22 crore from the state government as estimated. Under the Chief Ministers special grant, the corporation has received Rs 100 crore for the first two years, Rs 94. 74 crore has been spent. In the second phase, for the three years, the MCC has received just half of the amount- Rs 50 crores.

Under third phase of Chief Minister's Nagarothana project, the government has agreed to release Rs 100 crore, which would provide around Rs 25 lakh to each corporater to improve basic facilities in respective wards.

The 13th Finance Commission of India has released Rs 48.96 crores for the development of basic infrastructures, including gardening, forestation, water supply etc. The corporation has paid Rs 14.35 crore to the Mescom for drinking water supply and street lights. Various development works have been implemented for the development of backward classes under 24.10 per cent, 7.25 per cent funds, he said.

No new proposals : The opposition BJP defied the budget as a 'zero budget' with no new schemes. Corporator Sudheer Shetty said that Hubli-Dharwad and Belagavi city corporations have received the full Rs 100 under Chief Ministers special fund, but Mangaluru could not get the same this year as well.

Water cess, the estimated revenue was Rs 40 crore, but MCC could collect only Rs 19.67 crore (till Dec), in property tax collection, the achievement is just 58 per cent. When the corporation doest show achievement, it will not get funds. The District-in-Charge Minister has announced making Mangaluru kerosene-free, but where is money to give gas connection, he asked. With 15 per cent cess, the corporation had expected around Rs 50 crore of income, but nothing happened. Budget has not mentioned about construction of bus stands. Opposition Leader Premananda Shetty also expressed concerned about failure in revenue collection. There is no serious effort on waste management.

The new door-to-door waste collection has covered just 60 per cent of city. There is huge gap between income of MCC and the estimation, he said. Former mayor Mahabala Marla said that steps have been taken to stop Malaria using the state government fund. LPG gas connection is given to around 700 beneficiaries by MCC. There is a need of increasing market and advertisement tax to increase the revenue of the corporation. There is a need of innovating anganwadi centres, he said.

Meanwhile, about the ongoing Tumbe vented dam project, the members of BJP and Congress levelled allegations against each other. Former mayor Shashidhar Hegde said that then BJP government didn't release a single penny for the dam construction, but the Congress government released Rs 40 crore for the project. Alleging politics, BJP members started protesting in the well of the house. However, the officials clarified about the funds with statistics.

Earlier, the house observed one minute silence in respect of actor K N Taylor and IAS officer D K Ravi. MCC Mayor Jacinta Vijaya Alfred, Commissioner Hephsiba Rani Korlapati was present at the meet.

Write Comment
|

E-Mail
|
Facebook
|

Twitter
|

Print