Last rites of B.Ramachandra Baliga performed
Mangalore Today News Network
By Prof. Narendra Nayak

Mangaluru, Jun 22, 2018 : This is the life story of a man who lived a typical middle class existence dividing his time between his home, family, his favourite restaurant and yes- favourite to all GSBs the Venkatramana temple at Car street, Mangalore.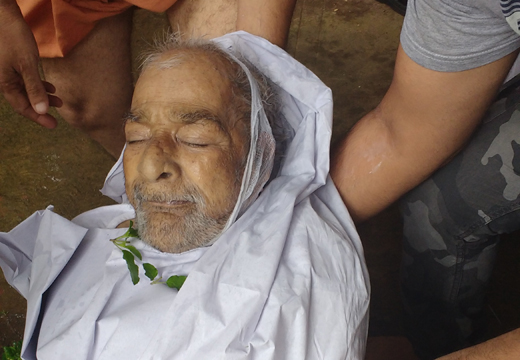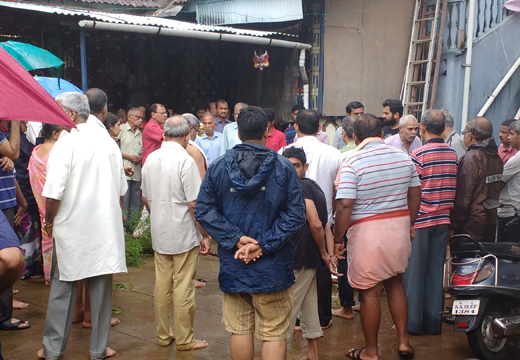 Little did he realize that his son the brutally slain RTI activist Vinayak Baliga would meet a gory end because of his questioning of the affairs of this temple and kashi mutt. Being an amateur astrologer, Mr. B. R. Baliga had predicted a long life of 80 plus years for his only son. He had five children- the eldest daughter Shwetha married with two grown up children, followed by Vinayak who was unmarried at the time of his death, followed by Usha who is married and lives with her husband at Mumbai. His next two daughters Anuradha and Harsha are unmarried and were looking after their parents after their brothers untimely demise. Though Mr. Baliga, the senior was very wrong in predicting the life span of his son, his daughter told me that he was only a little off the mark in predicting his own end. They showed me an entry in his diary that his end would be on 22-2-2018. He had developed age related complications with illness and had been admitted to the hospital only to be discharged after a few days because it was felt that there was little hope of his recovery. On the 21st night at around 8 pm he got breathless and was taken to the hospital where he was declared dead on arrival. Both the parents on their death bed had been asking for their son who was no longer around to take care of them. In fact, his daughter Anu told me that just before he passed away he asked for his son to give him water and realising that he was no more took the tumbler and poured it into his mouth with his own hands- the last gesture of a devout Hindu to be given a sip of gangajal from his male progeny!

This ordinary middle class man who worked till 1969 for a famous bidi manufacturer, then on starting his own business selling bidi leaves to his former employers had totally retired from all business activities in 1990. Never committed to any cause social or political, indifferent to issues he had to take on the legal battle of fighting for justice for his son though not with much success. He had gone right upto the supreme court challenging the bail granted to the accused in his son's murder case but of no avail. His daughters too had taken up the struggles for justice for their brother. Their mother Jayanthi Baliga too had pitched in but only to pass away a year after her son. Now the family has lost three of their elders in two and a half years and are distraught. While those who have allegedly planned executed and master minded the murder are roaming around freely out on bail, the govt. and the courts yet to appoint a special investigation team to investigate the murder as demanded by the family it is everyone's question as to whether the family would get justice at all.

Will the society wake up to this grave injustice? Or is their cry one in the wilderness? The wheels of justice are supposed to grind slow and fine. Are they grinding at all or is there a spanner in the works?

Write Comment
|

E-Mail
|
Facebook
|

Twitter
|

Print