Kudla Kala Mela, open art exhibition at Kadri, concludes
Mangalore Today News Network
Mangaluru, Apr 17, 2017 : The concluding day of Kudla Kala Mela, open art exhibition at Kadri, was on high note, children took part in cartoon and caricature drawing sessions 'Rekhantaranga' which was very popular.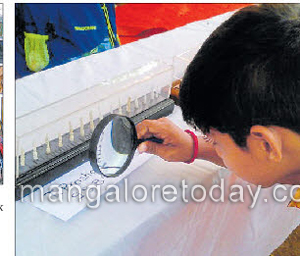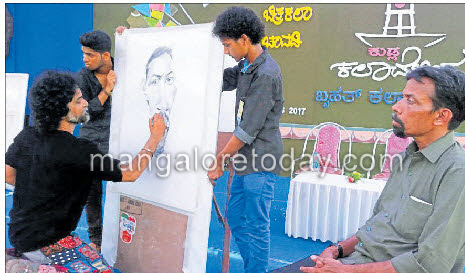 City's artists John Chandran, Dinesh Holla and Chitramitra demonstrated ways of drawing cartoon and caricatures. Chitramitra drew a caricature of artist Dinesh Holla on the venue. He said that there are no rules or limitations in cartooning. One has to observe surroundings carefully. Cartoons are generally exaggerations in highlighting features. Interestingly, every human face has an animal or vegetable resemblance. To practice cartooning, students should observe and recreate the objects or persons on their own. This will provide a good brain-and-hand connection.
Special Awards : 'Kala Chavadi Puraskara', and 'Vishesha Kala Puraskara', the awards for special achievement, were conferred on artists Dinesh Holla and Ganesh Somayaji, and prizes distributed to winners of the drawing competitions held on the occasion. Alva's Education Foundation chairman Dr M Mohan Alva, Buntara Yane Nadavara Matru Sangha president Ajith Kumar Rai Maladi and Prasad Art Gallery proprietor Kotiprasad Alva were present on the occasion.
Prashanth Kumar T learnt chalk and pencil carving on his own, inspired by one of his friends. He creates artworks as small as one mm to 10 mm on chalks and the tip of pencils. A goldsmith by profession, he also creates embossing work on brass and carving on coconut shells. He uses the ornament-making tools for carving.
Images of Gods are carved on the graphite tips of pencils which are 1.5 mm thick and also on chalks. The carvings can only be viewed with the help of magnifying glasses. So far he has carved around 100 works. A single work takes three hours to complete. No magnifying glass is used while doing the carving. One has to be very careful and patient.


'Fire' drill an attraction : 'Fire' drill was a surprise in more than one way, on the venue of Kudla Kala Mela at Kadri Park, April 16, Sunday evening. This fire an attempt by the Fire Fighting and Emergency Services Department to demonstrate fire fighting. Usage of fire extinguishers, various types of water jets used during fire mishaps were demonstrated by the fire fighting personnel. The awareness programme was held on the account of fire fighting service week April 14 and 20, now in progress.

Write Comment
|

E-Mail
|
Facebook
|

Twitter
|

Print