Koteshwara residents witness rare halo
Mangalore Today News Network
Mangaluru, Sep 2,2017: Residents of Koteshwara were thrilled and witness to sun's halo in a rare and beautiful display in the sky in the noon hours on Sept 1, Friday.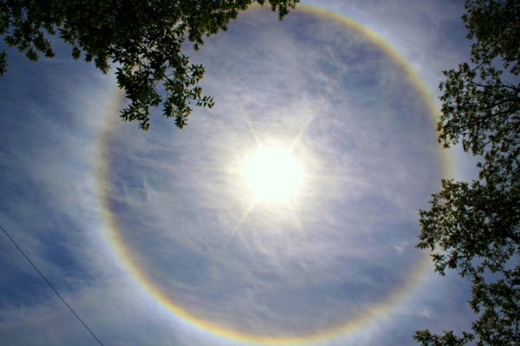 Halos are the rings of light that circumscribe the sun or the moon and usually occur when a thin layer of cirrus clouds (clouds composed of ice and thin ) are present in the sky. Generally, a sun halo is a natural optical phenomenon where light reflects tiny ice crystals in the lowest level clouds. It occurs on days where humidity in the air is especially high.

The randomly oriented hexagonal ice crystals with diameters less than 20.5 micrometers are responsible for the halo observed in the sky. This geometric size and shape causes light to undergo two refractions or bends, as the light passes through the ice crystal. Once the second bend is made, the light appears as a halo in the sky. At high enough altitudes in the sky, the water vapor condenses and then freezes into ice crystals. As sunlight passes through the ice crystals, the geometry of the crystals cause the light to refract, similar to what happens when light passes through a prism.

Dr M B Nataraj, professor at Bhandarkar's College, Kundapur, said DH that it was a rare phenomenon as the sun was on a spectacular display.

Write Comment
|

E-Mail
|
Facebook
|

Twitter
|

Print