Kasargod:'Scorching' of plants caused by 'salt' deposits - CPCRI
Mangalore Today News Network
Kasargod, July 01, 2015: CPCRI - Central Plantation Crops Research Institute, Kasaragod, stated that 'scorching' of some trees and plants seen in the coastal belt now is due to "wind fire" or "heat burst".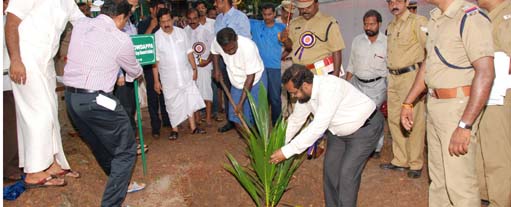 Media release, quoting K.B. Hebbar, Head, Plant Physiology, Biochemistry and Post Harvest Technology, CPCRI said that when monsoon begins, wind brings tiny droplets of salt to the seashore and adjoining areas. It is a natural phenomenon in May/June, usually salt gets washed away in rain. Unusually, this time there was heavy wind but less rain in June. As a result salt has accumulated on trees and plants.

The salt deposit residue on the tip of leaves has affected the tissue and caused browning, burning and eventually necrosis, tissue death. The degree of scorching and necrosis depends on the salt concentration. Some of the fruit trees, coconut trees and vegetable plants have been scorched, the release said.

It said that ions like sodium (Na) and Chlorine (Cl) entered the leaves and caused osmotic imbalance which not only dehydrated the tissue but affected the process of photosynthesis, protein synthesis, etc. The degree of scorching and necrosis depends on the salt concentration. Necrosis was more in plants growing near the sea shore.

Director of the institute P. Chowdappa said that some of the trees like Casuarina, Acacia, Cassia and Eucalyptus are tolerant to salt while coconut, guava, mango, pineapple, sapota and arecanut are not so tolerant.

Plants like banana, papaya and lime are highly sensitive to salt. The plants in which necrosis is seen in whole, die within a few days, while those with a few green leaves may recover slowly. Wind barriers like Casuarinas, Acacia, and Cassia could be planted as a border plant near the sea shore. The wind carrying salt will be deposited on these plants and the main crop will be protected. With present lack of casuarina plants along the coast the damage is more.

Also, the salt effect can be minimised by soil treatment like application of organic manure, fresh water spray to the young seedlings to wash off the salts etc. The samples of the healthy and affected coconut and other plants have been collected for study of sodium, chlorine etc.

Write Comment
|

E-Mail
|
Facebook
|

Twitter
|

Print