Karnataka Assembly Election: do vote and vote intelligently, a Sacred Duty
Mangalore Today News Network
Bhamy V. Shenoy

Mangaluru, Apr 12, 2018: Karnataka Assembly election will be held on May 12. While there is excitement in slums to participate in the electoral process, the middle class and rich are having only heated and intellectual discussion on why their participation does not make a difference, most candidates are corrupt, etc. But are they right? Very few ask what is their responsibility?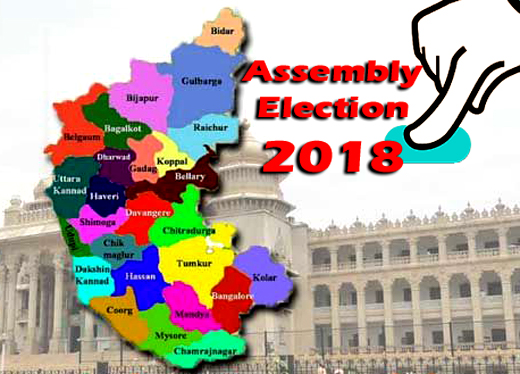 They argue that their votes do not count because politicians know how to "buy" votes from the poor and uninformed voters. While it is partly true, in many constituencies where the winning margin is slim, educated voters can make a difference by casting votes for more deserving candidates.

Today political parties also assume that educated voters do not make a difference since they do not vote. There is a big disconnect as a result between the educated and political leaders. Importance is given to get votes on divisive issues like caste and religion and not developmental issues. Only when educated and concerned voters get involved in large numbers it is possible to bring about transformational change.

Mysore Grahakara Parishat is planning to organize public debates by inviting candidates belonging to main political parties once the final list of candidates is announced. There will be separate debates for three constituencies of Chamaraja, Krishnaraja and Narashimharaja.

There was some confusion if such debates can be held or nor when MGP started to discuss the modalities of holding a debate. It was cleared after receiving a message from the election commissioner for Karnataka who stated that there are no restrictions. Subsequently, MGP members had a meeting with the formalities of holding a debate with the DC, Shivakumar. While there is no ban on holding an in-house meeting, code of conduct rules are very strict to ensure law and order and also to prevent any misuse of such debates. This is a sad reflection of our society that even to hold a debate, we are scared of possible violence and attack by lumpen elements.

Objective of these debates is to find out what candidates plan to do for their constituencies once elected and to hold them accountable. It is not enough to know the platforms of their parties. Voters will be more informed as a result of such carefully planned debates conducted in a dignified way. Voters will become more aware of the suitability of the candidates namely their honesty and competence. As a result, voters will be able to cast votes more intelligently.

When I discussed the idea of the debates with friends, the first comment made was that the candidates will not participate. This itself speaks volumes about our democracy where candidates can afford to ignore an important segment of the voters. Educated voters in Mysore who can vote intelligently are more than 60% and thus can play a critical role in deciding the winners. More competent candidates who know how educated can tilt the balance will certainly come forward. For this to happen, NGOs like MGP besides holding debates need to have active drive to motivate voters to participate in the election. Excitement created through debates with wide media publicity (print, TV and digital) can help in such voters' drive.
If some candidates do not participate in the debates, MGP can put their names on the empty chairs. Given the present condition in the society where honesty and competence has little or no value, such shaming may not produce results. However for our democracy to mature and produce outstanding leaders like the ones we had soon after independence, we need to experiment with different ideas. Holding a public debate is one such idea and it is hoped that the educated and professional Mysoreans will participate in large numbers.

One of the most mysterious things during the elections is the disappearance of voters from the voter's list. This seems to be happening mostly with the educated voters. Is this by accident or design? If we can develop a sophisticated system of Aadhaar, why cannot we have a foolproof voters list?

For those voters who always give the excuse that none of the candidates deserve their votes, they have an alternative. They can always vote "NOTA" (none of the above) and still participate in the election. If there are more NOTA than the votes polled for the candidate with the highest number of votes, then election has to be held again.

The most difficult task is to bring about attitudinal changes in the voters to vote and vote intelligently. Voters need to be educated that voting is the most sacred duty to the nation. All our current problems are caused by lack of competent and honest leaders. No use blaming our elected representatives since we elected them either by casting votes or by our negligence. Let us now change it by participating in the electoral process.

Write Comment
|

E-Mail
|
Facebook
|

Twitter
|

Print