Kambala ban to figure strongly in parliament session commencing today
Mangalore Today News Network
Bantwal, Nov 24, 2014: Dakshina Kannada and Udupi district administrations expected ban of kambala (slush track buffalo race) based on a directive from the department of animal husbandry and veterinary sciences will echo in the winter session of the Parliament getting underway on today, November 24. BJP members of parliament from Udupi-Chikmagalur, DK and Shivamogga, Shobha Karandlaje, Nalin Kumar Kateel and B S Yeddyurappa are set to raise this issue.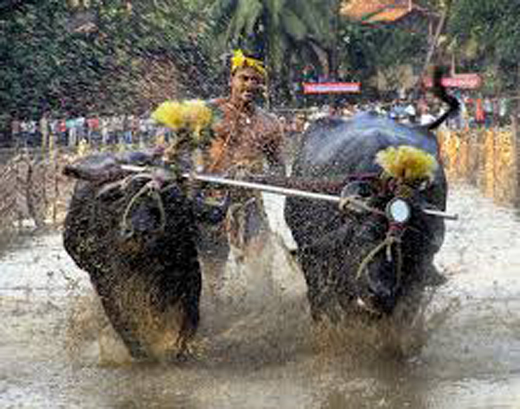 In an talk with media at Brahmarakootlu near here on Sunday, Shobha said, "Ideally the state government must take the lead in this regard for any request made by them with the centre carries weight." Even if the state government fails to take the lead in this regard, the BJP MPs from these districts will personally raise it with the union minister for agriculture under whom department of animal husbandry is vested, she said.

Opining that since there is no mention of 'kambala' in the Supreme Court order dated May 7, Shobha said this folk sport is more of a religious and cultural activity in this part of the world, where the buffaloes are treated with reverence and treated by owners like their own children. There is no violence perpetrated on the buffaloes in kambala, she said, adding it is for the state and the centre to convince the Supreme Court about these facts of the case.

Noting that there was similar problem when courts intervened on the issue of temples rearing elephants, Shobha said the temples took more care of elephants than when they were in the wild. Use of animals for various religious activities has been going on for long and if the court feels there is cruelty involved, it is for the stakeholders — state and central governments — in this case to convince the Apex Court that it is the contrary, she said.

The State government has little to do with the ban on Kambala (slush track buffalo racing) in Udupi and Dakshina Kannada and will appeal to the Union government to exclude it from the list of sports that feature animal cruelty, said B. Ramanath Rai, Minister for Forests, Ecology and Environment . Though he lamented that the ban on Kambala was taking political tones, he said the State government had little to do with the prohibition of the rural sport.

Write Comment
|

E-Mail
|
Facebook
|

Twitter
|

Print