Justice Hegde says corruption has saturated into democracy
Mangalore Today News Network
Karkala, Feb 15, 2017: Former Lokayukta Justice Santosh Hegde has opined that democracy in the country is absolutely bedridden, with corruption prioritising all over. Speaking after inaugurating the newly built laboratories at Jnanasudha Institution. The former Lokayukta said, "All the three pillars of democracy – with the fourth estate, media – are decomposed, with no tool left to uphold the democratic values. Democracy is now a government 'of some people, by some people and for some people'. The society only worships the rich and discontentment has literally ruined the humanity among homo sapiens."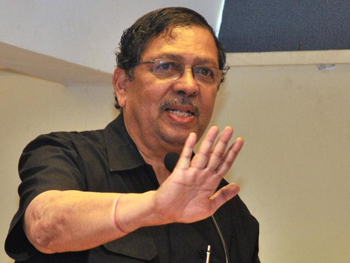 Recalling the 'legacy of corruption' since Independence, the former Lokayukta said that the first major scam that was reported in Independent India was the jeep scandal in 1950, which incurred a loss of up to Rs 52 lakh to the government. The loss the nation suffered owing to the Bofors scandal is Rs 64 crore in the 1980s. The Commonwealth Game scandal in 2010 involved Rs 70,000 crore. According to the CAG report, the 2G scam involved Rs 1,760 crore and the Coalgate scam in 2012 involved Rs 1,860 crore, he listed out.

Coming down heavily on Parliamentarians who indulge in walk outs, protests and arguments without any productive outcome in sessions, the former Lokayukta said that in the recently held Lok Sabha session, only one bill pertaining to the handicap issue was passed. As per media reports, the expense for one day's session is Rs 10 crore. The development of the country is immobilised with the recklessness of representatives. Politics should be for the service of the people and society at large and should not be considered as a mere profession. He added that his report on the mine scam has held three chief ministers, seven ministers and 600 bureaucrats guilty.

Calling the youths to earn legitimately, the former Lokayukta expressed disappointment that there is no moral education taught in schools and parents are too busy to educate the children over ethical values.

A senior police Superintendent, who spoke on the occasion, said the country with the largest youth population has opened doors for a brilliant fortune for the youth. The phenomenon would continue until 2040. Lamenting over the decreasing generosity, the officer said the present day education system reflects the behaviour of humans in the society. There is need for retrospection over the education system where students are taught to be human beings without morality. The education system today moulds students to be successful employees with beautiful families to back them.

Students were exhorted too explore the world. Individuals should be prepared to take risks, he said and also urged students to get into innovations that help poor farmers who commit suicide and poor people who starve in the poverty-ridden country. He said that individuals should find ways to channelise their energy and education to give back to the society. Education, action, behaviour and attitude matter the most in every individual's life. Life is a marathon that would turn out to be blissful when coupled with ethics and values, he concluded.

Write Comment
|

E-Mail
|
Facebook
|

Twitter
|

Print