Jumping Spider found to feed on insect eggs
Mangalore Today News Network
Photos: A. N. Suresh Kumar

Mangaluru, September 17, 2018:At a time of widespread complaints regarding misuse of social media by people, here is a heartening story of how social media served a useful purpose in advancing scientific knowledge about a unique species of spiders. Thanks to a sharp observation made by a Facebook user, one of the largest social media platforms in the country, an endemic South-Asian species of jumping spider, Hyllus semicupreus has been discovered to feed on insect eggs for the first time ever.

This behaviour is a new discovery for the species and has been reported by a team of researchers based in Mumbai, based on the inputs provided by a wildlife photographer based in Andhra Pradesh. This discovery is significant as it can help in furthering biological means of pest control.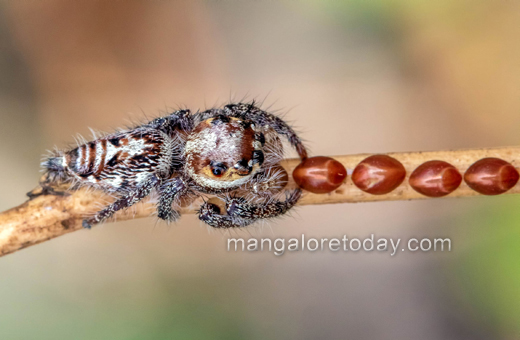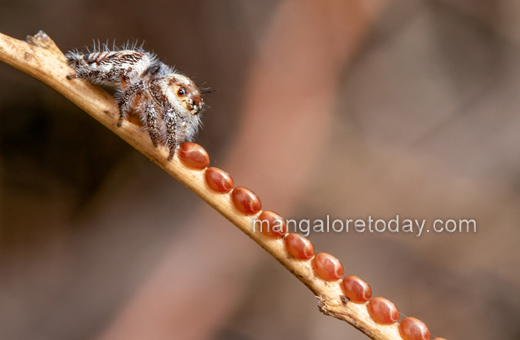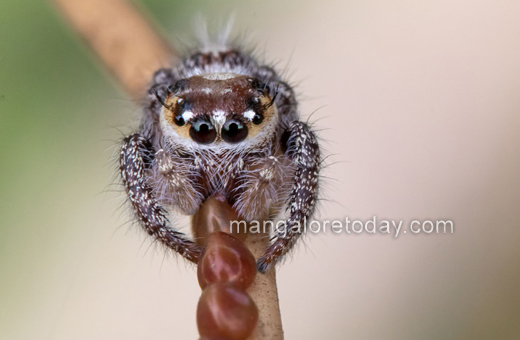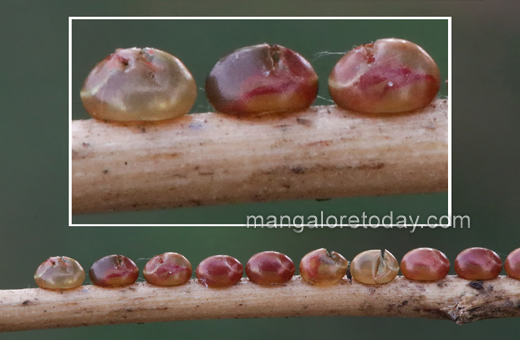 The discovery is published in the latest issue of 'Peckhamia', a globally renowned, peer-acclaimed international scientific journal dedicated to the study of jumping spiders. The study was collaborated with Dr. David E. Hill, a world authority on jumping spiders and Dr. Richard J. Pearce, a leading British spider expert. It was led by principal author and lead researcher Javed Ahmed, along with co-researchers Rajashree Khalap and Dr. Krishna Mohan, who is a naturalist and surgeon based in Moodabidri. The discovery was reported by wildlife photographer AN Suresh Kumar, who first recorded this behavior and shared his observations with the team.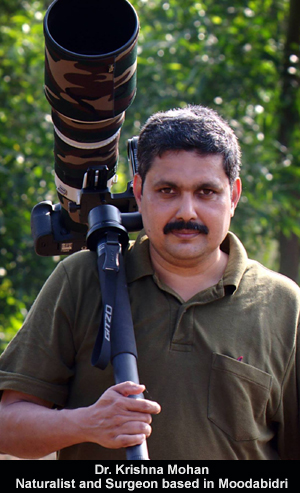 THE DISCOVERY
Hyllus semicupreus is a large, colourful bronze colored jumping spider. It was previously recorded for the first time from Mumbai in 2015 and also been photographed across Maharashtra, especially Raigad district. The spider can be easily identified from photographs and is known to feed on small insects and such.

Recently, and for the first time, wildlife photographer and amateur naturalist AN Suresh Kumar came across the spider feeding on leaf-footed bug eggs (family Coreidae) on his farmland in Andhra Pradesh. Not knowing he had clicked a new behavior, he shared these photographs on the "Spiders of the Indian Subcontinent", aspecialist Facebook group which is focused on the documentation, identification and study of Indian spiders.

These photographs were spotted by arachnologist and researcher, Javed Ahmed. Realizing the importance of this chance discovery, Ahmed encouraged the photographer to contribute his findings to science to facilitate a better understanding of spiders, which are severely understudied in the India compared to other wildlife such as butterflies, birds and mammals.

'Oophagy' or preying on eggs is an interesting behavior, which while reported in a number of jumping spiders, has never before been observed in Hyllus semicupreus, a relatively common jumping spider. This discovery is significant because leaf-footed bugs are severe agricultural pests and spiders such as Hyllus semicupreus can be act as important pest-control agents.

Acknowledging the useful potential of social media, Javed Ahmed observes: "In this digital age of lighting fast internet connections and powerful pocket computers (smartphones), which are carried by almost everyone, there's a lot of potential for social media platforms to act as a bridge between scientists and hobby photographers, to bring to light unique observations on the natural world, never seen before. An important thing to remember though is, these observations, if not reported on an academic platform, such as a peer reviewed scientific journal, would be otherwise useless and lost forever."

Write Comment
|

E-Mail
|
Facebook
|

Twitter
|

Print