Intellectual Property cell Launched at Sahyadri
Mangalore Today News Network
Mangaluru, Oct 08, 2018: Sahyadri College of Engineering & Management, Mangaluru, in association with Visvesvaraya Trade Promotion Centre (VTPC), Department of Industries and Commerce, Government of Karnataka and Karnataka State Council for Science and Technology (KSCST), has organized a day-long workshop on "Intellectual Property Rights: Significance in Business and Research.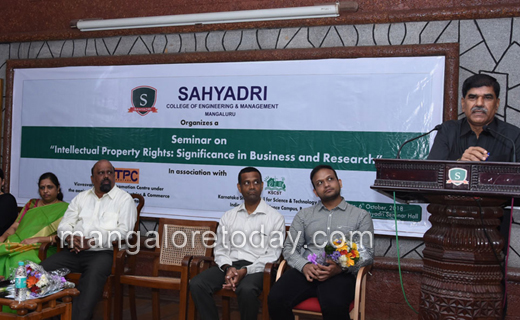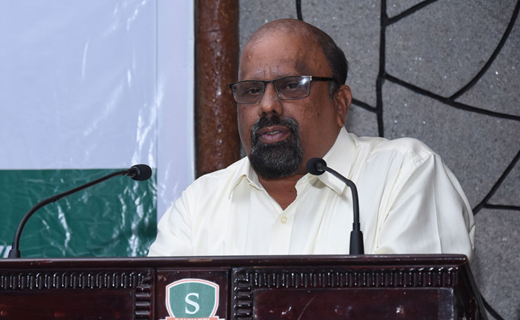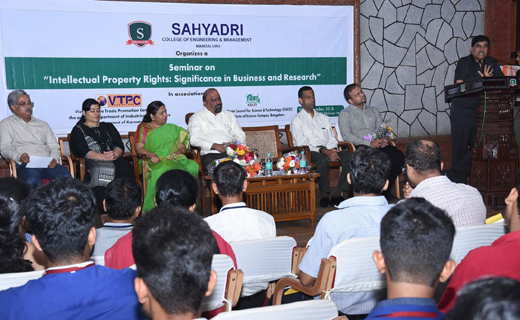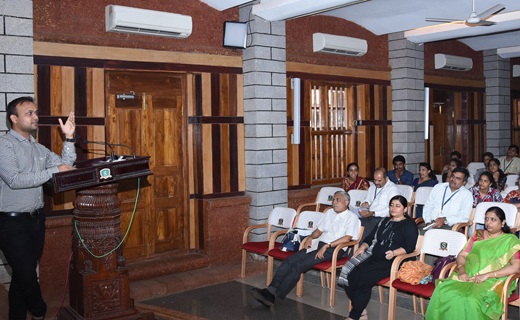 Dr. Manjappa Sarathi, Director-R&D, Sahyadri College welcomed the dignitaries and gave the keynotes address about the workshop. He shared the benefits of launching intellectual property (IP) cell in Sahyadri. Shri Gokuldas Nayak, Joint Director, DIC, Mangaluru was the chief guest of the inaugural programme. He urged the importance of patenting in today's world. He also added that India is the treasure house of knowledge and it is our duty to protect it by IPR.

He appreciated Sahyadri for launching an exclusive IPR cell and also for organizing an IPR workshop for the benefits of researchers, faculties and students. Smt. Prabhavathi Rao, Program Coordinator- IP Initiatives, VTPC, Dept. of Industries & Commerce, Government of Karnataka, shared the trends in Intellectual Property Ecosystem and also highlighted the Initiatives from Government of Karnataka, Centre for Export Promotion towards this. Adding to that she gave a golden rule for patenting that anything which is pre-existing in digital form cannot be patented and also emphasized to respect others intellectual properties. The inaugural ceremony is followed by various technical sessions.


The first technical Session was on "Demystifying the Intellectual Property Rights Spectrum " by Dr. Arvind Viswanathan, Senior IP Specialist & Formerly with GE Caps, in which he introduced the various IP tools – Patents, Copyrights, Trademarks, Industrial Designs, Semiconductor layouts & integrated circuits, Plant Variety Protection, Geographical Indications, Traditional Knowledge and Trade Secrets. He also added the benefits of these tools to potential Inventors and Entrepreneurs and discussed how to leverage these tools effectively in their business and research. The significance of IP protection and respect for one's IP was also highlighted.


This is followed by Shi Mohan S G, Consultant, Patent Information Centre, Karnataka State Council for Science & Technology, KSCST, who addressed about the Role of KSCST in promoting Intellectual Property Right (IPR) and various initiatives for stakeholders. In his session on "Innovations in IP' he highlighted that the criteria's for filing patent are novelty, inventive step or non-obviousness and Utility. Adding on to that he urged the importance of applying for a provisional patent whenever a novel idea strikes in one's mind, which can prevent other from claiming his inventions. He also shared the number of patents filed from different institution in India and added that he is looking forward to see Sahyadri in top 3 positions among other premium Institutions.

Afternoon session started with "Intellectual Property and the Technology Space" by Dr. Farah Deeba, Senior IP Specialist and Former Principal Scientist, Monsanto. This session highlighted the IP Protection of Computer Software Related Inventions, Copyrights, plagiarism and ethical issues in research. In addition to this, she introduced the initiatives, such as, Creative Commons, Open Source Model of IP sharing and Copy left. The Session had also awaken academia on key alerts during the Research process and how one could as a Researcher ensure that any significant IP could be protected before making a publication. She highlighted the mantra "Publish and Perish", "File and Prosper".


Her next session was on the topic "Towards a robust IP Cell Management at Sahyadri". In this session she highlighted the benefits of the launch of IP Cell at Sahyadri College with VTPC, Govt. of Karnataka and KSCST, as knowledge partners. Also added the various steps involved in IP Cell Management and the way forward in nurturing the Cell. She also discussed the Institutional nurturing of IPR and provided a Roadmap for IP Asset Development and Innovation Management. She also emphasized on the significance of IP Strategy, IP Policy, Key Elements of IP Cell, Significance of IP audit and other operational issues.


The last technical session was on "Patentability Subject Matter and Prior Art Search" by Dr. Arvind Viswanathan, Senior IP Specialist & Formerly with GE Caps. This session focused on the process of patenting such as preview of Patent filing mechanisms and procedures involved in it. He elaborated on what is patentable and not as per law. The concepts of Prior Art and Patent Search, the soul of the patenting system were also a part of the deliberations.

The Technical Sessions was followed by a Panel Discussion and Valedictory Session.



Write Comment
|

E-Mail
|
Facebook
|

Twitter
|

Print