Infighting, rebel factors did not deter top winner BJP
Mangalore Today News Network
Mangaluru, May 16, 2018: BJP candidates Umanath Kotian (Moodbidri), Harish Poonja (Belthangady), Vedavyasa Kamath (Mangaluru City South), Dr Bharath Shetty Y (Mangaluru City North), Rajesh Naik U (Bantwal), Sanjeeva Matandoor (Puttur) and S Angara (Sullia) managed to take a good lead and maintained the same till the end. However, U T Khader of Congress (Mangaluru) was leading from the first round itself.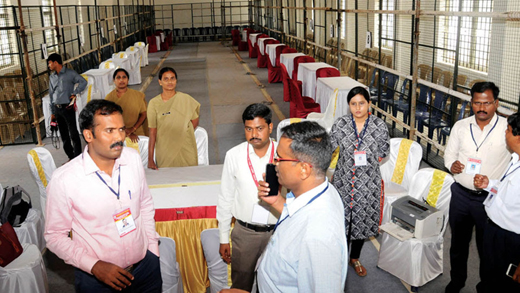 The second and third round of counting of votes in Mangaluru North constituency turned interesting with Congress candidate Mohiuddin Bava leading by 1,478 votes in the second round and 171 votes in the third round. From the fourth round, Dr Bharath Shetty, a political novice, continued to lead till the end of 18 rounds of counting.

The result of Moodbidri BJP candidate Umanath Kotian was the first to be declared in the district while the result of Mangaluru South BJP candidate Vedavyasa Kamath was the last to be declared.

In Moodbidri, Umanath Kotian led with 9,613 votes in the fourth round which increased to 12,938 (6th), 17,317 (8th), 22,376 (10th), 26,323 (12th), 28,509 (15th) and 29,653 in the last round.

In Belthangady, Harish Poonja was leading by 1,721 in the first round, 4,692 (3rd), 10,787 (8th) 12,635 (11th), 18,563 (14th) and 22,974 in the last round.

In Mangaluru City South, Vedavyasa Kamath was leading with 2,540 votes in the first round, 9,248 in the fourth round, 17,634 in the seventh round, 16,662 inthe 8th round, 14,370 in the 13th round, 13,650 (14th), 14,856 (15th) and 15,117 (16th) and 16,705 in the last round.

In Mangaluru, U T Khader was leading by 6,304 votes in the second round, 9,366 (4th round), 12,754 (5th round), 15,488 (7th), 14,675 (10th), 15,866 (13th), and 20,080 in the last 15th round.

In Bantwal, U Rajesh Naik was leading with 2,038 votes in the first round, 7,518 (4th), 9,498 (6th), 11,844 (8th), 15,894 (12th), 16,786 (15th), 15,687 (1th) and 15,971 in the last 16th round.

In Puttur, Sanjeeva Matandoor was leading with 1,676 in the second round, 4,735 (4th), 8,909 (6th), 12,973 (8th), 17,081 (12th), 19,045 (14th) and 19,477 in the last 16th round.

In Sullia, S Angara was leading with 2,034 in the first round, 6,065 (5th), 13,914 (9th), 16,965 (11th), 21,866 (14th) and 26,068 in the last 17th round.

In fact, 8,809 voters opted for NOTA in the district, with Sullia polling highest of 1,310 and Mangaluru constituency polling lowest of 819 votes.

What they said : Sullia BJP candidate S Angara who won the election for the sixth time said the result was as per expectations. Puttur winning candidate Sanjeeva Matandoor, who is also DK BJP president, said that it is the victory of Hindutva in DK. In fact, Congress candidate Ramanath Rai from Bantwal, who lost the election said that the Congress had done good work in the last five years. He said they accept the people's mandate.

Celebration: In spite of the prohibitory orders, a large number of BJP workers gathered in front of the counting centre and shouted slogans in favour of BJP and Modi. Some even blocked the car of Bantwal Congress candidate Ramanath Rai.

Write Comment
|

E-Mail
|
Facebook
|

Twitter
|

Print