Indians caught in the Ebola epidemic in Liberia in panic
Mangalore Today News Network
Mangalore, Aug 06, 2014: Media reports state, at least a thousand Indians are working in Liberia - perhaps not less than 12 of them from Karnataka's Mangalore.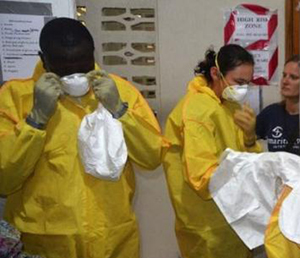 The Ebola virus has claimed more than 230 lives in Liberia and it is creating a grave situation. People are panic stricken and life is in an upheavel. Many are planning to return home at the earliest. one cited is Wilfred D'Souza, working for a Singapore-based timber company and is flying home from Monrovia any day now.

"The situation is more than scary. All hospitals have closed since Ebola patients are pouring in and none of the medical staff are able to treat the scourge. People are queuing up at medical shops. Paracetamol formulations are being sold ten times their price,'' he said.

Doors have been shut on Ebola patients but the situation of those suffering from other infections is also pathetic.

"A person from Kerala contracted chicken pox and another has typhoid. There is no treatment available anywhere since hospitals have shut down. I wonder whether if can will survive. Initially the government handled the situation badly. They could have contained the Ebola when it first broke out in rural areas. Now the situation is such that even cities have it," D'Souza said.

"Most of the people who can afford it live on canned food. We have to avoid this illness. We fear they will quarantine us for 21 days if they just suspect we have Ebola - even if we have any other complaint like food poisoning, stomach upset and fever from eating canned food," he added.

The disease has changed habits too. "Liberians like to shake hands and hug to greet each other. Now everything has stopped. Wilfred has given paid leave to his driver and domestic maid as they travel from far places by public transport. "We do not want to take any risk."

Getting tickets to fly out is also difficult. "My current one-way trip via Brussels and Delhi is costing me Rs 1.74 lakh. Air fares have shot up after some airlines discontinued their flights to Liberia," he said.

Liberia runs on generators. Everything is imported. Meat and vegetables rot due to prolonged power cuts. Early last month a young Indian boy had diarrhea. Doctors at a big hospital refused to examine him fearing Ebola. The child's parents panicked and went to another hospital where doctors kept a distance from him for the same reason. Finally the parents had to medicate the boy. Indians have a penchant to work any where in the big wide world - perhaps now they will have to think more selectively with care.

UP-DATE : Hundreds of troops deployed in Sierra Leone and Liberia on Aug. 4, to quarantine communities hit by the deadly Ebola virus, as the death toll from the worst-ever outbreak reached 887 and three new cases were reported in Nigeria. With healthcare systems in the West Africa nations overrun by the epidemic, the African Development Bank and World Bank said they would immediately disburse $260 million to the three countries worst affected — Sierra Leone, Liberia and Guinea.


The World Health Organisation (WHO), which warned last week of catastrophic consequences if the disease were not controlled, reported 61 new deaths in the two days to August 1 as the disease continues to spread.

The outbreak began in February in the forests of Guinea. The toll there continues to rise, but the epicentre has since shifted to neighbouring Liberia and Sierra Leone. Airlines servicing the region has suspended flights it is stated causing a grim situation.

Write Comment
|

E-Mail
|
Facebook
|

Twitter
|

Print