In Mangaluru, Procession, Solemn mass to mark St.Teresa Canonization
Mangalore Today News Network
Mangaluru, Sep 04, 2016: Announcement is made by the catholic church in the city that Mother Teres's canonization is to be marked in a special manner in the city today, Sept 4, Sunday.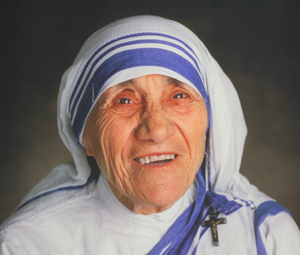 After a day of prayer and thnaks giving at the first house that Mother Teresa herself came to the city to set up, behind Unity Hospital in Vas Lane, opened on 5th May 1998, a decorated statue of the new St.Mother Teresa of Kolkota will be taken out at 4.30 pm. The procession of devotees will wend it's way on the 'Mother Teresa Road' Falnir and culminate at Milagres church. It will be followed by a solemn mass led by Bishop of Mangaluru Rev Dr Aloysius Paul D'Souza.


Saint and earlier Nobel peace laureate Mother Teresa addressed an Independence day ceremony in Mangaluru appealing for peace and unity. She also opened her 588th house on the visit to this southern India town. Mother Theresa hoisted India´s national flag as chief guest at the Independence day celebration Aug. 15, 1995 in Mangaluru, Bishop Basil D´Souza of Mangalore, welcomed Mother Teresa to open a house, urged Catholics to promote vocations for the congregation. "The greatest gift we can give to Mother Teresa, is the gift of vocation," the bishop said.

St Teresa, used the occasion here to appeal for love and peace. "An atmosphere of peace, love and affection in every family will definitely promote world peace and national integration," said Mother Teresa, winner of Bharat Ratna (jewel of India), India´s highest award for civilians.

She called on every family to integrate prayer and mutual understanding at home as a prerequisite for world peace. She also spoke with concern about India´s growing numbers of AIDS (acquired immune deficiency syndrome) victims and abortions.

All her speeches here stressed that "love is the essence of living" and that "we all have been created for greater things, to love and help each other. During the five-day visit to this mainly Christian area she attended several events reiterating commitment to the poorest of the poor and the despised.

"If you don´t want your child, give it to me. Don´t kill him," she pleaded, opening the Missionaries of Charity´s (MC) new house in Mangalore in 1998. Mother Teresa told media that the service nature of the MC house "is yet to be decided, but we could work according to the need of the time and place." The congregation now runs numerous homes and shelters in 136 countries at least. A church dedicated to Bl Mother Teresa was opened at Paldane on the road to Neermarga and is now the focus in the city. According to information she had visited Mangalore in 1981 and visited several places here including the Rosario Cathedral.

An MC house in Mangaluru was "a long cherished dream of Mangaloreans," said Agnes Menezes/Pinto, a laywoman who donated her house to Mother Teresa. Laity in Mangalore diocese asking for an MC house for the last two years had set up an action committee to expedite the process. Some pledging to join the mission have gifted their homes and properties. Stany Pinto, a layperson, who offered his only house for a charity home, said, he would "live the rest of life as a lay missionary of Mother Teresa." Now a home has also come up on the property of the Saldanha family on Sturrock Road.

Clarence Pius, chairman of the Mother Teresa reception committee, said laity would form a forum to promote lay participation in her mission. Several social activists of the time gave support to the cause of the poor in the city.

Write Comment
|

E-Mail
|
Facebook
|

Twitter
|

Print