If you arrest Kalladka Prabhakar Bhat, state will go up in flames, BSY warns govt
www.mangaloretoday.com
Mangaluru, July 13, 2017: Two days after prohibitory orders under Section 144 were lifted in Dakshina Kannada, the district administration held a peace meet in Mangaluru on Thursday. This was the first peace-building effort after violence had erupted in the district following RSS activist Sharath Madivala's murder.

However, the BJP and various pro-Hindu outfits affiliated with the RSS boycotted the peace meet. Instead, the BJP organised a separate meeting of party workers, at which various leaders demanded that the cases filed against RSS leader Kalladka Prabhakar Bhat and BJP MPs Shobha Karandlaje and Nalin Kumar Kateel for disrupting peace in the region, be withdrawn.

Speaking at the meeting, BJP state President BS Yeddyurappa said that "the entire state will go up in flames if Kalladka Prabhakar Bhat is arrested".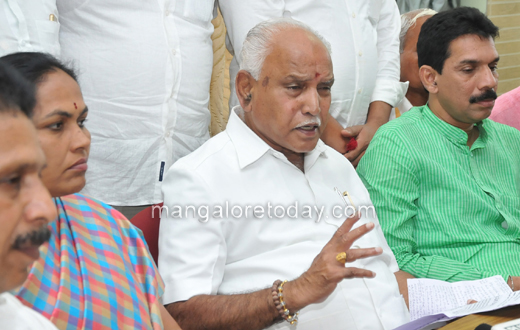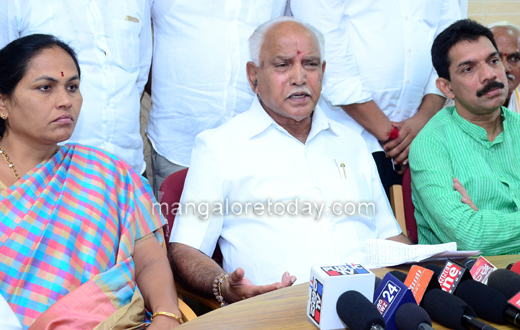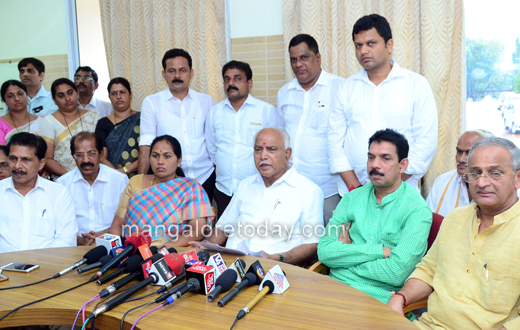 "This is a warning to Siddaramaiah. If Prabhakar Bhat is arrested, then the entire state will go up in flames. BJP workers will go out on the streets and the Congress government alone will be responsible for the deterioration of law and order," Yeddyurappa said.

Kalladka Prabhakar Bhat, a powerful RSS leader haiiling from Kalladka in Mangaluru, has been accused by the Congress of instigating trouble in the region in the days preceding Sharath's funeral. In spite of Section 144 in place, Bhat had organised processions in many places of Mangaluru and Dakshina Kannada.

Yeddyurappa's open warning to the Chief Minister came after a meeting between Siddaramaiah and top police officers. Media reports had claimed that the CM has given order to the police to immediately arrest Kalladka Bhat.

Alleging that the Siddaramaiah government was trying to strongarm the police into taking action against BJP leaders, Yeddyurappa said that the government was trying to interfere with the investigation into the stone pelting on Sharath's funeral procession.

"The Siddaramaiah government is trying to strongarm the police force and make them dance to its tune. Siddaramaiah is going to be in power only for another 7-8 months. I wish to tell the police force to work sincerely and not be scared of the ruling government as the BJP will come to power next year. Whoever the culprits are, they should be brought to justice. Many police officers have told me that they are under pressure. There is no need to be afraid," Yeddyurappa added.
When mediapersons asked him how he could make such statements being the state president of BJP and former chief minister, Yeddyurappa quickly tried to clarify that neither BJP nor any right wing activists will indulge in arson but it is the people who may unleash fury if Kalladka Bhat is arrested.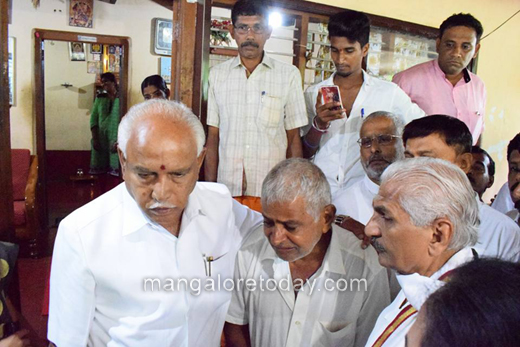 He also came down heavily on former IPS officer Kempaiah who advises CM on home matters. "Kempaiah is not doing anything to build harmony in the region. It's better he stays out of Dakshina Kannada and Udupi districts as he is stoking communally hatred feelings here. Also, ministers UT Khader and Ramanath Rai should be barred from visiting the region, for at least three months," said Yeddyurappa quickly adding even BJP leaders will also stay away and this will ensure peace in the region, he said.


BJP leaders said that they had boycotted the peace meet as the party was unhappy with the way the government and district administration had handled the law and order situation in Dakshina Kannada.

"Brutal incidents of stabbing, assault and murder have been taking place in Dakshina Kannada. Despite section 144 being imposed, the unrest continued. If the administration had held a peace meet earlier, the district's image would not have been tarnished," BJP MLC Ganesh Karnik said.

"The police entered the homes of people, without search warrants, when only the women and children were at home in several parts of the district. This has caused unnecessary fear. They have failed to arrest the suspects and have invited only a few members for the peace meet, which is useless. Hence, we boycotted the meeting," he added.

Mr. Yeddyurappa met Taniyappa Madiwala, father of Sharath Madiwala, at his house in Sajipa in Bantwal taluk and consoled the family members.

Courtesy: The News Minute

Write Comment
|

E-Mail
|
Facebook
|

Twitter
|

Print