ISIS recruitment:Yasmeen Mohammed Zahid sentenced to 7 years in jail
Mangalore Today News Network
Kerala, Mar 24 2018 : A National Investigation Agency (NIA) special court in Kochi on Saturday sentenced Yasmeen Mohammed Zahid to seven years imprisonment in a case related to recruitment for the ISIS.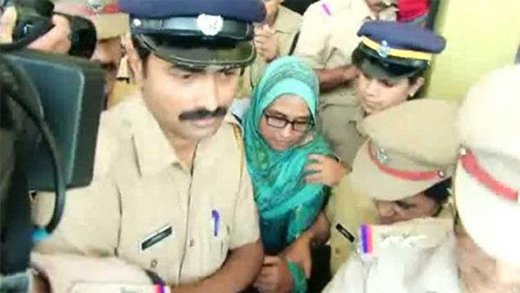 According to the NIA charge-sheet, Yasmeen (30) was associated with 14 others from Kasaragod district in Kerala in a plot to leave India, along with their families, to join the terrorist outfit.

The conviction is the first for an ISIS-related case registered in Kerala. Yasmeen was listed as second accused in the case related to the criminal conspiracy hatched within and outside India. She was detained from New Delhi in July 2016. At the time of her arrest, Abdul Rashid Abdulla, the first accused and key conspirator, had already left India and joined the ISIS along with others who were reported missing from Kasaragod in 2016. Rashid and Yasmeen were booked under IPC Sections 120 B (criminal conspiracy) and 125 (waging war against any Asiatic power in alliance with the Government of India) and Sections 38, 39 and 40 of the Unlawful Activities (Prevention) Act.

The case which was originally registered at the Chandera police station in Kasaragod was re-registered at the NIA police station in Kochi, in August 2016.

The NIA said Rashid had conducted classes in Kasaragod and other locations propagating the ISIS ideology and jihad. He motivated 14 co-conspirators, including Yasmeen, to plan for hijrah (migration) to the Caliphate announced by the ISIS, the NIA charge-sheet filed in January 2017, said.

The agency said its investigation revealed that Rashid raised funds for the ISIS and transferred them to Yasmeen towards financing her operations for the terrorist outfit. They also stayed together in Patna to obtain a passport for Yasmeen's child and renew her own passport. Yasmeen was intercepted at the New Delhi International Airport on July 30, 2016, while trying to leave the country for Kabul with her minor child, to join Rashid in an ISIS-controlled territory in Afghanistan.

The case of men and women missing from Kasaragod and Palakkad districts exposed an elaborate plan involving recruitment for the ISIS. At least two men who left Kasaragod as part of the group were reported dead last year while fighting in the Nangarhar province of Afghanistan.

courtesy:DHNS

Write Comment
|

E-Mail
|
Facebook
|

Twitter
|

Print