I will reinvent Dakshina Kannada. Bring back the old glory of Mangalore: Mithun Rai
Mangalore Today News Network
Mangaluru, April 15,2019: Congress upstart Mithun Rai is the main rival to sitting MP and BJP candidate Nalin Kumar Kateel in the Lok Sabha election for Dakshina Kannada constituency. A youth leader who has worked his way up from the grassroots, Mithun Rai enjoys widespread popularity, even among Hindutva sympathizers. His ambition to contest a popular election for the post of a people's representative bore fruit when all the local Congress leaders rallied behind him to recommend his nomination before the party high command. What are Mithun Rai's plans for the constituency? How is he different from his rival Nalin Kumar Kateel? Is he the best candidate for you? Exclusive interview given by Mithun Rai to Mangalore Today.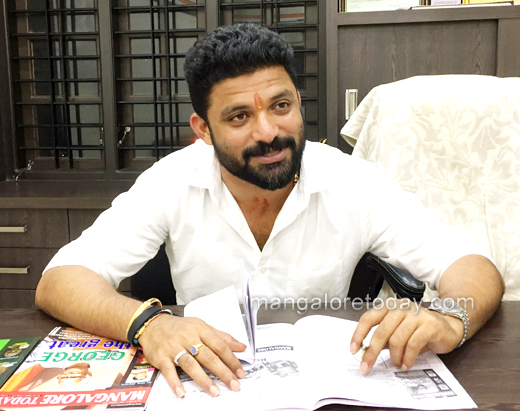 How do you explain your meteoric rise from a Youth Congress leader to the party's parliamentary candidate at such a young age?
I was a dark horse but the support of all my party leaders has given me this opportunity. On the other hand I have come from the grassroots. My family has no political background, but right from my student days I have aspired to be a leader. I studied in St. Aloysius and in sixth standard itself I was elected the Assistant School Pupil Leader, then in seventh I became the SPL. In high school the Kannada medium student strength was more, yet in tenth standard I got elected as the first SPL to be elected from English medium in twenty years. Later in SDM college, I was unanimously elected as the student union president, followed by president of All College Student Union. Then I became the NSUI city president and also worked as a booth level worker.

You said you have no family background in politics. Can you tell us more about your upbringing?
I come from a learned family. My father is a doctor and all my brothers were meritorious students and are today successful doctors. Only my wife and mom are not employed. In school I never did well in studies but I grew up with lot of friends. My parents considered me to be a bit of a spoilt brat and my mom tried all her magic to improve me, but without much success. In PU I took up science and did miserably. Yet my father booked a medical seat for me at KSHEMA. I knew this was not for me. So I went to Vinay Hegde and begged with him to cancel my seat. Then I went to SDM and again begged with Prof. Devaraj for a seat in BBM. My dad was furious and didn't speak to me for two years. I also tried my hand at all sorts businesses, not out of greed but to earn money on my own. Though I was born with a silver spoon, I was desperate to become independent. During Diwali, I put up a cracker stall and for Dasara I put up a Gobi Manchuri stall.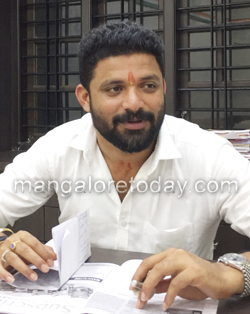 What is your personal ideology in politics? Has any leader in particular influenced you?
I have seen many staunch leaders and have been influenced by them, but I consider D. K. Shiva Kumar as my Guru. There can be no fruit without the roots. Hence I believe that one should never forget where one came from. My experience is that if you do more work, you earn more enemies. I am also not afraid of controversy as it is a sign that you are a successful leader.

What gives you the confidence that you will win this election?
As I said I have come from the grassroots and I think like the common man. Our district is made up of educated and intelligent people. You can deceive them maybe once, but not twice. People vote according to their heart and I believe that they know they want change and they see the change in me.

What do you think of your opponent Nalin Kumar Kateel?
First and foremost there should be an opponent for any competition. But I respect him as a person. I call him Nalinanna because he's an elder - that's our culture, our Hindu tradition, our Tulunadu Samskrithi. People have given him a chance and they know what he has done.

You wear tilak on your forehead, visit temples and dabble with religion. Is that in line with the alleged Congress policy of projecting soft Hindutva?
I will challenge anyone on this anywhere, anytime. I am born in a family where Hindutva is practiced in letter and spirit. The Hindutva which I learned at home says don't divide people, respect all religions. Every day I recite the Hanuman Chalisa numerous times and I have involved in my religion deeply. I believe that god has created us as equal human beings and if you then begin to discriminate between humans, it's unforgiveable. I also hold mother's blessings as very important and I don't leave my house without seeking blessings of mom. Mother is the omnipotent god. That is the power of mother.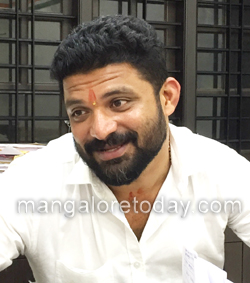 What are your plans for Dakshina Kannada, if you are elected?
Being a youth, I feel that my utmost responsibility is to see that no other youth should experience what I have gone through. As I said, though I was born with a silver spoon, I have gone through all the difficult experiences of being young. Our district has seven medical colleges. We are the only place in South East Asia to have three medical colleges within a radius of one kilometer, within one Grama Panchayath. We have 32 kilometres of coastline. We have all four modes of transport. But what is the outcome of all this? Our youth leave their hometown in search of jobs and the parents are left alone, and in grief. The youth leave because of lack of employment opportunities here. This is a result of lack of vision for the development of the district. There was a time when there were visionary leaders, like the Wodeyars, U. S. Mallya and others. We are still reaping riches because of them. We are not using our potential. I want to work with vision for the long term development of the district.

This district is seen as a Hindutva lab. Crimes relating to 'moral policing' have spoiled our city's image. What solution do you propose?
Everything will stop when you create productive employment. It is rightly said 'Idle mind is devil's workshop'. Once you generate employment, communal harmony will follow as society itself will outcaste the wrongdoers. My vision for Mangalore is that it should become a 24x7 city. It should be alive and thriving round the clock. I would call it 'Mangalore Reloaded' – that is I would want to reinvent the good old Mangalore with a new vision. Developing tourism, health corridor, educational hub, all these are part of my vision. I will also assure you that I shall retain Vijaya Bank. I will take up the issue with my highest effort and in a totally transparent way.

But you are seen as young and inexperienced. Moreover if NDA returns to power you will be in a less potent situation. How do you counter this allegation?
Where there is will, there is way. There should be vision and there should be will power.

BJP is the dominant power in local politics. We have never elected a Congress MP in ages. What are your chances of winning this election?
Mangalore was built by the Congress. We will bring back the Old Congress and Old Mangalore with a new vision.

What do you think of Rahul Gandhi's assurance of minimum income of Rs. 72,000?
Everyone has dreams. Everyone needs self sustenance to fulfill their dreams. That is the logic behind the promise. It is time to change. I will be the voice of Dakshina Kannada.

Write Comment
|

E-Mail
|
Facebook
|

Twitter
|

Print